Kraft Proves It Knows You Only Eat Easy Mac In Your Dorm With New Care Pack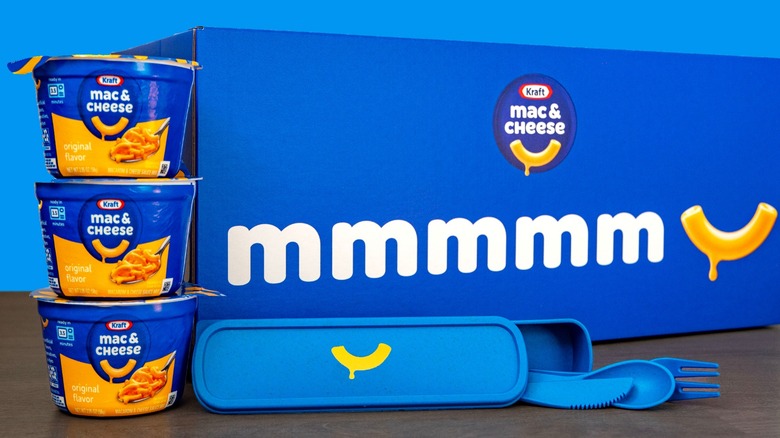 Kraft
We may receive a commission on purchases made from links.
School is back in session, and to help stressed-out students prepare, Kraft has unveiled a College Care Pack. Per a press release shared with Mashed, the brand has released a 30-pack of its Kraft Mac & Cheese Easy Mac Cups for the first time in company history. And to aid new dorm residents who don't yet have utensils, the pack is equipped with a reusable silverware set. Sold only on Amazon, the product costs $29.99, and supplies are limited.
The first few weeks of college can be tough for new students, and a warm, comforting cup of Kraft Mac & Cheese can feel like a little hug from home. Whether you drop your kid off at their dorm with it or send it as a surprise care package, this is sure to be a welcome item. If Amazon reviews are any indication, Kraft hit the nail on the head with this product. When commenting on a smaller pack of the same meal, many agreed that college is a good home for the cups. "I'm a college student, and this product is perfect for a quick lunch," one reviewer wrote. Parents of college kids have also praised the microwavable meals. "[They're] perfect for college kids who don't know how to cook and don't have time to go out to eat," one parent said. As we're now realizing, Easy Mac Cups have been targeting this demographic since their beginnings.
Easy Mac provides several benefits to college students
The Image Party/Shutterstock
Kraft Mac & Cheese Easy Mac Cups are ideally suited for college kids. They can be made quickly in between classes or while studying. While traditional boxed Kraft Macaroni & Cheese takes about 15 minutes to prep and seven to eight minutes to cook, Easy Mac cups require no prep time and are made in under four minutes. Many dorms don't have stove-top burners or the capacity to store milk and butter, but they almost always have microwaves in the common area, and many students bring a microwave for their room. 
Also, they're relatively inexpensive when compared to other options; Thirty cups for $29.99 come in at less than a dollar each. According to a report from Education Data Initiative, students spend about $260 per month on food cooked from home or in-dorm. In comparison, students who regularly buy food on campus spend $410 per month on average.
If eating the same meal for 30 days straight doesn't sound appealing, customizing the ingredients can break up the monotony. When asked on Reddit, several mac & cheese enthusiasts shared how they change up their Kraft Mac & Cheese. "[I add] red pepper flakes and garlic powder," read one comment. Another user recommended hot sauce, while more obscure opinions included tuna and peas and cream of mushroom soup. Or save the cups for a touch of comfort when you need it throughout the year. Better yet, make new friends in your dorm by sharing the riches.