Leftover Pulled Pork Egg Rolls Recipe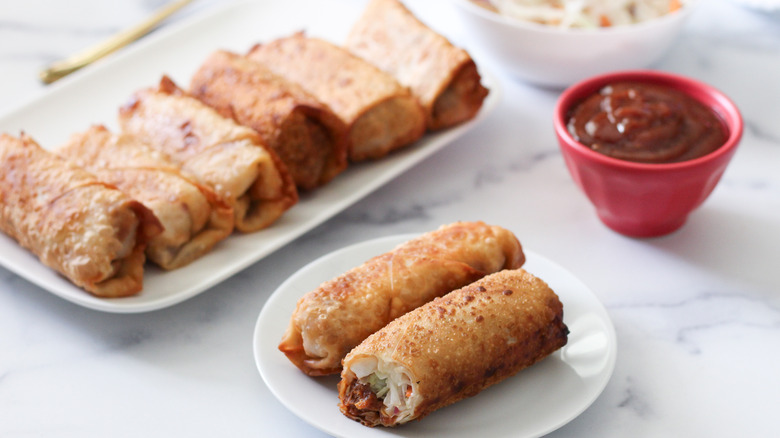 Erin Johnson/Mashed
When you think of a classic egg roll recipe, you probably think of Asian flavors — pork, cabbage, and carrots mixed with ginger, garlic, and sesame oil, all dipped in soy sauce or sweet and sour sauce. What you may not think of is a somewhat Southern barbecue take on the ingredients list, with pulled pork leftovers, coleslaw, and pickles. "Perfect for game day, these egg rolls are one of my favorite ways to use pulled pork," says recipe developer Erin Johnson of her fusion interpretation of egg rolls.
Really, the ingredients in the two renditions aren't all that different, but there is one item in this recipe that stands out: pickles. "I love sweet pickles on my pulled pork, so I include them in these egg rolls," says Johnson. That said, she says if you're not a sweet pickle fan, you can feel free to eliminate them (although she thinks you'll be missing out on the way they balance out the other rich flavors if you do).
Gather the ingredients for leftover pulled pork egg rolls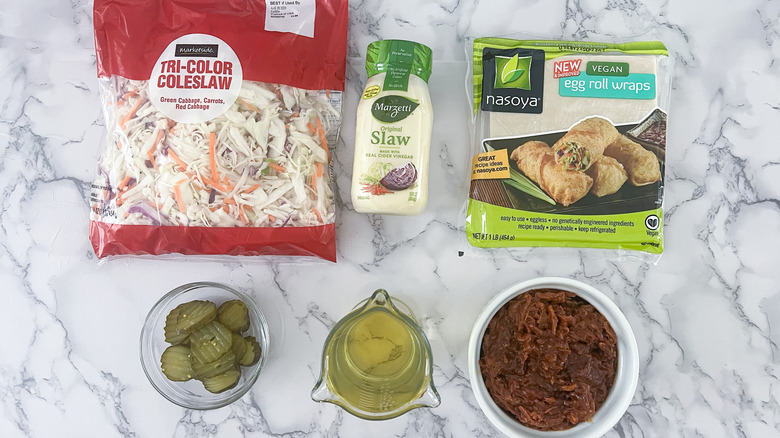 Erin Johnson/Mashed
This recipe is surprisingly easy to make, requiring just 6 ingredients, including the oil for frying. You'll just need your leftover pulled pork, of course, as well as a bag of coleslaw-style mixed cabbage, premade coleslaw dressing, bread and butter pickles, and egg roll wrappers.
Johnson also says that if you prefer dill pickles or even relish to sweet pickles, you can feel free to switch them out. "When it comes to pickles, there's no wrong answer!" she assures.
Prep a quick coleslaw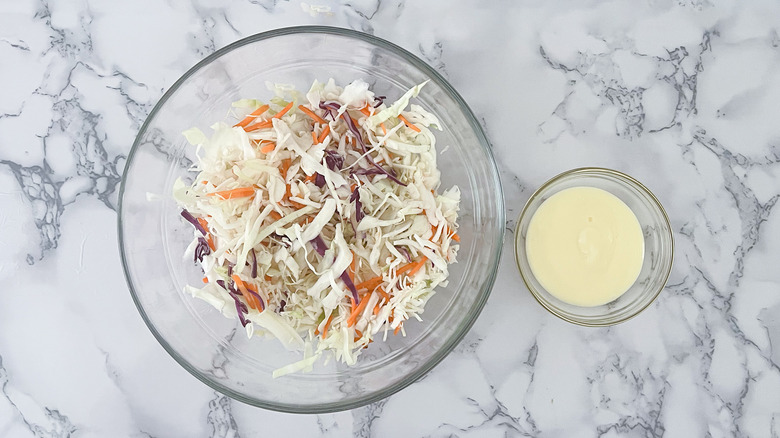 Erin Johnson/Mashed
First things first, you need to mix up the coleslaw. This is as simple as adding the prepared cabbage mix and coleslaw dressing to a bowl, tossing well, and setting aside for later.
Fill and roll the egg rolls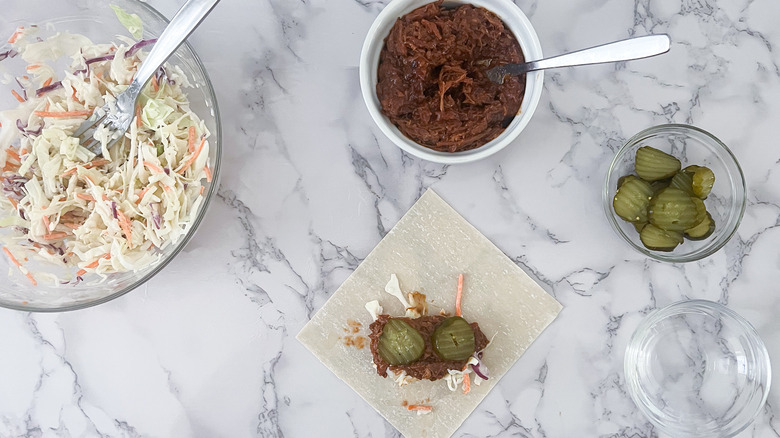 Erin Johnson/Mashed
Now you need to fill and roll your egg rolls. Set out an egg roll wrapper so one of the points is facing you. Use a tablespoon to scoop on equal parts of coleslaw and pulled pork, then layer a few pickle slices on top. When the wrapper is filled, help "seal the edges with a little water," Johnson suggests, then fold the side and bottom corners inward and roll up the wrapper from the bottom to the top. Repeat this process with the remaining wrappers and fillings.
Fry the egg rolls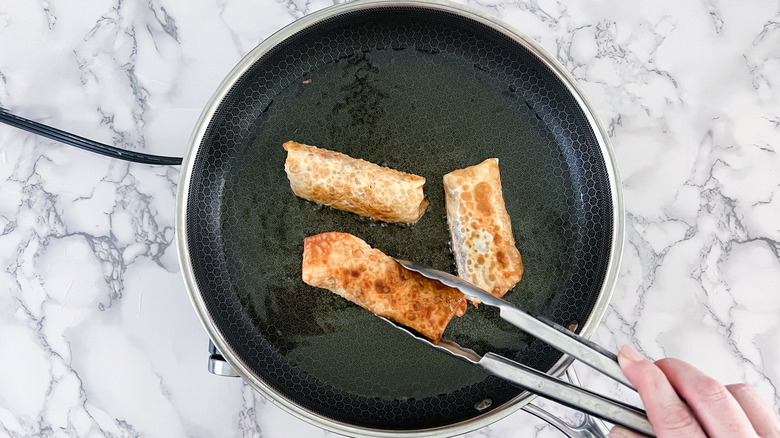 Erin Johnson/Mashed
When all the wrappers are filled and rolled, all that's left to do is to fry 'em up. Add the vegetable oil to a skillet and heat it until it hits 360 F. Add the egg rolls in batches, frying them for 3 minutes per side. It's important not to overcrowd the pan, as this can cause the oil temperature to drop, making the egg rolls fry more slowly and in turn become oilier and less crispy. 
Serve the egg rolls with your favorite dipping sauce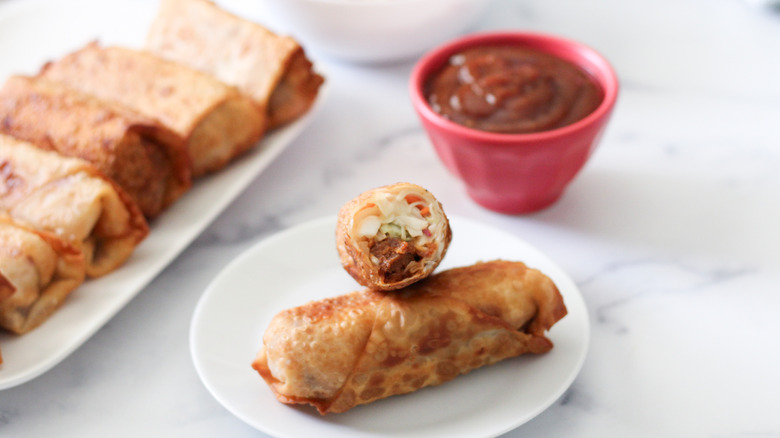 Erin Johnson/Mashed
With the egg rolls fried, serve them nice and hot. "I like to serve them with barbecue sauce on the side, but they are good as is," Johnson says. And while you're bound to tear through them in a single night (especially if you're serving them to a hungry crowd), Johnson says that leftovers can be refrigerated for up to 2 days and reheated in the oven or air fryer.
Leftover Pulled Pork Egg Rolls Recipe
Turn your barbecue leftovers, including pulled pork and coleslaw, into these incredibly crispy, easy-to-make egg rolls.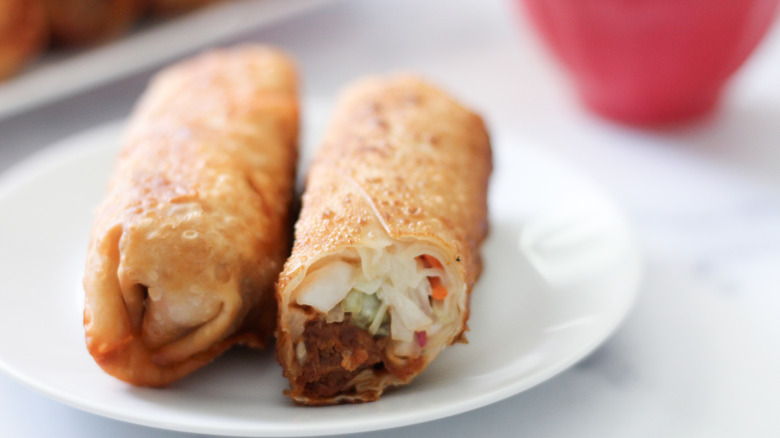 Ingredients
8 ounces coleslaw-style cabbage mix
⅓ cup coleslaw dressing
8 egg roll wrappers
1 cup cooked pulled pork
⅓ cup bread and butter pickle slices
3 cups vegetable oil, for deep-frying
Directions
Mix together the cabbage and coleslaw dressing. Set aside.
Lie an egg roll wrapper on a flat surface with a corner facing you. Layer on a tablespoon each of coleslaw and pulled pork, followed by a couple of pickle slices.
Dip your finger in water and use it to wet the sides of the wrapper to help seal the egg roll, if desired. Fold in the side and bottom corners of the egg roll wrapper, then roll it up. Repeat with the remaining wrappers and fillings.
In a large pot or skillet, heat the vegetable oil to 360 F.
Fry the egg rolls in batches for 3 minutes per side, then serve.
Nutrition
| | |
| --- | --- |
| Calories per Serving | 894 |
| Total Fat | 87.5 g |
| Saturated Fat | 6.4 g |
| Trans Fat | 0.6 g |
| Cholesterol | 13.8 mg |
| | |
| --- | --- |
| Total Carbohydrates | 22.8 g |
| Dietary Fiber | 1.5 g |
| Total Sugars | 3.1 g |
| Sodium | 243.2 mg |
| Protein | 6.9 g |