Mini Halloween Gingerbread Houses Are Perfect To Pair With Hot Cocoa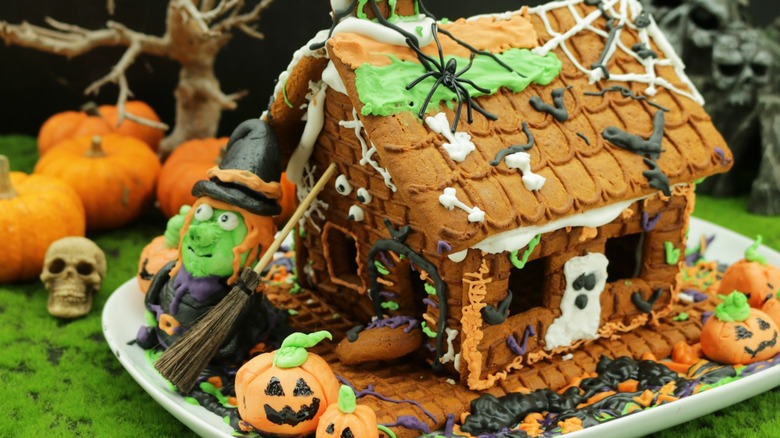 Mtreasure/Getty
Think gingerbread houses are just a Christmas tradition? Think again because these cookie creations are perfect for any time of the year, the spooky season included. All you need to do is make sure your decorations are on theme. Keeping the classic gingerbread base (complete with flavors of cinnamon and nutmeg), you can swap out red and green icing for black and orange and trade in green wreaths for skeletons and ghosts. You'll be left with the perfect Halloween treat that's fun to make and eat.
Melissa Stordahl, a book content creator with a massive following, showed on TikTok how she makes mini gingerbread houses from scratch and pairs them perfectly with a big glass of hot chocolate and whipped cream. She captioned her post, writing that her kids loved her creation. Stordahl also replied to a comment, saying that "[I]t's so fun making things with them." If her kids can help make these, you can do the same and transform gingerbread houses from a winter holiday staple into a new autumn and Halloween tradition.
How to make a gingerbread house perfect for spooky season
Melissa Stordahl's video begins with the final product — a mini Halloween gingerbread house resting on the edge of a glass of hot cocoa piled high with whipped cream and sprinkles. She then takes viewers through the whole process of getting there. After making and rolling out her gingerbread dough, Stordahl uses house-shaped and rectangular cookie cutters to make all of the necessary pieces for the house. Everything is baked and then assembled using orange frosting to hold it together. To decorate the house, she uses leaf-shaped sprinkles in autumnal colors as shingles on the roof and embellishments around the entryways.
The TikTok shows how to make Halloween gingerbread houses from scratch, but if you're not feeling crafty or don't have the time, you can buy kits in stores. Last spooky season, Costco sold a Chocolate Halloween House kit in which all of the parts come pre-made. It was filled with eerie decorations like tombstones and candy eyeballs to get you in the Halloween spirit. Aldi has sold a similar kit that comes complete with candy bones for decorating. Couple your finished house with steaming hot cocoa, or experiment with other fall-themed drinks like chai tea or pumpkin spice lattes.