The Starbucks Secret Menu Item That Adds Pizzazz To Pumpkin Spice Lattes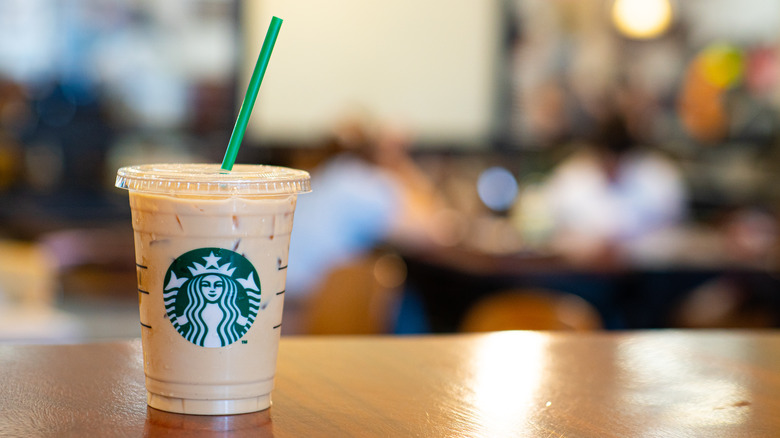 yougoigo/Shutterstock
It's officially pumpkin spice season, and what better way to celebrate than by picking up a classic Starbucks Pumpkin Spice Latte? Few beverages celebrate the changing of the seasons quite as symbolically as Starbucks' beloved pumpkin drink. Still, there is more than just one way to enjoy the pumpkin-flavored goodness. From adding a bit of spice to your drink by ordering a Pumpkin Chai Latte or by getting the latte on ice instead of hot, you have options. 
This year, there's a new way of getting your pumpkin spice on at Starbucks, and this secret menu item is literally "fall in a cup." Starbucks has plenty of delicious drinks on its main menu, but when a drink from the elusive secret menu is revealed, it's time to take notice. One generous Starbucks barista took to TikTok to spread the good pumpkin word, and if you're a fall aficionado, then this is the Starbucks secret menu iced coffee drink that you need to try next. The TikTok video, which garnered over 18,000 likes in under a week, teaches Starbucks lovers how to order an autumnal beverage that hasn't made it to the official menu. The drink in question is called the Sweet Pumpkin Latte, and it's the perfect coffee drink for folks who love their pumpkin iced and their sweet foam extra-sweet. 
How to order the Sweet Pumpkin Latte
In the viral TikTok revealing the Starbucks secret menu drink that's perfect for now through Halloween and even Thanksgiving, a Starbucks barista shares her insider secret. Recommending that viewers write the order down, she explains that if you don't order the drink with her exact wording, you'll "confuse yourself and the barista." She then demonstrates precisely how to mix this new and improved PSL, aptly named the Sweet Pumpkin Latte. The order required to get your hands on this secret menu item is "iced Pumpkin Spice Latte with pumpkin cold foam and extra caramel drizzle."
This drink is very sweet. While you can get an iced Pumpkin Spice Latte without extras, the additions are what make this drink what it is. The pumpkin cold foam will add more sweetness, a rich texture, and, of course, a bit more pumpkin spice. Adding plenty of caramel drizzle is also sure to make the drink a bit on the sweeter side. This probably isn't the drink for you if you consider the "spice" to be the priority in your Pumpkin Spice Latte, and it's not a great choice for folks who don't like their coffee too sweet. Still, the barista ends the video with a word to fall beverage enthusiasts, saying, "This drink is so good; You have to try it if you're a pumpkin lover!"