You Should Be Giving Your Fruity Tarts A Spicy Twist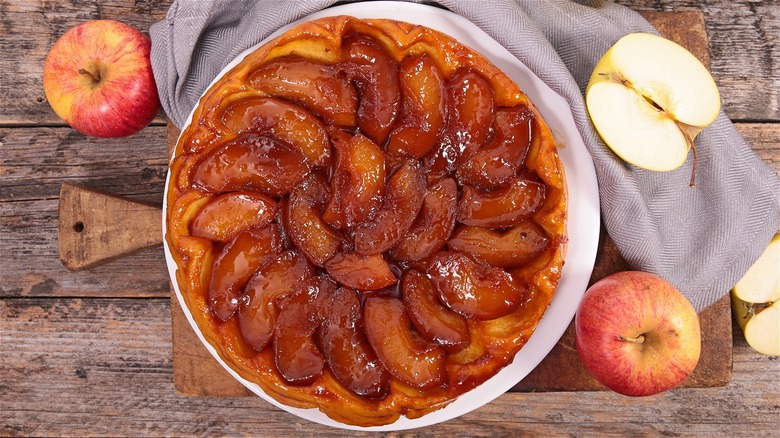 Margouillatphotos/Getty
While traditional pies are dessert classics that liven up celebrations and mundane moments alike, there's just something about a fruit tart that speaks volumes. Tarts are assembled on a crumbly pie crust, often topped with vanilla pastry cream and an assortment of fresh or baked fruits. A mouth-wateringly sweet and slightly sour delight, fruit tarts are downright irresistible. But sometimes it can be satisfying to jazz up our favorite desserts, which is why you should add a little spice to your next fruit tart.
Although a classic fruit tart is tried-and-true, adding an element of spiciness to the dessert can boost the flavors of the traditional recipe while imbuing it with depth and complexity. Spices introduce layers of flavor that make the tart more interesting and sophisticated — after all sweet and spicy are a culinary match made in heaven. Fruit tarts made with spices can also help balance out the sweetness by adding a touch of fire, giving the pie a harmonious palate.
And the wonderful world of spicy foods isn't limited to just jalapeños, habaneros, and other popular peppers. While peppers make for excellent ingredients to pair with a fruit tart, you can also draw on the warmth and fire of dried chili powder, or other spicy fragrances like anise or curry powder. Depending on the spice, you can evoke seasonal flavors. For example, cinnamon and nutmeg are often associated with fall and winter, while ginger and citrusy spices can be reminiscent of spring and summer.
Recipe ideas for spicy fruit tarts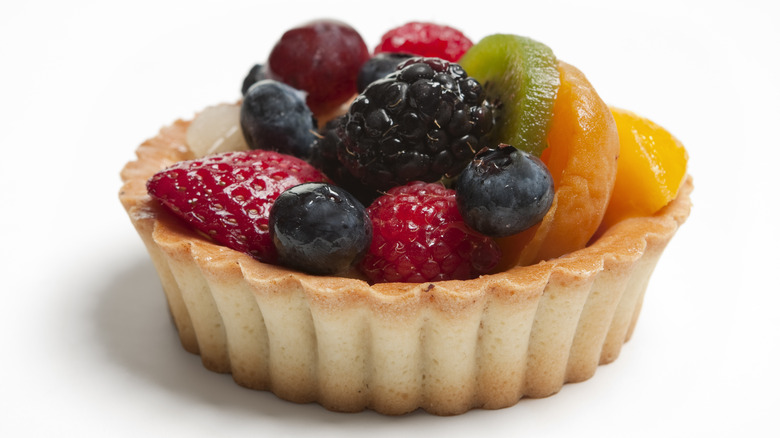 Boblin/Getty Images
Now that you're fired up and ready to try a fruit tart with a spicy twist, you'll need some recipes to inspire you. And don't worry, we've got you covered on the funky stuff. Feeling something summery? Instead of a traditional vanilla cream filling, try making a lime-based curd and topping it with tropical fruits like mango and pineapple. Finely dice up fresh jalapenos and sprinkle them in between the juicy fruits, before dusting with coconut shavings for a beachy treat with a pointedly spicy kick. 
For next-level subtle spiciness, cover your fruit tarts with a jam glaze, choosing spicy pepper jams for heat. If peppers aren't your thing, elevate a mixed berry tart with peaches and ginger for a unique source of spice that rivals peppers. Ginger's warm, peppery flavor pairs perfectly with the quietly earthy and citrusy undertones of berries and peaches. If you want a bit of heat, but don't like baking from scratch (we don't blame you), make a store-bought tart spicy by dusting it with Tajin chili spice or drizzle it with chamoy for an accessible, simple, and spicy fruit tart hack.
Don't limit yourself to the obvious suspects, either. Spices come in many shapes in sizes, so try experimenting with cinnamon, cardamom, saffron, and other unsuspecting spicy ingredients. When it comes to crafting fiery fruit tarts, a little spice can go a long way, so it's best to start with a small amount, taste, and adjust as needed.