Pumpkin Curry Sauce Is The Ideal Way To Spice Up The Season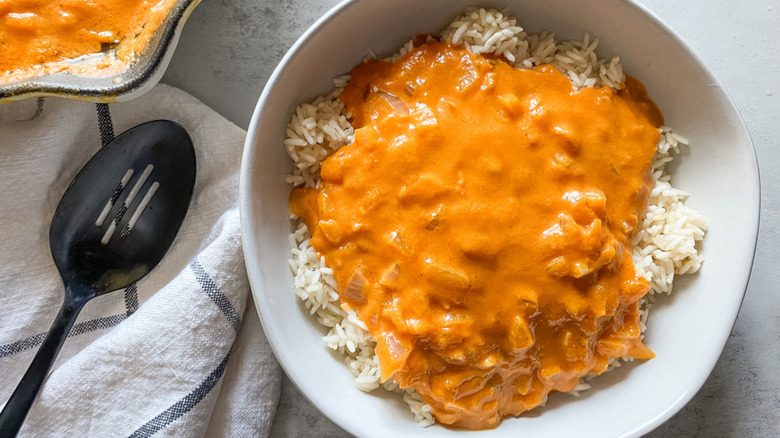 Kristen Carli/Mashed
The start of autumn signals the re-emergence of all things pumpkin, from gourd-flavored coffee options to a seemingly endless lineup of pumpkin grocery products. There is no shortage of pumpkin recipes to try this fall, but one dish adds extra spice to the season. Pumpkin sauce has often been used to top off pasta dishes, but this ingredient is just as delicious when made into a curry. Our recipe for pumpkin curry sauce capitalizes on the flavor, versatility, and nutritional benefits of the fall staple to great effect.
The recipe in question requires pumpkin purée, red curry paste, coconut milk, olive oil, garlic, onion, ginger, and common seasonings like salt and pepper. It's important to purchase plain pumpkin purée, as the kind used in pumpkin pie will make your sauce sweet rather than spicy. You'll want to cook your veggies — onion, garlic, and ginger — in a skillet coated with olive oil until the onion looks translucent. Then, add the other ingredients and allow them to simmer for around 15 minutes.
Once the ingredients are properly mixed and cooked, the creamy end product can be poured over rice, veggies, and the protein of your choice. This puts a fall spin on the typical curry dish, all while maintaining its usual heat. Those looking for an extra kick can add red pepper flakes or chili powder while the curry simmers.
Pumpkin curry has a long history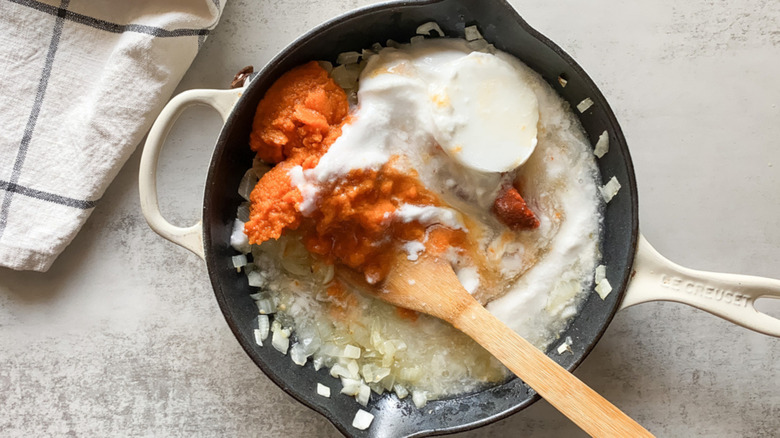 Kristen Carli/Mashed
While pumpkin has become increasingly trendy in recent years, its use in curry isn't anything new. The most common takes on this dish come from India and Thailand, where pumpkin is frequently used in cooking. Pumpkins have grown in India for centuries, allowing people to discover their delicious taste and nutritional value. According to Mayo Clinic, pumpkin is not only a great source of fiber, but it's also packed with potassium and vitamin A. These benefits contribute to lower blood pressure, good vision, and healthy bones, muscles, and skin.
Perhaps that's why pumpkin is so widely used in Indian dishes. It's even enjoyed during the Hindu celebration, Makar Sankranti, which features pumpkin curry among its many dishes. Pumpkin cubes are also served with onions and spices during India's Kayastha celebrations. Needless to say, pumpkin curry's history and cultural significance in India goes way back.
The background of pumpkin in Thailand is less known, but this ingredient has become a staple in desserts and savory recipes alike. Thailand has increased its pumpkin cultivation in recent years, so it's not surprising its people are putting these gourds to good use. The influence of Indian and Thai pumpkin curry has spread well beyond both countries, with people all over the world recreating the spicy-sweet dish — and now, you can enjoy it at home, too.