Pumpkin Curry Sauce Recipe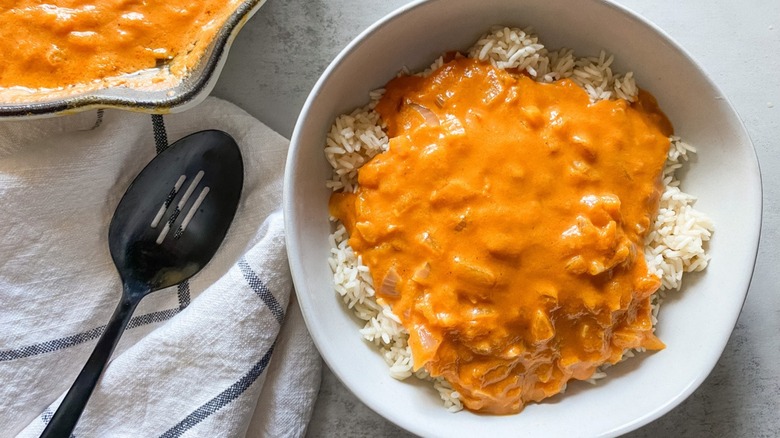 Kristen Carli/Mashed
Whenever the calendar ticks over to September, suddenly grocery stores are covered in pumpkin this, that, and the other thing. For the most part, many of these pumpkin offerings are sweet ones. The very first pumpkin dish most of us ever tried, after all, was likely to have been pumpkin pie, so we've long associated pumpkin flavor with sugar as well as cinnamon and nutmeg. Starbucks' uber-popular PSL kind of doubled down on the pumpkin equals sweet (and cinnamon-y) association, but consigning pumpkin to a dessert-only role is to do this fruit a disservice. Not only is pumpkin super nutritious, but it has a flavor that lends itself just as well to savory dishes as it does to sweet ones.
Recipe developer Kristen Carli turns pumpkin into a sauce that she says "is inspired by the Trader Joe's pumpkin curry sauce." She describes the sauce as "savory, pumpkin-forward, and reminiscent of Thai flavors." It takes under a half an hour from start to finish and can provide the basis for many a nutritious, delicious, fall-flavored meal.
Shop for the ingredients to make this pumpkin curry sauce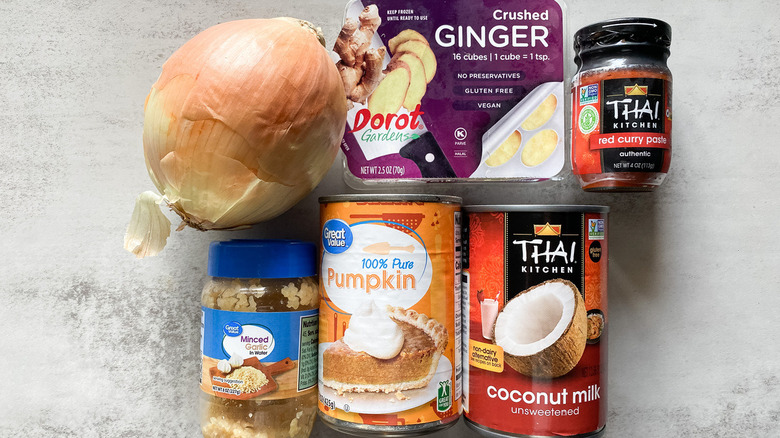 Kristen Carli/Mashed
The base for this sauce is pumpkin puree. You can, of course, use the canned kind, but make sure you're buying just plain pumpkin, not pumpkin pie filling! You could also buy a small sugar pumpkin and cook it yourself, then puree it. (Leftover jack-o-lanterns, however, are not recommended.)
In addition to the pumpkin, you'll need olive oil, a yellow onion, some fresh garlic (or the pre-minced kind, as Carli used), some fresh ginger, red curry paste, a can of coconut milk, and black pepper for seasoning.
Prep the veggies for this sauce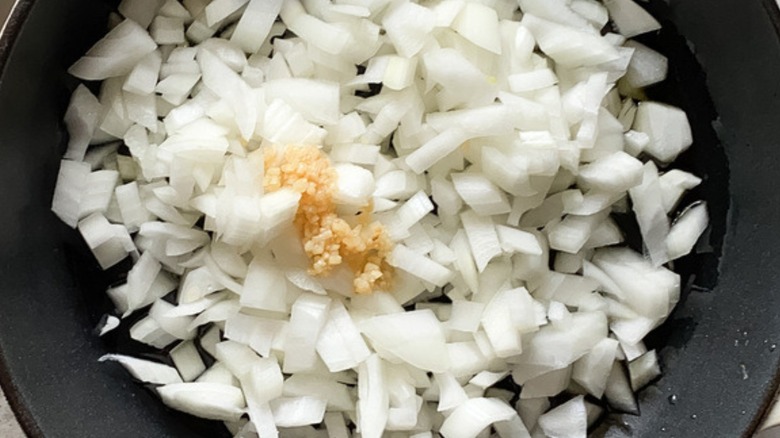 Kristen Carli/Mashed
The first thing you'll need to do before you begin cooking the sauce is to peel and chop that onion. Yes, it's going to hurt. Sure, you can always try the latest viral hack, but unless you're susceptible to the placebo effect, it might not work too well. Instead, your best bet is to minimize the amount of chopping and maybe stick the onion in the fridge for a few minutes before you cut it.
You'll also need to peel and chop your garlic and ginger unless you're using the kind that comes pre-chopped. Once you're done with these three veggies, the only additional prep work you may need to do will be to open a can or two when it's time to add the pumpkin and coconut milk.
Simmer the sauce until it's fragrant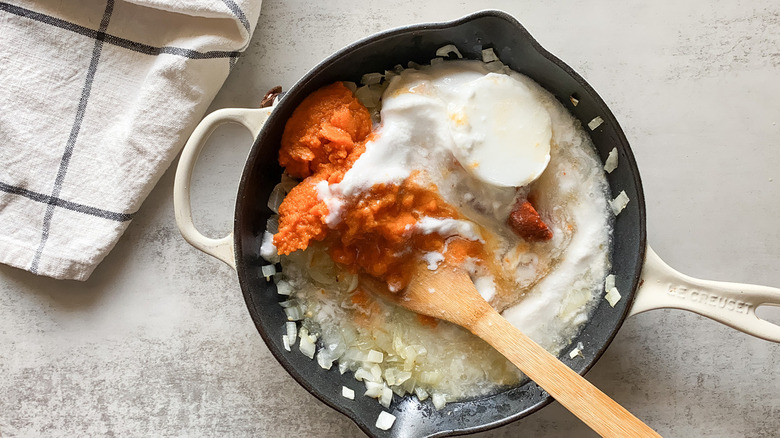 Kristen Carli/Mashed
Pour the olive oil into a skillet and turn the stove burner to medium. Once the oil starts to sizzle, add the onions, garlic, and ginger to the pan. Cook these veggies, stirring, until the onion is translucent. At this point, stir in the curry paste, pumpkin, coconut milk, and pepper along with a teaspoon of salt. Bring the sauce up to a gentle simmer, and allow it to bubble away gently for 15 more minutes.
You can serve this curry sauce in creative ways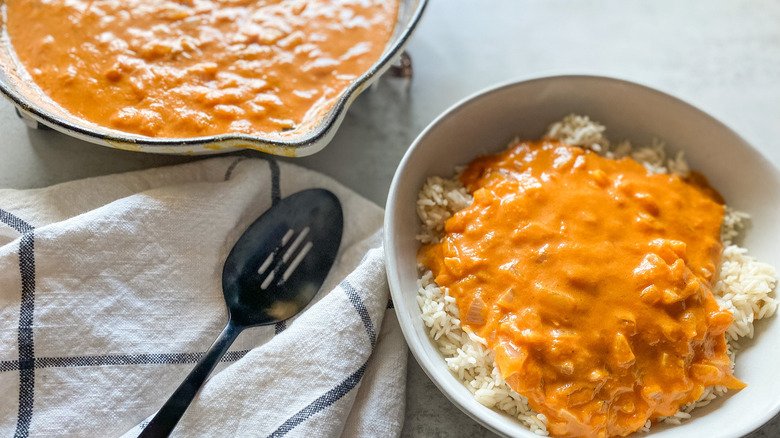 Kristen Carli/Mashed
Once your curry sauce has simmered for a sufficient amount of time, your pumpkin curry sauce is ready to serve. Carli does say that the sauce is "rather mild in spice," but she tells us, "If you wanted to add more heat, I would recommend adding red chili flakes." If, on the other hand, you prefer your sauce even milder, she says you can simply use less curry paste.
As for how to use this sauce, Carli says, "I love this sauce over veggies, chicken, and rice," and adds that serving it with lentils is a particular favorite of hers. You could also serve it over sausage, as the Germans do with curry ketchup for their currywurst, and you could even use it as an interesting dip for fries or a sauce for pasta.
Pumpkin Curry Sauce Recipe
This pumpkin curry sauce takes under a half an hour from start to finish and can provide the basis for many a nutritious, delicious, fall-flavored meal.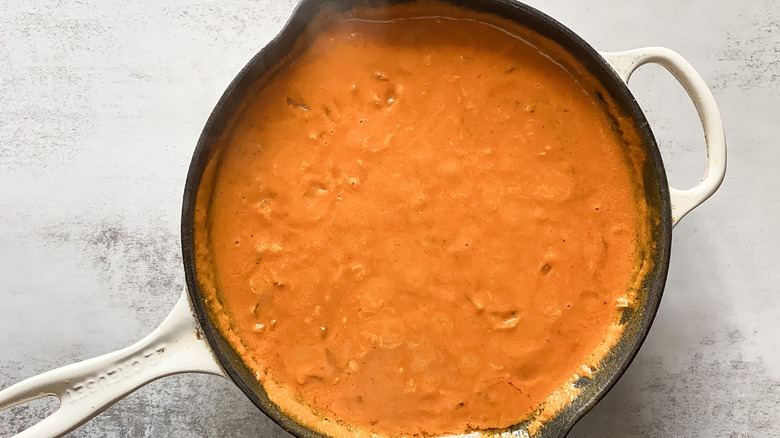 Ingredients
1 tablespoon olive oil
1 yellow onion, diced
1 tablespoon minced garlic
1 teaspoon crushed ginger
2 tablespoons red curry paste
1 cup pumpkin puree
1 (15-ounce) can coconut milk
½ teaspoon pepper
1 teaspoon salt
Directions
Heat the oil in a large skillet over medium heat.
Once the oil is hot, add onion, garlic, and ginger to the pan.
Cook the aromatics until the onion is translucent, about 5 minutes.
Add the red curry paste, pumpkin puree, coconut milk, pepper, and salt to the pan and stir well. Bring the curry sauce to a simmer and cook for 15 minutes.
Serve and enjoy.
Nutrition
| | |
| --- | --- |
| Calories per Serving | 191 |
| Total Fat | 17.8 g |
| Saturated Fat | 13.8 g |
| Trans Fat | 0.0 g |
| Cholesterol | 0.5 mg |
| | |
| --- | --- |
| Total Carbohydrates | 8.8 g |
| Dietary Fiber | 1.9 g |
| Total Sugars | 2.3 g |
| Sodium | 330.5 mg |
| Protein | 2.5 g |