The Ingredient Swap That Gives Strawberry Shortcake A Savory Twist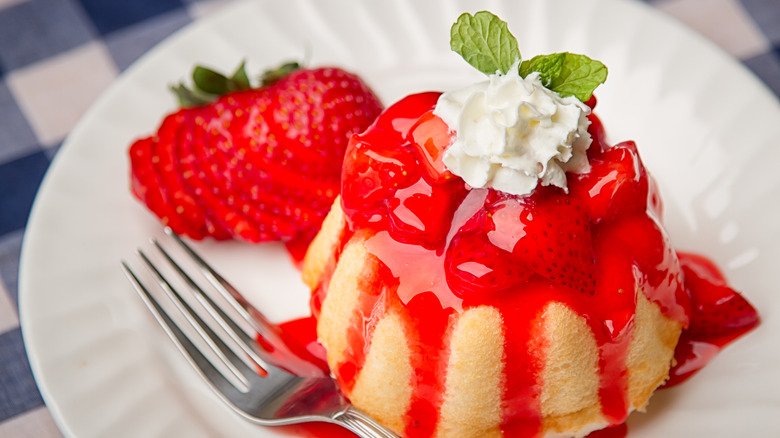 Grandriver/Getty Images
While its origins are a bit murky, strawberry shortcake has to rank up there with apple pie as one of America's quintessential desserts. Especially during the summertime, strawberry shortcake will close out any barbecue or grill-out with something sweet. Of course, even perfection can be improved from time to time. Consider subbing in homemade biscuits next time you fix the dessert for a culinary trick that will give your shortcakes a savory twist. 
Typically, strawberry shortcakes are served with vanilla or yellow cake that's both spongy and crumbly. However, cake doesn't really add much to the flavor department since its mild taste gets buried by heaps of strawberries, whipped cream, and ice cream. Meanwhile, if you cook them right, a biscuit can be devoured on its own without any additional ingredients. So you're already improving both the texture and taste of your strawberry shortcake. Who cares if it's technically not a shortcake anymore? Your party guests certainly won't. 
Besides just taste, using biscuits instead of shortcakes can help sort out one of the pitfalls of making strawberry shortcakes. Typically, this dessert needs to be fixed close to serving to avoid it being too soggy. Unless it is sealed with a glaze, the cake acts very much like a sponge, soaking up all that excess strawberry syrup. In comparison, biscuits are made of stronger stuff and can hold up better. 
The best biscuits for the job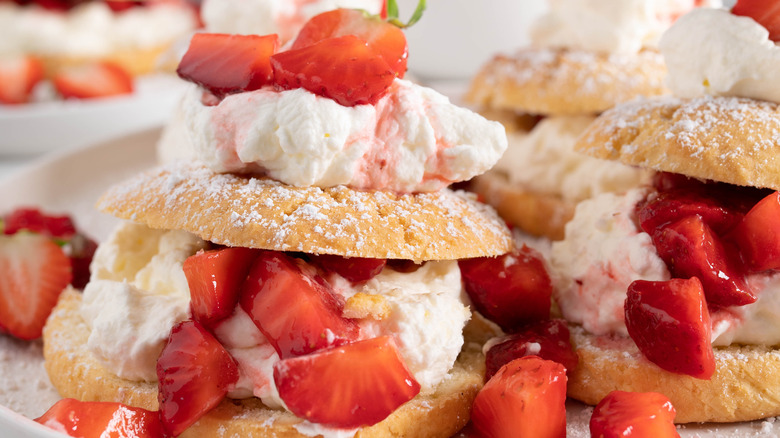 Angelika Heine/Getty Images
As much as we love Pillsbury, we probably wouldn't use its Grands! flaky biscuits as the base for our strawberry shortcakes. Although, you could try its buttermilk biscuits to see if they turn out better. What you need is a firm but soft biscuit that doesn't break up into layers. There are plenty of buttermilk pre-made biscuits on the market to choose from like Callie's Hot Little Biscuit Buttermilk Biscuits or Mary B's Frozen Buttermilk Biscuits, so go with the brand that suits your taste if you are in a hurry.
Just know that for the best results, you might want to consider baking biscuits from scratch. Not only does this give you more control over the ingredients, but it also allows you to fix biscuits in a bigger batch as well. To make biscuits for shortcakes, you will want flour, baking powder, sugar, salt, and butter. From there, you can either add milk or heavy whipping cream to help create your biscuit dough. Adding an egg to your dough will help get those fluffy biscuits that will go great with strawberries. Likewise, you might want to consider adding more sugar to make your biscuits sweeter. Just be careful not to add too much. 
Once your biscuits are cool, go ahead and fix your shortcakes. You can either load the strawberries on top or stuff them in the middle of the biscuit like a sandwich, then add whipped cream to taste.