Put Frank's RedHot Sauce In A Blood Bag For Some Spooky Fun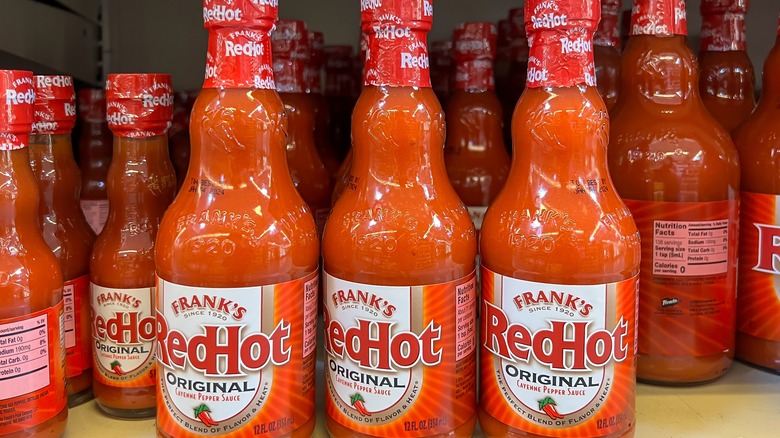 JHVEPhoto/Shutterstock
Autumn is on the horizon, and the start of the season builds excitement for Halloween parties and all the fun foods that come with them. There is no shortage of Halloween recipes that will give guests a fright, from spooky punch bowls to wormy dirt cake. And Frank's RedHot has an idea for how you can add the company's hot sauce to your Halloween spread: by displaying it in a blood bag.
Of course, this is not the first time blood bags have been used as Halloween party props. A number of spooky cocktail recipes recommend pouring the finished product in a blood bag, and even ordinary punch can be livened up in the same manner. However, Frank's RedHot may be the first brand to recommend people use the blood sacks as a hot sauce dispenser. With appetizers like wings likely to line any party table, it's a smart idea — and one that's easy to replicate.
Make Frank's RedHot the spookiest sauce at the party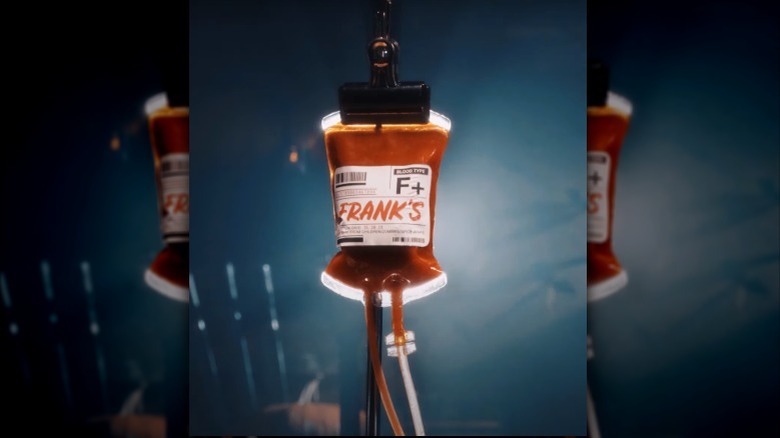 YouTube/Frank's RedHot
Frank's RedHot posted the idea on its YouTube channel, capitalizing on the enthusiasm surrounding fall. If you're thinking of adding sacks of Frank's RedHot to your Halloween lineup this year, all it takes is some fake blood bags and a couple bottles of hot sauce. Fake blood bags are available on Amazon and at Walmart, among plenty of other retailers. Additionally, you might be able to find them at dedicated Halloween stores as the holiday grows nearer. Once filled, these spice sacks can be lined up alongside the rest of your Halloween spread. If you have somewhere to hang them, they'll look even more authentic.
Pouring hot sauce out of a blood bag might get messy, but fake syringes offer another, more controlled option. These fake plastic needles have long been used in Halloween desserts and drinks. They're also ideal for hot sauce, as they'll fit a small amount, allowing guests to take as many as they need. This option maintains the bloody theme without requiring quite as much of a clean-up afterward.
Hot sauce isn't the only condiment you can use this Halloween hack for, either. While mustard or ranch won't make sense for the theme, ketchup and some barbecue sauces are colored similarly to blood. As such, Frank's RedHot has stumbled upon a quirky and unique way to use hot sauce that can be expanded to other dippers as well.