Jeni's Lonely Ghost Cookie Dough Ice Cream Review: You'll Want To Buy A Couple Of Pints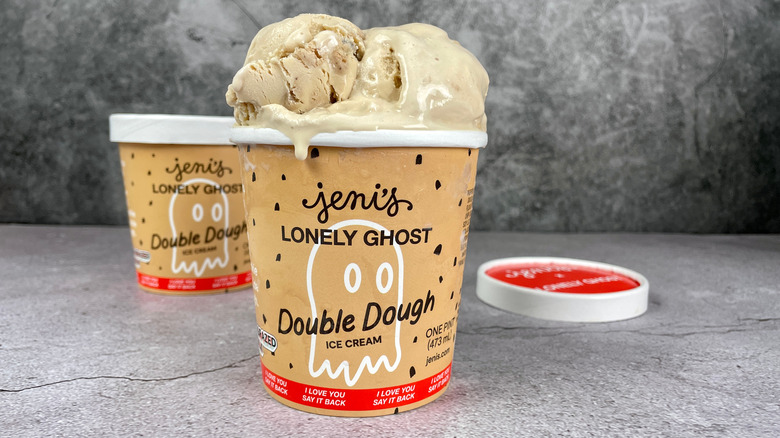 Jenny Kellerhals/Mashed
These days, anyone who's anybody has a collab. It's not just food brands that are teaming up to create something bigger and (arguably) better. Collaborations are crossing industries, from fashion to entertainment and beyond. We've seen apparel companies join up with food brands, bringing us such gems as the KFC Crocs (complete with drumstick accessories) and a jewel-studded chain featuring a 7-Eleven Slurpee (7-Eleven has also worked with Crocs before). But we have to say that the collaboration between Jeni's Spendid Ice Creams and Lonely Ghost is one of the more palatable food and apparel mashups, in more ways than one.
On August 24th, 2023, the popular high-end ice cream company released its limited-edition "Double Dough" ice cream flavor in collaboration with Lonely Ghost. The understated and trendy apparel brand out of Los Angeles creates everyday clothing pieces that are meant to people together. And what's more universally beloved and suited to the task than chocolate chip cookie dough ice cream? 
Surprisingly, of all the flavors Jeni's has created, cookie dough wasn't one of them — until now. We were lucky enough to snag a couple of pints of this limited-edition flavor to give it a try. This is everything you need to know about this ice cream, how to get it, and how it tastes.
How much dough is Double Dough?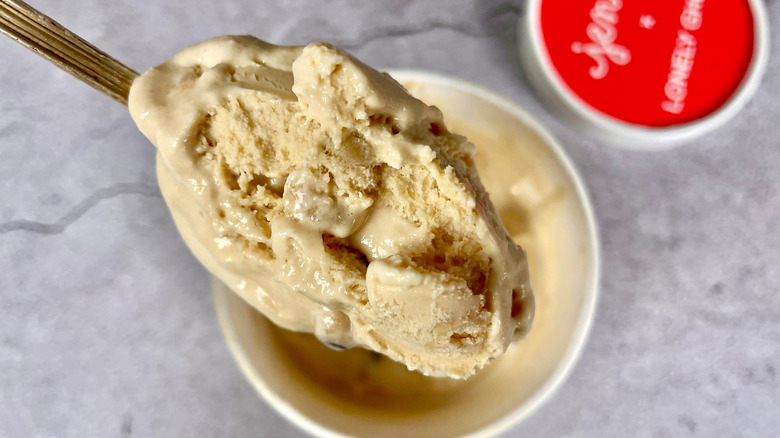 Jenny Kellerhals/Mashed
With a name like "Double Dough," you might be under the impression that there are two different kinds of cookie dough in this ice cream, or double the amount of cookie dough you'd normally find in a cookie dough ice cream. Neither of those options is really the case here. Instead, it's got a typical amount of chocolate chip cookie dough in it, while the ice cream itself has a flavor profile that mimics cookie dough. So it's cookie dough-flavored ice cream with pieces of cookie dough in it.
Instead of white cane sugar, this ice cream is prepared with brown sugar and molasses intended to mimic the brown sugar often used in chocolate chip cookie dough. It also uses a salted custard base, incorporating the flavors of rich egg yolks, pops of saltiness, and buttery cream to round out the effect. The ice cream does contain wheat, milk, soy, and eggs, so it might not be appropriate for those looking for an allergen-friendly ice cream. 
A single serving is considered ⅔ of a cup and has 330 calories, 20 grams of fat, 28 grams of sugar, and an ever-so-slight 5 grams of protein. If you're wondering why this particular ice cream might have more calories than other ice cream brands, that's because it's a super-premium ice cream packed with real ingredients and fat instead of air.
How to get the limited-edition flavor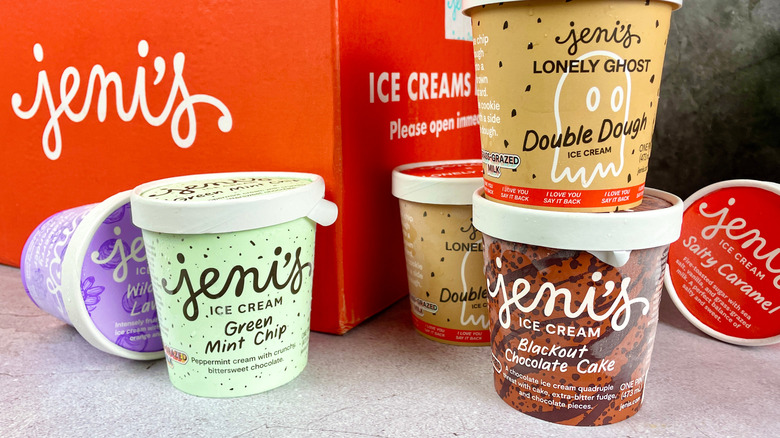 Jenny Kellerhals/Mashed
If you're lucky enough to have a Jeni's Scoop Shop near you, you should be able to pick up a pint or order a few scoops of this limited-edition flavor in person. With retail locations in 15 states and Washington, D.C., several locations also offer ice cream delivery within a certain radius, which we happen to think is the ultimate in luxury.
If you don't live near a Jeni's Scoop shop, it's going to take a little more effort to lay your hands on a specialty pint. Dozens of Jeni's flavors are sold in grocery stores everywhere, but most only stock permanent menu flavors. You can try requesting the limited-edition Double Dough flavor, but more than likely, you'll need to order it directly from Jeni's youserf. There's a minimum order of 5 pints of ice cream for delivery, which costs $15 in addition to the price of the ice cream. 
At $12 per pint, that adds up to at least $60 worth of ice cream and a minimum of $75 total to get it all shipped to your door. The price might seem a bit steep but, depending on how much you love Jeni's ice creams, we can see how that's still worth it for some people. Orders are shipped Monday through Friday and typically arrive Tuesday through Saturday, but specific delivery dates aren't guaranteed.
Eat your ice cream and wear it, too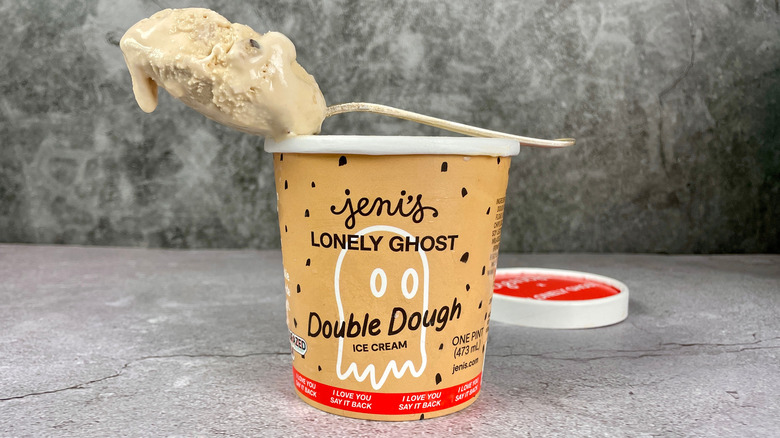 Jenny Kellerhals/Mashed
Instead of creating a kitschy ghost-flavored ice cream, Jeni's leaned into comfort food to create a chocolate chip cookie dough ice cream that would appeal to a wide audience, all with the same high standards the company uses for the rest of its ice creams. Aside from the cute ghost on the packaging, this could easily be a regular flavor in the Jeni's lineup. Lonely Ghost is also reported to be launching a line of limited-edition sweatshirts, tees, and hats with the slogan, "Melt into the moment". However, as of this writing, the collection has yet to appear on the brand's website.
This is the second time the two brands have teamed up, with Jeni's releasing the "Sunshine" flavor in April and May of 2022 in honor of Mental Health Awareness Month to support the On Our Sleeves organization. Lonely Ghost hopped on board to create limited-edition sweatshirts coordinating with the ice cream to help raise funds.
Do yourself a favor and just buy two pints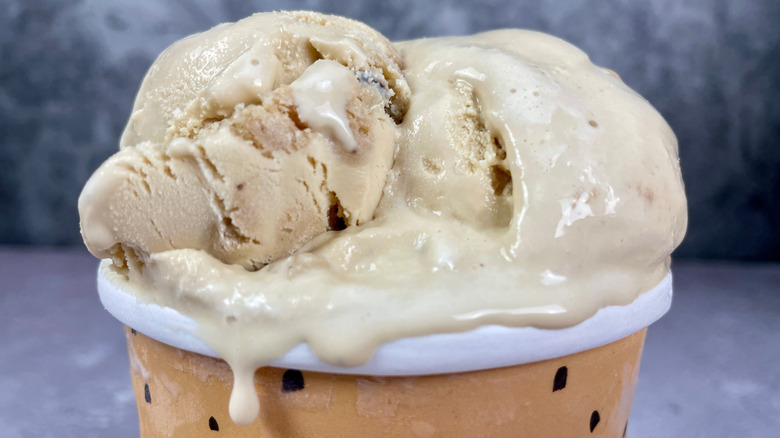 Jenny Kellerhals/Mashed
The high-quality is clear in every bite of the new Double Dough ice cream, packing more flavor into every spoonful than other vanilla-based cookie dough ice creams. Since the ice cream is made with dark brown sugar, it has a deeper molasses-like flavor. It's also slightly salted and a little buttery, but not overwhelmingly so. If we didn't know it was supposed to mimic cookie dough, we'd have assumed it was a lightly salted caramel ice cream. That's not a bad thing, though, because we happen to adore salted caramel ice cream. The tasting notes so closely resemble the ones you'd find in cookie dough that it's no surprise they match so well.
The cookie dough itself doesn't come in huge clumps like you'll find in other pints. Instead, it appears in smaller pea-sized portions that appear in clusters with micro chocolate chips. It's a more restrained approach to cookie dough ice cream that gives the spotlight to the ice cream instead — a move that we appreciate, knowing how much work goes into producing a uniquely-flavored ice cream. 
The choice to use smaller dough bits makes the ice cream easier to scoop and eat, too. Still, the cookie dough itself tastes so good that we wanted more. That was so true, we ate an entire pint of the new flavor over the course of about six hours (keep your judgments to yourself, please).