Aldi's Popular Fall Bagels Are Back To Spice Up Your Mornings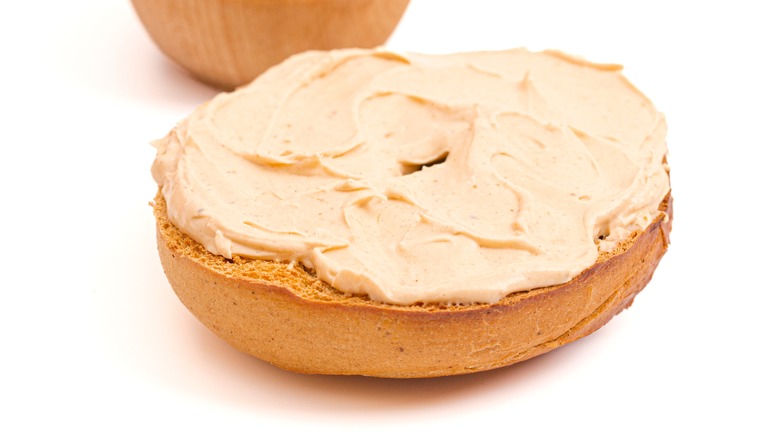 P Maxwell Photography/Shutterstock
As store after store rolls out new fall-inspired flavors, fans are on alert for every limited-time apple, brown sugar, and pumpkin item that can be found. While Dunkin' and Krispy Kreme aficionados have been enjoying pumpkin-flavored donuts since August, Aldi shoppers are loving the return of fall-themed bagels. The L'Oven Fresh Pumpkin Spice and Harvest Bagels have been spotted by the account Aldi Made Me Do It, who posted her find to excited fans on Instagram. "Love both flavors!" one person commented. "OMG... SPRINTING to Aldi," wrote another.
While the excitement for the Harvest Bagels is palpable, customers are a bit more lackluster about the Pumpkin Spice Bagels. The Aldi fall treat has been called a disappointment by redditors, and most of the positive comments about the two bagels' appearance express excitement for the Harvest Bagels. "I love the Harvest ones!!!" commented one enthusiastic fan. "The harvest bagels are my favorite!" said another. While they've not yet been announced in Upcoming ALDI Finds, in previous years the fall bagels have been spotted towards the middle of September, so it's possible many stores haven't stocked them yet.
Fans stock up on the limited-edition bagels
Along with Aldi's fall bagels, customers look forward to their many possible toppings. Cream cheese flavors like pumpkin spice, pumpkin pie, and salted caramel have been introduced in years past. Other excellent suggestions include hazelnut spread on the Pumpkin Spice Bagels, drizzling cranberry sauce on top of the Harvest Bagels, or using either bagel to make a breakfast sandwich.
Some prefer the Harvest Bagel because it feels like a healthier choice, with ingredients like cranberries, raisins, sunflower seeds, pumpkin seeds, and flax seeds, along with less than 2% of wholesome grains like millet, brown rice, spelt, oats, barley, wheat, and bulgur. Others like the Pumpkin Spice Bagel because it's not overly sweet and is more reminiscent of fall. But both bagels are very popular, and due to their limited availability, many fans try to stock up once they roll out in their local stores.
The Pumpkin Spice Bagels are 260 calories per serving and contain 53 grams of carbs, 2 grams of fat, and 9 grams of protein. The Harvest Bagels are 270 calories per serving and contain 50 grams of carbs, 3.5 grams of fat, and 11 grams of protein. The Pumpkin Spice Bagel also contains 20% of your daily value of iron, while the Harvest bagel provides 22%. Prices vary by store.