Use Leftover Burger Buns To Make Easy Personal Pizzas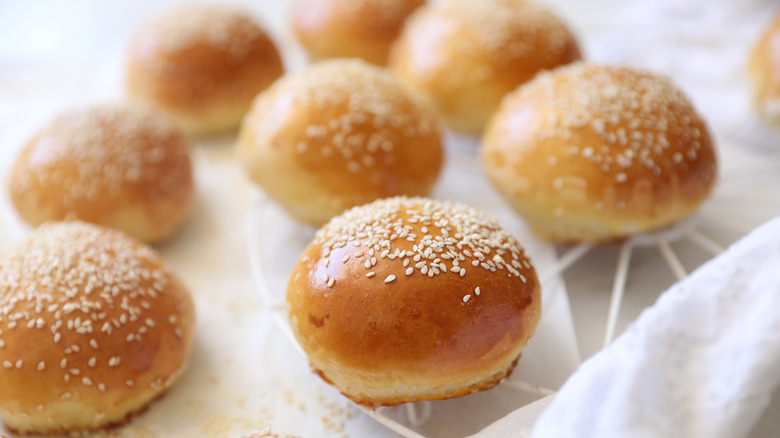 Rontav/Shutterstock
Personal pizzas are a delicious, simple, and versatile way to whip up a meal in minutes. While many vessels can be used to carry your combination of tomato sauce, cheese, and favorite toppings, one new TikTok hack has been making waves across social media. The video in question shows a user throwing together a pair of palm-sized pies atop a leftover hamburger bun, which makes a surprisingly good replacement for traditional pizza dough. While it all seems a bit random at first, this construction actually makes a lot of sense from a food science perspective.
Toasted buns can improve a burger by offering a satisfying crunch and improved structural integrity that homogenizes toppings and prevents them from squishing out of the sides of the bun. For a homemade pizza application, roasting the whole affair allows the buns to become crisp and firm, providing a delightful base for your saucy, cheesy, and optionally meaty single-serve meal.
What other pantry staples can replace pizza dough?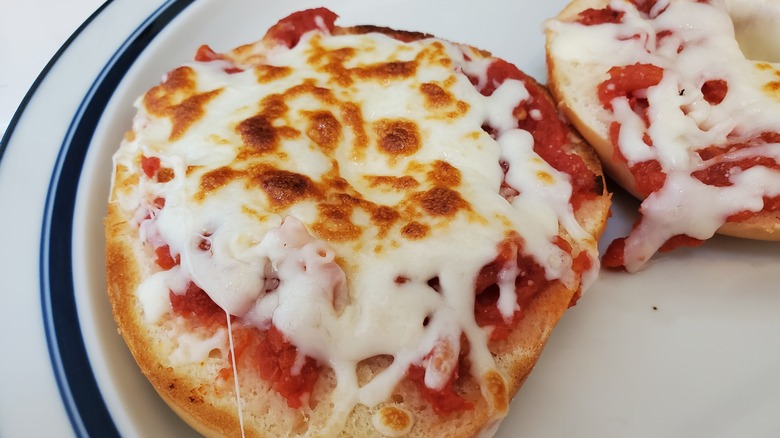 Smith Collection/Gado/Getty Images
The comments on the brief video are rife with suggestions from other TikTok users, offering their favorite vehicles for constructing a pizza. We already know that pizza bagels are an excellent alternative to the standard pie, but others give suggestions including pizza made on flour tortillas, English muffins, and garlic bread.
One person noted they used hot dog buns, while many specifically cited that small personal pizzas are the perfect lunchtime staple for feeding their young children and picky eaters. The best bases for building a pizza tend to be those with a firmer consistency, preventing the tomato sauce from seeping in and making the entire meal soggy.
This helps explain why the burger bun hack works so well, especially when the buns are slightly harder as leftovers a day or two after you make burgers. While this trick may not earn the love and adoration of pizza snobs across the web, it certainly seems like an excellent way to throw together a quick, easy, and delicious pizza at home.