Corn Candy Is The Key To Edible Spider Webs For Halloween Bakes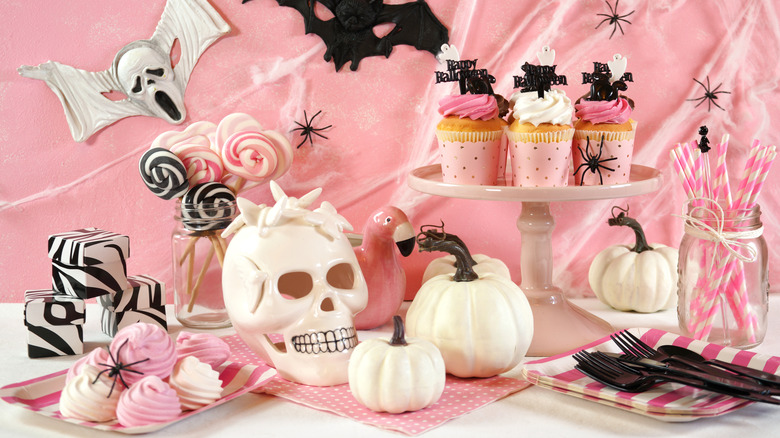 Milleflore Images/Shutterstock
As we approach autumn, Halloween is never too far behind. We all know what that means: Plenty of fall-themed events and spooky sweets galore are forthcoming. If you'll be preparing some Halloween-themed goodies this year, then you're gonna want to know about a new TikTok hack for making the perfect edible spiderwebs. 
There are plenty of content creators out there giving us new ways to make festive fall fare. However, the source of the great edible spiderweb hack, @adrianwidjy, wasn't actually planning on making an edible spiderweb. Instead, he created what he referred to as "candy floss," and it was one wise commenter who suggested, "the web pattern would be perfect for Halloween cakes." We couldn't agree more that this easy and inexpensive method of cooking up a delicious spiderweb will be ideal for the upcoming season. Luckily for those of us who love to whip up festive treats but don't have unlimited time, this hack can be done in no time and only requires one ingredient.
The ingredient in question is corn candy — not to be confused with the ever-popular Halloween treat, candy corn. This traditional Chinese candy is soft and sweet and in the perfect shape of a tiny corncob. Adrian says that these candies are easy to find at Asian grocery stores. Then, with some particularly controlled melting, this candy can transform from perfectly corn-shaped to a place for a candy spider to feel right at home. 
How to make candy spiderwebs
With nearly 70,000 likes on TikTok, the viral video that shows us exactly how to best whip up an edible spiderweb has clearly made an impact. The creator starts by taking the flat top of the corn candy and placing it down on a hot, nonstick pan. He swirls the corn candy outward in a circular motion, creating a circle of melted candy on the pan that gets bigger and bigger as he goes. He recommends going thicker with the candy in the center to create a solid base. When finished, he uses a tissue to dab the center of the circle and pulls upwards to remove the candy web from the pan. It's important to note that the creator modifies his strategy when making a second web, saying that it was too hot the first time. That said, he is aiming to make the circle look more solid and less web-like, which is noteworthy for folks who are actually going for that web look. 
The creator notes that this edible spiderweb isn't just a unique consistency; it's delicious, too. As a result, it's the perfect decoration for many different Halloween desserts, including pies and cakes. It would also clearly be easy to make a few smaller versions that could go on cupcakes, brownies, or even cookies. Just add a spider-shaped candy or a good old-fashioned Halloween Oreo spider and you've got the perfect Halloween treat to give your party guests a fright.