Shake Shack's Hot Menu To Introduce Spicy Burger And Fries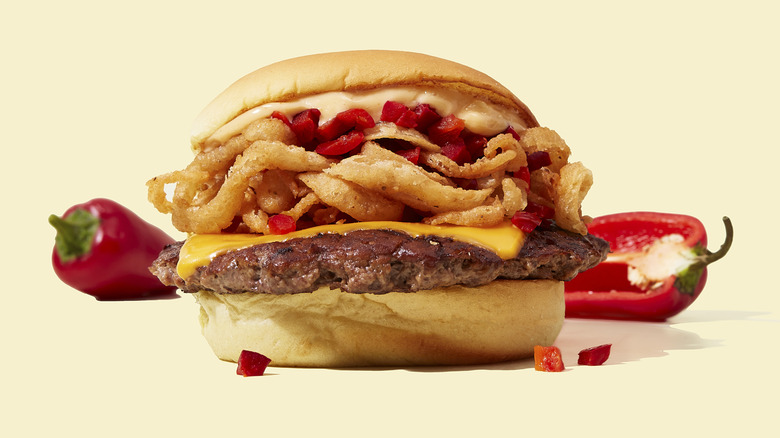 Shake Shack
The weather may be cooling down, but things are heating up at Shake Shack. The restaurant chain announced a new Hot Menu in a press release shared with Mashed. The fiery menu features a number of dishes that will scorch customers' taste buds and is headlined by several new items, including Shake Shack's new spicy burger and fries.
Sold on average for $7.99, the Spicy Shackmeister Burger is made with Angus beef and features a hot pepper blend as well as cherry peppers as a topping. It's finished off with the chain's signature ShackSauce and crispy onions to help cool things down. Meanwhile, Shake Shack is introducing two renditions of its new spicy fries. You can either get the plain fry, which comes spiced with hot pepper blend and is served with ranch sauce, or you can get your spicy fries topped with cheese. The fries start at $4.09 and go up to around $5.09 with cheese. 
In a statement to Mashed, John Karangis, executive chef and vice president of culinary innovation at Shake Shack, explained the thinking behind the new menu. They said, "We love crafting fun, delicious menu items, and our new Hot Menu puts a fiery twist on the Shack classics. Whether you're watching football or just enjoying the fall season, this menu will bring the heat that we know our guests are going to enjoy."
The hot chicken sandwich is also back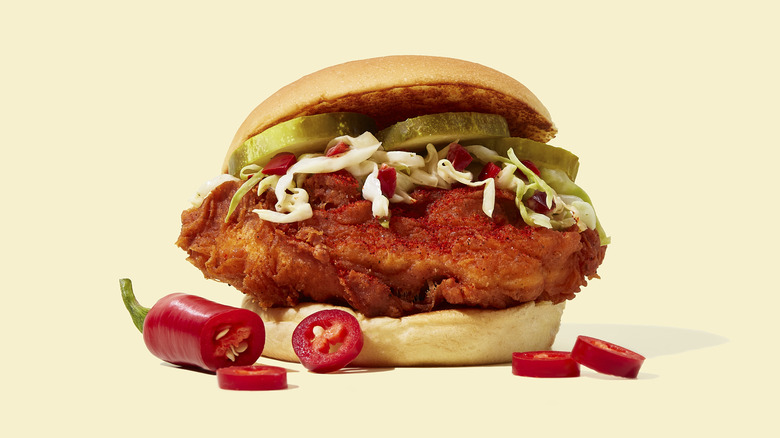 Shake Shack
While Shake Shack may be introducing new spicy menu items, it's bringing back one of its fan favorites as well. The hot chicken sandwich is returning to the menu along with the chain's new lineup. John Karangis explained the reason why, saying, "We've been listening to our fans who crave spice and bold flavors, which is why we're bringing back hot chicken for the fourth time."
The hot chicken sandwich first joined the menu in 2017 for a limited time. Then, it made return appearances in both 2018 and 2020. Shake Shack has experimented with other spicy chicken sandwiches in the time since. In 2022, the chain introduced a chicken sandwich inspired by the popular YouTube channel "Hot Ones." The "Hot Ones" chicken sandwich featured a spicy sauce as well as bacon and Monterey Jack cheese. However, it's been several years since fans enjoyed the popular hot chicken sandwich in its original form, which includes a hot pepper blend, pickles, and a cherry pepper slaw (starting at $8.39).
It's apparent that spice is never far from Shake Shack's mind. While the fries are currently available nationwide, fans will have to wait until September 8 to get the burger or the chicken sandwich at Shake Shack. Impatient to try the scorching new sandwiches? Shake Shack is offering exclusive early access today — Tuesday, September 5 — through the Shake Shack app.