Monster-Themed Pizzas Prove Halloween Isn't Just About Candy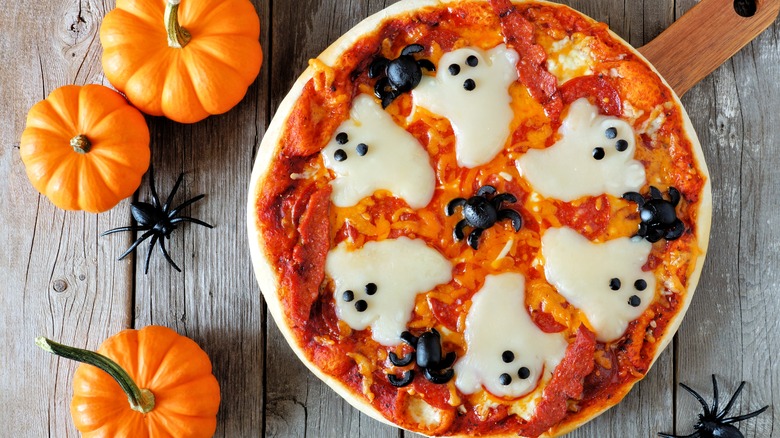 JeniFoto/Shutterstock
Because one day just isn't enough, spooky season enthusiasts have relegated all of October to the celebration of Halloween. While we love a party where the only food being served is a monstrous amount of candy, even the baddest witches need a little more substance to get through 31 days of fright-filled festivities. Luckily, Halloween-themed pizzas exist to keep you both well-fed and festive throughout the wicked weeks of Halloween.
A treat for the eyes and the belly, Halloween-themed pizzas utilize the magic of the season (along with a bunch of yummy toppings) to create a magical meal that is as much fun to make as it is to eat. Like casting a spell, there is no one way to make a Halloween-themed pizza.
Whether you like a family-sized pizza, personal-sized pie, homemade dough, or a premade crust, a Halloween pizza can come in any size or shape. While beginning with raw dough allows more ambitious pizza makers to shape their pies into a ghost or monster's head, a creepy character or bone-chilling scene can also be fashioned on a traditional circular-shaped crust with some strategically placed toppings.
Crafting some Halloween magic on your pie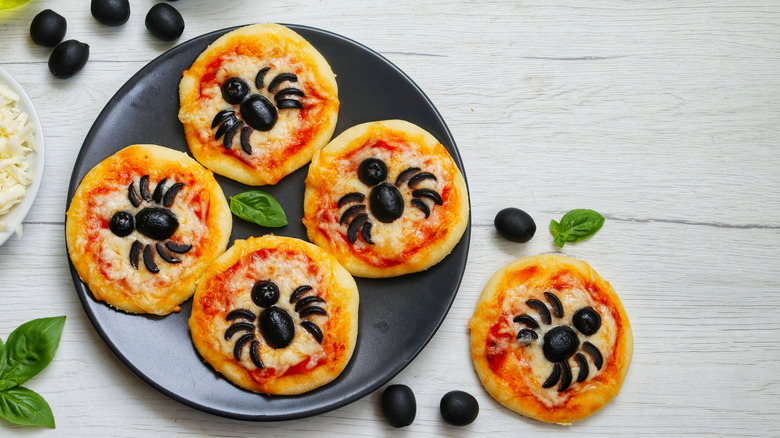 KANGIITALY/Shutterstock
Because pizza toppings on a Halloween-themed pizza are as crucial to the design as the flavor, you may want to decide the theme of your pizza before heading to the grocery store for supplies. That way, you can pick toppings in numerous shapes, colors, and sizes to achieve the desired look.
Once you've got your ingredients, it's time to get creative. Some items, like pimento-stuffed olives, can easily pass for an eyeball without additional preparation, while others might need some modification. For instance, fresh mozzarella can be cut into the shape of tiny ghosts with the help of a cookie cutter or sliced into strips to create the illusion of a mummy's wrappings; a combination of sliced and whole black olives can be artfully arranged for an unsettlingly delicious looking spider in a web.
If you're too busy wreaking havoc to whip up a Halloween-shaped pizza, you can still be the most popular ghoul at the party by having one delivered. During the spooky season, Chuck E. Cheese and Papa John's offer jack-o'-lantern pizzas complete with pepperoni smiley faces.