The Aldi Stuffed Grape Leaves That We'd Eat Straight Out Of The Can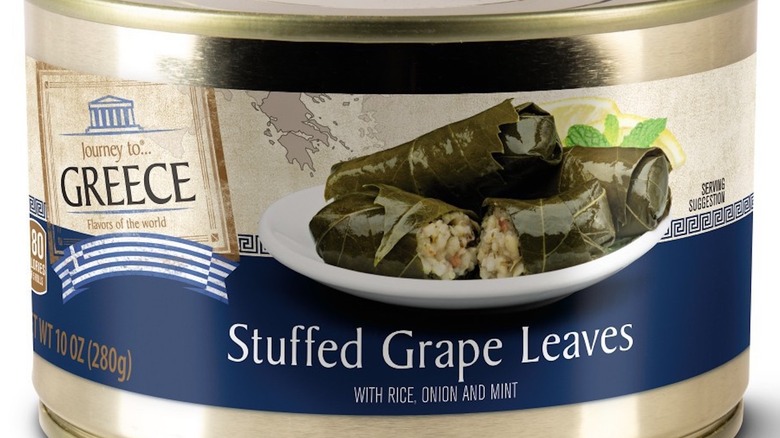 Ermak Oksana/Shutterstock
If you're looking for a quick and convenient snack, Aldi has you covered. The grocery chain's stuffed grape leaves are perfect for those between-meal snacks. They can be taken on the go and even eaten straight from the can. For those uninitiated in Greek and Mediterranean culture, stuffed grape leaves are a popular dish called dolma, which features grape leaves stuffed with various ingredients such as rice, ground beef, herbs, and sautéed onions among other things. However, the Aldi's version of this Greek classic appears to be vegan, featuring just rice, onions, and mint. It's easily one of the best Aldi finds for a party or simply stocking your pantry.
Canned stuffed grape leaves require very little preparation on your part. In fact, dolma is typically served at room temperature, meaning you don't have to cook them. However, you can stick the can in the refrigerator for a few minutes to give the leaves a slight chill as well. Dolma is served with a host of other Mediterranean food as part of a party platter called a Mezzi. If you find a can of stuffed grape leaves at Aldi, consider yourself fortunate as it appears to be a seasonal item, available for only a limited amount of time. They typically sell for around $3 a can. 
Other ways to get stuffed grape leaves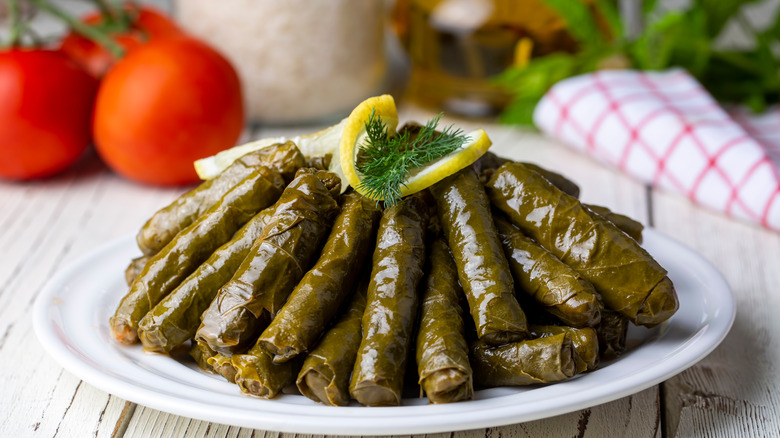 Esin Deniz/Shutterstock
Aldi isn't the only place where you can find stuffed grape leaves here in the United States, of course. You can order the delicacy from the comfort of your own home on Amazon. Likewise, Trader Joe's also sells its own version of the dolma, which some shoppers actually prefer. As one person wrote on Reddit, "[Aldi's] seemed mushy to me. I love the Trader Joe's ones, and was kind of disappointed."
However, Aldi's version still has plenty of fans as well with some questioning how they can get their hands on the food item. For instance, one person on Reddit commented, "Boyfriend brought home 12.....he bought half of what they had at the store." Another shopper questioned why the store didn't opt to call the dish by its classic name, writing, "I'm just imagining that the designers who create the packaging/names are so used to avoiding brand names that they instinctively avoided it."
If you're not a fan of the canned variety or can't find them at your local Aldi (since we know supplies can be limited), try fixing dolma yourself at home and swap things up. Add lamb or ground beef, mint, or garlic. There are several ways to customize the dish to your liking.