The Unexpected Veggie Mark Strausman Adds To Matzo Ball Soup
Brent Hofacker/Shutterstock
Chef Mark Strausman knows his way around traditional Jewish cuisine. At his restaurant Mark's Off Madison (formerly Fredy's at Barneys New York), the chef and cookbook author puts a European flair on the classic recipes of his youth. In addition to knowing the secret to making the perfect babka, Strausman also knows how to jazz up a bowl of homemade matzo ball soup, as well. 
The key to Strausman's recipe is an unexpected ingredient. While the chef certainly knows how to make a classic rendition of the soup, he also likes to mix things up. As he explains to Mashed, "I like the classics: carrots, celery, and onions. One thing I do like to add on occasion is shaved baby artichokes. That's a very Italian way of serving chicken soup."
Matzo ball soup is traditionally served at Passover and Rosh Hashanah, as well as on those sick days when you're just feeling unwell. This comforting dish has many of the ingredients you would expect, including chicken breast, carrots, chicken broth, and of course: the matzo balls (which are made out of matzo meal). Artichokes seem like they would contrast with the flavors of this recipe, but it's not necessarily that strange of a decision.
How artichokes complement matzo ball soup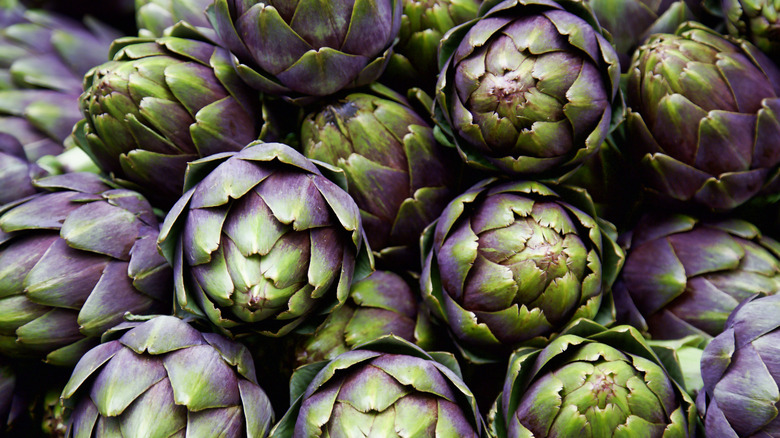 Bruceblock/Getty Images
As Mark Strausman mentions, artichokes are traditionally served in an Italian take on chicken soup; artichoke hearts are commonly paired with chicken breasts, tomatoes, and cannellini beans to make a hearty, steamy bowl of goodness. Some Italian soup recipes also combine artichokes with chicken sausage, so it's not like artichokes don't historically pair well with chicken overall. Artichokes offer a slightly nutty, earthy taste that has complexity, and that should balance well with some of the lighter elements in matzo ball soup. You can also substitute in Brussels sprouts if you're looking for a similar flavor profile but don't have artichokes on hand.
Artichokes also make sense for matzo ball soup because they are part of Jewish cuisine, especially among Italian Jews. The Jewish people likely first ate fried artichokes back in the 16th century, and it's been served among families ever since. So, if you want to follow Strausman's lead and spruce up your soup, then you might want to consider using canned or frozen artichokes. They're generally softer than fresh artichokes and easier to prepare, as well. Plus, you won't have to go through the difficult process of trying to cut out the artichoke heart. As Strausman shows, it can be good to get creative with your dish.