S'mores Charcuterie Boards Are Must-Haves For Fall Parties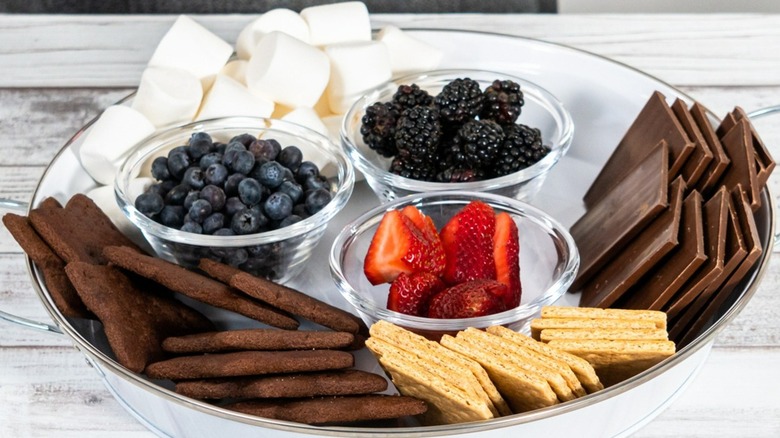 Arina P Habich/Shutterstock
For those who enjoy building the perfect charcuterie board, taking great pleasure in arranging it to please both the eyes and taste buds, you know it can be the unsung hero of party snacks. If you're hosting a party in the summer or fall months when the camping season is at its peak, you might consider setting up a gooey s'mores board at the dessert table. Unconventional charcuterie boards have exploded in popularity in recent years, proving that there are endless possibilities when it comes to what foods you can load one up with beyond the average meat and cheese platter. S'mores are the perfect choice because of just how versatile they are. Some might prefer the classic, three-ingredient s'mores recipe we all know and love, and some may like to sweeten the deal by adding extra flavor combos.
A well-planned s'mores board has the potential to infuse any party with a touch of creativity and fun, and you don't need to be near a roaring fire to make it happen. Start by grabbing all the basics: graham crackers, marshmallows, and chocolate. Remember that charcuterie boards are all about variety, so try gathering different versions of these common s'mores staples. Some tasty options to include could be chocolate or honey graham crackers, both large and mini marshmallows, and popular bite-sized chocolates like Hershey's Special dark chocolate or Reese's peanut butter cups. Even then, you can still add more to ensure your guests return for seconds.
Include dips, spreads, cookies, and fruit on your s'mores board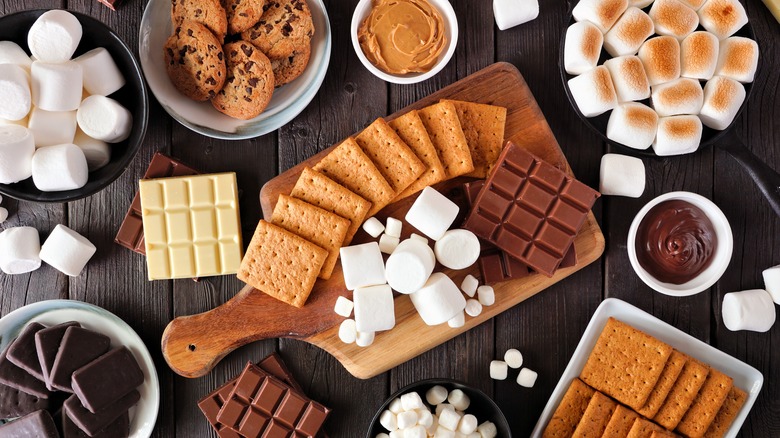 JeniFoto/Shutterstock
Here's where things get decadent. If there's still plenty of room to fill on your s'mores board, include a few bowls of rich, sweet dips and spreads that would work well as a drizzle or dollop. Some creamy Nutella, smooth peanut butter, or whipped marshmallow fluff can work wonders as a s'mores topping, and if you're throwing a fall party, adding salted caramel sauce is a no-brainer.
When it comes to choosing your cookies and chocolates, there's an infinite number of flavors out there that would make anyone's sweet tooth ache. It's best to include some mild-tasting cookies similar to graham crackers, like Biscoff cookies or wafers. If you don't mind doubling down on the sweetness, Oreos, chocolate chip, and fudge stripes are popular s'mores board cookie additions. Some other chocolate varieties to consider are brownie bites, white chocolate, chocolate-dipped pretzels, or even a splash of mint with some peppermint patties. Sounding too cloyingly sweet? Arrange a few pops of color around your board with some fresh berries.
S'mores wouldn't be s'mores without toasting the marshmallow to golden perfection, and if you're already making s'mores in your air fryer, another convenient way to do it is with a kitchen torch. But when you've got a full guest list attending your party, that option can become slow and tedious. Instead, toast your marshmallows in the oven near your s'mores board, letting guests scoop them onto their own sweet creations.