Is Crumbl Cookies Cheaping Out With Its New Pop-Tarts Flavor Collab?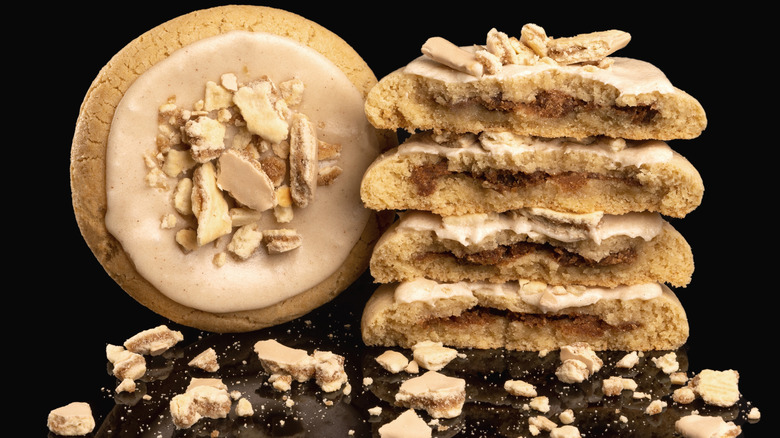 Crumbl
Since it first opened its doors in 2017, Crumbl Cookies has been a major sensation, drawing in a host of cookie lovers despite its rather expensive price point. The goods offered by the brand include a revolving door of alternating flavors, as well as a number of special one-off promotions. Crumbl Cookies' latest endeavor sees it teaming up once again with Kellogg's, for a brown sugar cinnamon cookie based on the hit Pop-Tarts flavor. The treat will feature a brown sugar base with added brown sugar filling as well as a cinnamon-infused glaze and a crumbled Pop-Tart topping.
According to the latest press release from the cookie conglomerate, the limited time treat is expected to ring in with a suggested retail price of $4 to $6 per cookie, depending on your location. Though fans of the brand have long championed what they consider to be delicious cookies, one cannot help but wonder whether the reliance on brand collaborations has cheapened the fresh baked and almost homemade vibe that Crumbl often embodies. Besides, for a handful of bucks, you could go buy a whole box of frosted brown sugar cinnamon Pop-Tarts — or two!
Where can you try the new Crumbl Cookies flavor?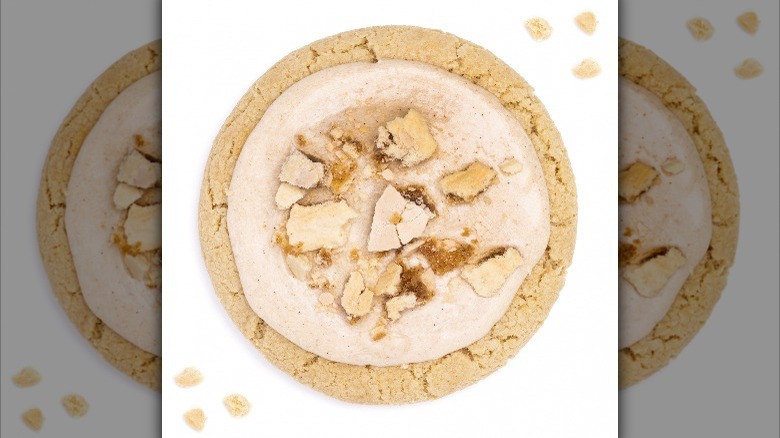 Crumbl press release
If you're interested in trying the brown sugar cinnamon cookie yourself, the limited-edition flavor will be available from September 17 through September 24. Crumbl has announced that the Pop-Tart-inspired cookie will be available at every one of its nearly 900 stores across all 50 states.
Although the price may scare some customers away, it didn't seem to hurt Crumbl Cookies on its previous Pop-Tarts collaboration — the Frosted Strawberry Pop-Tart Cookie, released back in July. The first official collaboration was met with a host of support from the Crumbl Cookies community, resulting in a number of fans of the brand deeming the cookie their new favorite. This is likely what inspired Crumbl Cookies to partner with Kellogg's for a second time so soon after the release of the Frosted Strawberry Pop-Tart Cookie. Of course, if you're not a massive Pop-Tart fan, Crumbl Cookies may still have the treat for you, as its ever-changing rotation of flavors allows for a great deal of mixing and matching.