Swap The Eggs Out For Cornstarch To Make Vegan French Toast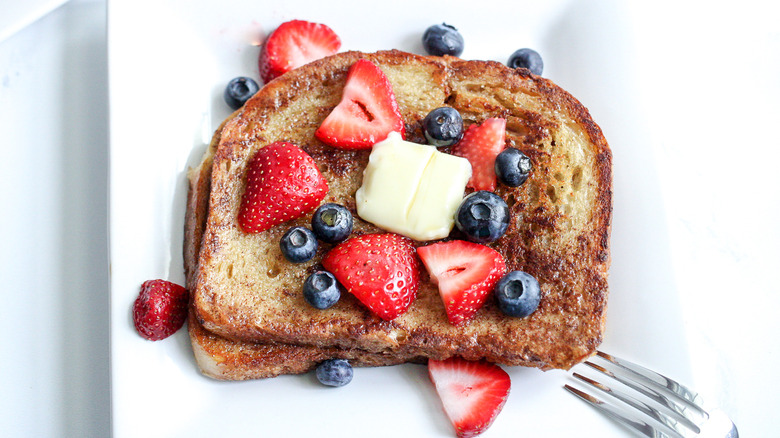 Jessica Morone/Mashed
With a little bit of modification, practically any recipe can be made vegan. For those who love breakfast and brunch, items like eggs benedict take a little more work, but pancakes and french toast are pretty easy to alter. While it's easy to use an egg replacement, such as a mix of chia seeds or flax seeds and water, cornstarch is a simple substitute that is most likely already in your cupboard.
Mashed recipe developer Jessica Morone created an eggless French toast recipe that is so good, that no one will know what's been omitted unless you tell them. "You don't miss the egg at all," Morone said. "It tastes just like regular French toast." While Morone's recipe uses whole milk and butter, it doesn't have to. "This could easily be a vegan recipe if you swap the milk for dairy-free milk and the butter with either dairy-free butter or just cooking spray," she said.
When cornstarch is heated, it works to thicken the milk and bind the batter to the bread. And since cornstarch doesn't have any flavor, you're not adding anything extra to the taste. While some prefer the eggy taste of French toast made with eggs, using cornstarch allows you to focus more on the spices you add, like cinnamon and vanilla extract.
It creates a custardy texture that is perfect for French Toast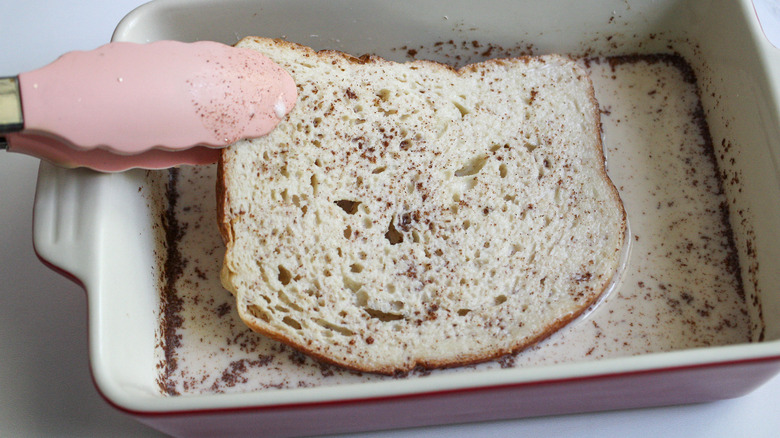 Jessica Morone/Mashed
There are many different options for baking without eggs, ranging from an overripe banana to aquafaba (the liquid leftover from a can of chickpeas), but one of the best substitutes for making a custard is cornstarch. Since the batter used to make French toast is often thought of as custard-like in texture, it makes sense that cornstarch would make the best French toast substitute.
Jessica Morone's French toast recipe uses the ratio of one tablespoon of cornstarch for every ½ cup of milk used, which is adjustable depending on how many servings you want. Since cornstarch is a thickener, it coats each piece of bread better and more thoroughly, and the bread will crisp up better on the stove. Don't worry, the inside stays soft and pillowy.
While cornstarch will allow you to make French toast that is thick and crusty on the outside while remaining moist on the inside, it won't provide the extra fats that eggs do. For this reason, some people use coconut milk as the liquid to give the completed recipe a richer taste. And if you really can't live without the eggy taste, a bit of black salt or kala namak mixed in your batter should do the trick.