Easy Eggless French Toast Recipe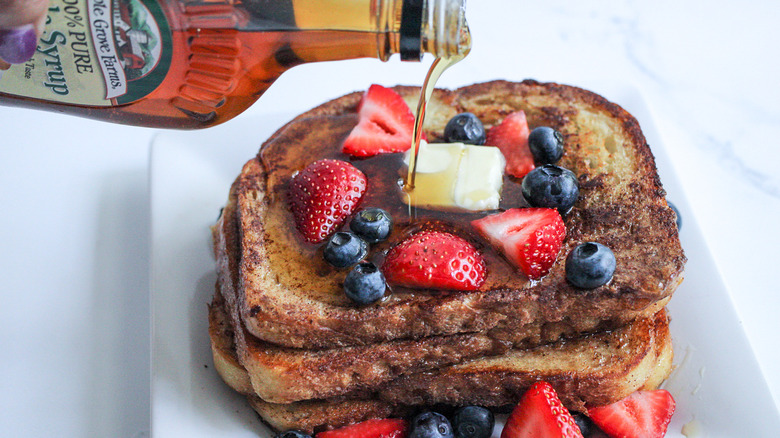 Jessica Morone/Mashed
When it comes to breakfast carbs, a few dishes may come to mind. You may first think of pancakes or waffles, both because they're equally as delicious as they are easy to prepare. But what about French toast? Many people overlook the bread-based treat as a quick breakfast option, but in reality, it's incredibly easy to whip up French toast, and the flavors are undeniably tasty.
While French toast batter usually includes eggs, this ingredient isn't actually necessary — and recipe developer Jessica Morone's easy eggless French toast recipe proves that fact. Morone, who shares recipes over at Jess Loves Baking, has crafted a simple eggless French toast recipe that tastes just as good as it sounds. "You don't miss the egg at all," Morone explains of this recipe. "It tastes just like regular French toast." 
Because this recipe is egg-free, it makes it a great option for people with egg allergies, those who don't like eggs, or simply anyone who loves French toast. In less than 30 minutes and with simple, fresh ingredients, you can whip up French toast for your next busy morning or casual brunch. In fact, breakfast for dinner is never a bad idea — the possibilities are truly endless with a recipe this good!
Gather the ingredients to prepare eggless French toast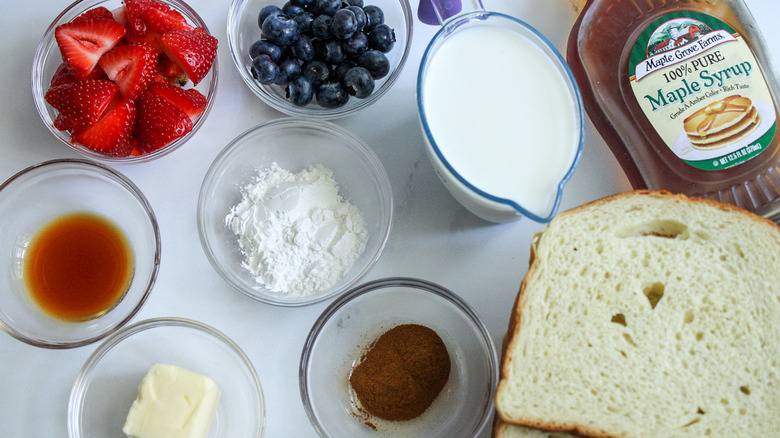 Jessica Morone/Mashed
Before you can start making easy eggless French toast, you'll want to make sure that you have the right ingredients. Fortunately, most of these ingredients are likely already sitting in your cupboard and fridge! As with any French toast, you'll need bread as well as whole milk, butter, vanilla extract, cinnamon, and cornstarch, which will act as the binder in this recipe instead of eggs. For toppings, you'll want maple syrup and optionally some fresh fruit. According to Morone, "This could easily be a vegan recipe if you swap the milk for dairy-free milk and the butter with either dairy-free butter or just cooking spray."
Prepare the French toast batter, and dunk the bread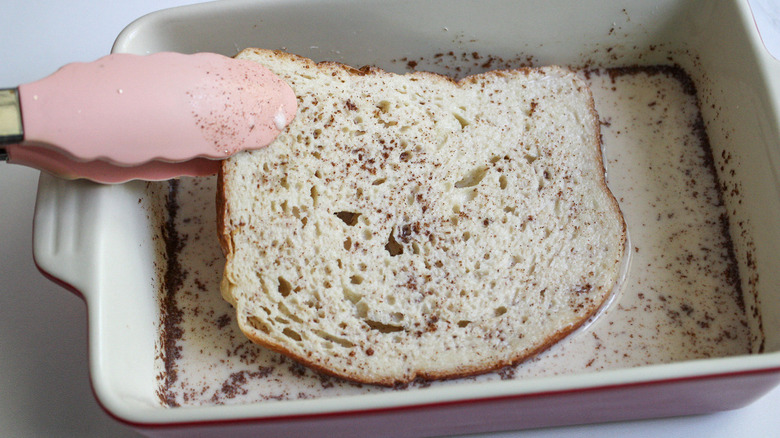 Jessica Morone/Mashed
Once your ingredients are all organized, you can begin making your French toast. First, whisk together the milk, cornstarch, vanilla extract, and cinnamon in a small bowl to make your French toast batter. Although there's no egg in the batter, you'll notice that it comes together and looks very similar to typical French toast batter. Next, grab your bread slices and, using a pair of tongs, individually dunk each slice of bread into the mixture. Let each side soak in the batter for at least three seconds so it absorbs nicely. Repeat this process with each slice of bread.
Cook your French toast on the stovetop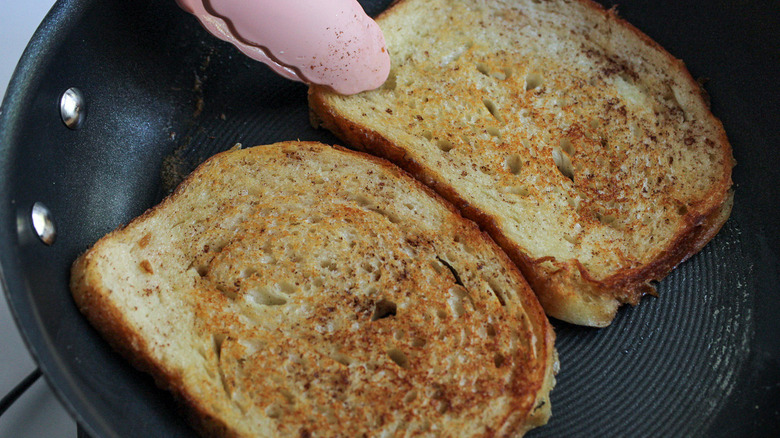 Jessica Morone/Mashed
After you've finished coating each slice of bread in the French toast batter, you're ready to begin cooking. Start by adding the butter to a nonstick skillet and then placing that over medium heat on the stovetop. Once the butter melts down, place two slices of the prepared bread into the skillet, allowing them to cook for about three minutes. Then, flip both slices of bread, and let them cook for another three minutes on the other side. You'll know that your French toast is ready once the bread is nice and golden brown. Repeat the cooking process with each slice, until all of your French toast slices are perfectly golden. 
Top your French toast with fresh fruit, butter, and maple syrup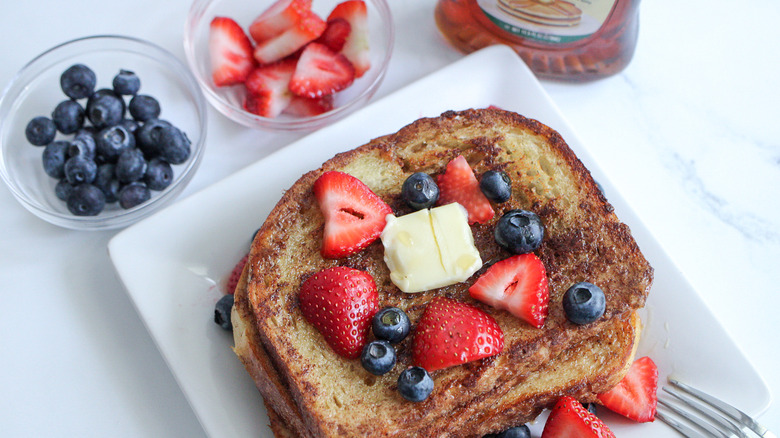 Jessica Morone/Mashed
Immediately transfer the cooked French toast to a plate, and then top with additional butter, maple syrup, and optional fresh fruit. Blueberries and strawberries work great, and so do peaches. You can switch it up each time you make this yummy recipe. 
Now, you're ready to serve and enjoy your easy eggless French toast! You'll notice that this recipe tastes just like traditional French toast, so you won't even know that the egg is missing from the batter. This recipe is super easy to make in a large batch, so you can whip it up for family breakfast or make it for a brunch with friends. With such simple but fulfilling ingredients, this eggless French toast recipe is sure to become a breakfast staple in your household.
Easy Eggless French Toast Recipe
This simple eggless French toast recipe tastes just as good as it sounds.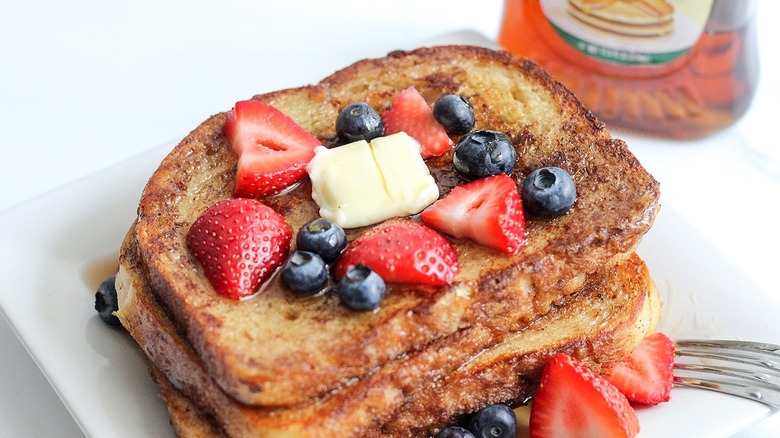 Ingredients
1 cup whole milk
2 tablespoons cornstarch
1 ½ teaspoons vanilla extract
1 teaspoon cinnamon
6 slices white bread
3 tablespoons butter
Optional Ingredients
maple syrup, for serving
fresh strawberries, for serving
fresh blueberries, for serving
Directions
In a shallow dish or bowl, whisk together the milk, cornstarch, vanilla extract, and cinnamon until combined.
Dip the bread into the milk mixture, turning to coat each side evenly, for approximately 3 seconds on each side.
Melt 1 tablespoon of the butter in a large nonstick skillet over medium heat.
Add two slices of the prepared bread to the pan, and cook for 3 minutes on each side, until golden brown. Repeat with remaining butter and slices of bread until they are all cooked.
Top with maple syrup and fresh fruit, if desired. Serve hot.
Nutrition
| | |
| --- | --- |
| Calories per Serving | 167 |
| Total Fat | 8.0 g |
| Saturated Fat | 4.6 g |
| Trans Fat | 0.2 g |
| Cholesterol | 19.3 mg |
| | |
| --- | --- |
| Total Carbohydrates | 19.0 g |
| Dietary Fiber | 1.4 g |
| Total Sugars | 3.9 g |
| Sodium | 166.0 mg |
| Protein | 4.5 g |