TikTok Realizes You Can Buy Pizza Ingredients At Trader Joe's And Calls It A Trend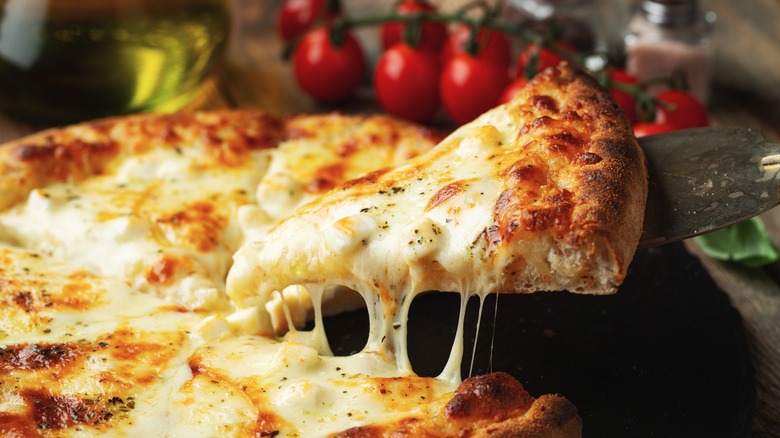 VasiliyBudarin/Shutterstock
A viral trend on TikTok calls for people to purchase a number of grocery staples used to make pizza at home and then use those items to make a pizza at home. Although the viral DIY pizza, originally posted by user @blaircooleydietitian, does require a few specific Trader Joe's ingredients to fit in with the trend, there's no added element that makes cooking and eating this pizza special, beyond the alleged deliciousness of this particular combination of flavors. This has prompted many social media users to express confusion over this movement, suggesting the trend is nothing more than shopping and cooking.
While this might seem like something that came directly from the marketing department of a Trader Joe's think tank, the chain famously doesn't do a lot of marketing and doesn't use an advertising agency. It relies instead on the loyalty of its many fans as well as on trends — like this pizza — going viral via social media platforms. This particular dish, which relies wholly on ingredients purchased from the popular grocery chain, became a hit entirely based on word-of-mouth from popular content creators, which is exactly the sort of publicity Trader Joe's thrives on. The viral #traderjoespizza tag currently has thousands of videos, which have collectively amassed over 6 million views. Although there are some variations and substitutions made by different TikTok users, the recipe is mostly very easy to follow.
What ingredients are necessary to make the viral Trader Joe's Pizza?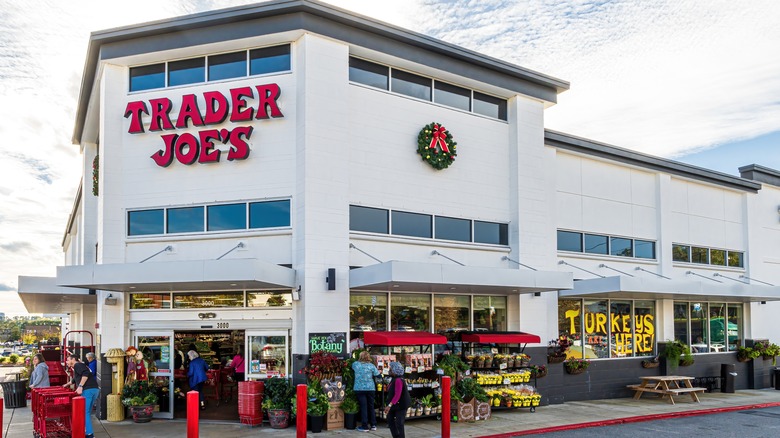 Wileydoc/Shutterstock
Part of the reason Trader Joe's is so popular is that it carries quirky, unusual, often one-of-a-kind ingredients at reasonable prices. It's sometimes hard to determine if Trader Joe's is carrying something because it's trendy or it's trendy because you can find it at Trader Joe's. The ingredients necessary to make this pizza are no exception: pre-made garlic and herb pizza dough, garlic spread dip, Italian bomba hot pepper sauce, burrata and marinated mozzarella balls, spicy charcuterie mix, balsamic glaze, and hot honey sauce. They're all slightly-prepared items that people with limited time, money, or cooking skills can easily combine to make a meal.
The dish has been widely regarded as a delicious creation by users all across the app. The biggest criticism from commenters is that you could order a pizza for the price of all of these ingredients. This isn't taking into account the fact that these ingredients can be used to make future pizzas, though, which is sort of the point of many Trader Joe's products. Though it is strange to label home-cooking a simple dish a trend, in comparison to internet trends of yesteryear — the blackout challenge, the tide pod challenge, and even the cinnamon challenge — we can all surely be grateful for a movement that seeks to let folks experiment in the kitchen in a fun and safe way.