Baking Hard Candy Turns It Into An Edible Serving Dish For Any Occasion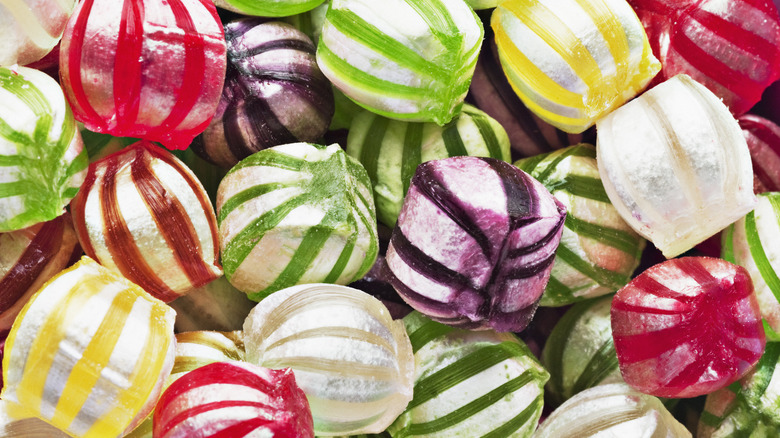 Martin Barraud/Getty Images
When life gives you plenty of hard candy, don't just pop the pieces in your mouth. You have been blessed with an opportunity to be creative — you can use candies to make your desserts extra special, for instance, as a topping for homemade peppermint bark. However, we found an even better way to kick it up a notch: Transform your hard candy into edible tableware. 
All it takes to make an edible serving dish is simply melting hard candy in an even layer in a baking pan, then letting it cool and harden. You will just need hard sugary treats like Jolly Ranchers or peppermint candy, parchment paper or a non-stick baking mat, and a baking pan. It will take about 15 minutes to prepare a homemade candy plate — easy!
These edible plates look and taste exquisite, and the best part is, they can amp up your serving game no matter the occasion — Halloween, Christmas, birthday parties ... you name it. Everyone and their mother will be talking about the colorful candy that's been melted and cooled into any shape of baking dish you like. They also make for excellent holiday gifts that will not be forgotten. 
Baking hard candy is just as easy as it sounds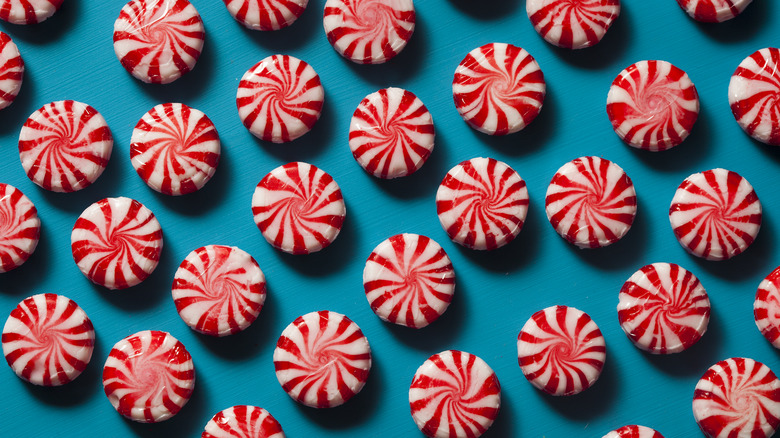 Bhofack2/Getty Images
To make an edible candy dish, first preheat your oven to 350 degrees Fahrenheit. Spread out the candy on a parchment-lined baking pan or non-stick mat, then bake it until the candy has fully melted to form a gooey layer in the pan. Once the candy has melted, remove the baking pan from the oven and let it cool. Use the cooled, hardened dish to serve desserts, more candy, or biscuits. 
Multi-color candy will look aesthetically pleasing when baked, but make sure you use complimentary flavors that don't overpower each other — the dish is edible, after all. Since your candy dish will depend on the shape of the baking pan, you can experiment with different shapes and sizes. You can also make candy bowls out of melted hard candy by melting the candy in a baking mat, then placing it over an upside down bowl to mold it. Candy bowls and plates can be stored for months, as long as you don't expose them to heat and moisture. 
If your holiday plans now involve hard candy serving dishes, why not make some candy ornaments as well? All you need is cookie cutters in different shapes (think: Christmas trees, Jack-o'-lanterns, or snowflakes). Place the cookie cutters on the baking tray, put candy in them, and bake away. If the candies don't quite fit, you can always crush them prior to melting.