The Broccoli Sandwich Is Basically A Kid's Worst Food Nightmare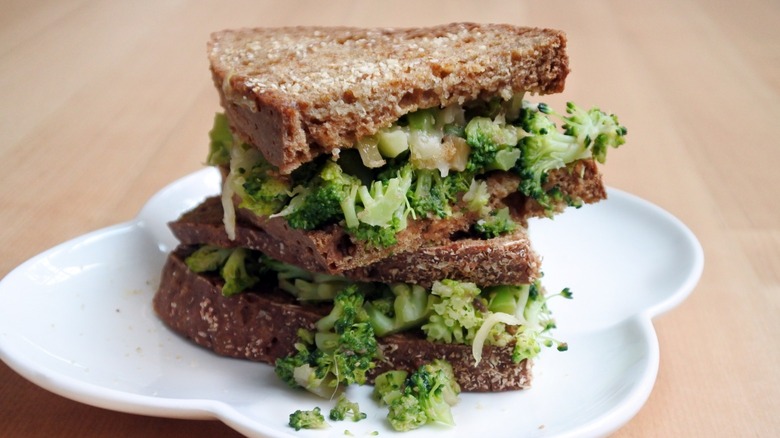 kokofoundit/Shutterstock
"If you don't eat your vegetables, then you don't get any dessert." This has to be one of the most dreaded sentences for children, especially those who are picky eaters. For some, broccoli stands out as the worst offender — and there's a scientific reason. According to the Journal of Agricultural and Food Chemistry, this phenomenon is caused by an enzyme in the veggie. Still, parents may be able to encourage their kids to eat more broccoli via one vegetable-rich sandwich. 
Children may turn their noses up at the thought of this side dish becoming the main course, but the other ingredients in a broccoli sandwich help make it more palatable. For example, the earthy flavor of broccoli is slightly muted by the bread and blends in well with cheese, making it tastier for those who may not be broccoli fans. Likewise, depending on your recipe, you can spice things up with a vinaigrette that pairs well with the broccoli or throw some peppers into the mix. 
For broccoli fans, putting this vegetable front and center makes it the star of your meal — and it's just one broccoli recipe your family will eat up. Plus, making a veggie sandwich demonstrates how you can get creative with incorporating vegetables into your diet. 
Common ingredients in a broccoli sandwich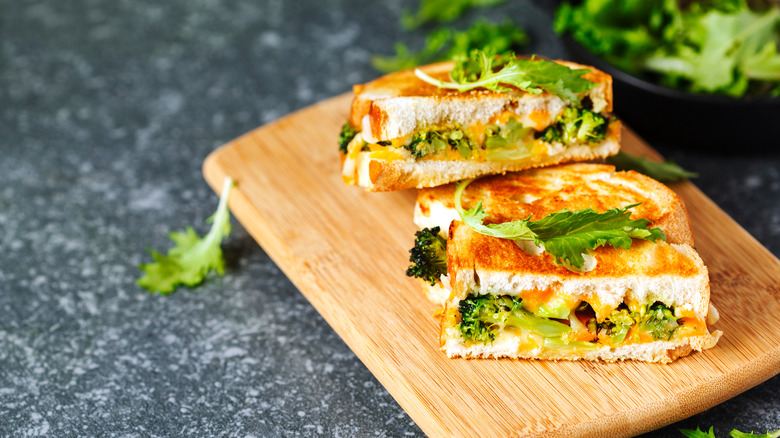 AnjelikaGr/Shutterstock
Broccoli and bread are the main ingredients needed to make a broccoli sandwich. Consider a hoagie roll, toast, or brioche buns as bread options. Indeed, you could make a sandwich with only these two ingredients. However, many recipes call for other items to impart additional flavor and complexity. 
To season the sandwich, consider incorporating salt and pepper to bring out broccoli's earthy undertones. Garlic or chili flakes also lend a spicier edge to the sandwich. To bring some of the characteristic saltiness and tanginess of a stir-fry to your sandwich, consider adding a splash of soy sauce to your florets. However, be careful not to make the bread soggy. Other options to boost the overall flavor include slicing some Peppadew peppers or creating a vinegarette sauce with Italian dressing, mayo, and red wine vinegar.
Beyond seasoned broccoli and bread, many recipes call for cheese, as a creamy melt will bring the entire thing together. Provolone proves to be a nice, sturdy cheese; it's easy to melt but not too soft to make a mess. Additionally, a sprinkle of Parmesan compliments the flavors of broccoli well. For more gooey cheese, make a pot of melted Gruyère cheese sauce for dipping. If you follow a vegan diet, replace the cheese with nutritional yeast.
Tips for preparing a broccoli sandwich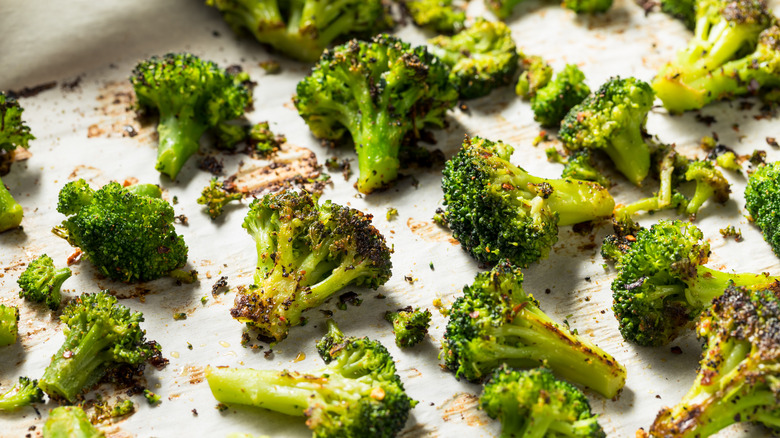 Brent Hofacker/Shutterstock
When it comes to preparing a broccoli sandwich, always cook your broccoli first. We recommend roasting it in the oven until tender, which will bring out more of its natural flavor. As a bonus, roasting broccoli also gives it more texture. Our easy roasted broccoli recipe can get you started. You can boil broccoli if that's your favorite method of cooking this vegetable, but be sure to pat the veggies dry to avoid soaking your bread. If you're short of time, an air fryer is also a solid method for quickly cooking veggies. 
From there, layer your broccoli on your choice of bread. If you're adding cheese, now would be the time to do so. If you're using crumbly cheese, like goat cheese, cut up the broccoli and mix it into a paste with the goat cheese first. Sliced cheeses can be layered atop the broccoli so that it will melt evenly. When determining how to cook the sandwich, you also have options. You can either toast your sandwich in the oven until the cheese has melted or give it a light roast on the stovetop until it's golden brown. Once the sandwich is done cooking, add extra toppings if desired.