The New Skittles Littles Let You Take A Tiny Taste Of The Rainbow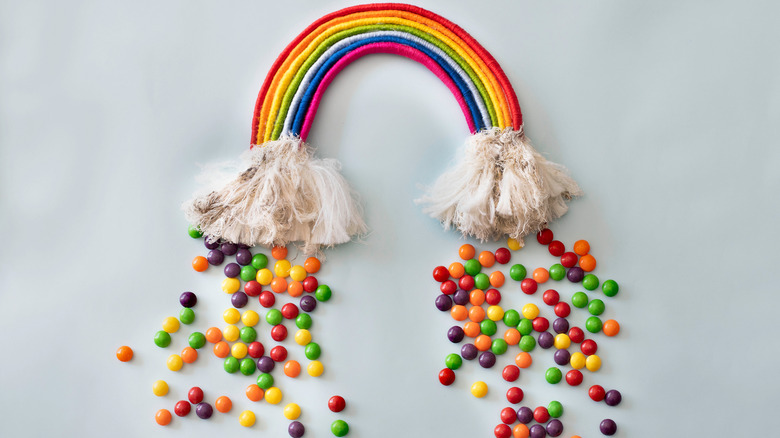 Evgenia Tuzinska/Shutterstock
Skittles, with its array of different colors and flavors, has always been a treat for those who are craving sweetness but aren't interested in getting a chocolate fix. However, while the little round candies have always been pretty portable, Skittles just revealed in an Instagram post that the new addition coming to its lineup of rainbow-colored goodies is even smaller: Skittles Littles. "Tasting the rainbow but smaller edition," quipped one fan. "Skittles Littles: taste the (pocket-sized) rainbow. Share the (pocket-sized rainbow)," joked another.
According to a press release, the new Skittles Littles will be available in two sizes: a 7.2-ounce Grab N Go pouch and a small 1.9-ounce resealable tube. While the new variety is due to be available everywhere in the U.S. by 2024, many Skittles fanatics have already reported seeing them in stores for a while now. "Bought some a couple [of] weeks ago," commented one person on Facebook. "They don't seem to be too much smaller to me. I was expecting itty bitty so I was a tad disappointed not gonna lie." The candies are already available at Walmart for about $2.12 for the tube and $2.48 for the bag, while they can alternatively be found at Target for around $2.29 for the tube and $2.79 for the bag.
Skittle Littles are one of many new items this year
While Mountain Dew Skittles is still, sadly, not a thing, Skittles Littles isn't the only collaboration or new product that the brand has been busy with during 2023. While the candies weren't white or gray, as in years past, May saw the brand bring back its Pride packs to support the LGBTQ+ community. The company also donated $1 of each limited-edition four-ounce and 15.6-ounce Pride packs sold to GLAAD. Also in May, Skittles announced via Instagram an addition to its Gummies lineup: Skittles Sour Gummies, an item that became many fans' new favorite. "Thank you these are my favorite candy I've been waiting since November," commented one person. "These are too good!!!!" said another. And the reactions to Skittles' latest announcement is — luckily for the brand — just as positive.
[embed=https://www.instagram.com/p/Cxsl_NCuahN/
However, Skittles' former collaboration with French's mustard — just in time for National Mustard Day on August 5 — was a perplexing one that nobody really saw coming. Even when French's Twitter account teased the event with photos of mustard ice cream, mustard donuts, and mustard beer, no one predicted mustard Skittles could actually be a thing. Unlike other crossovers, though, the mustard Skittles were only available to win while supplies lasted, or at one of French's National Mustard Day events. With three more months still left in the year, though, it's possible Skittles Littles won't be the last new product we see from the brand this year.