Popeyes' New Spicy Truffle Chicken Sandwich Wants To Make Fast Food Fancy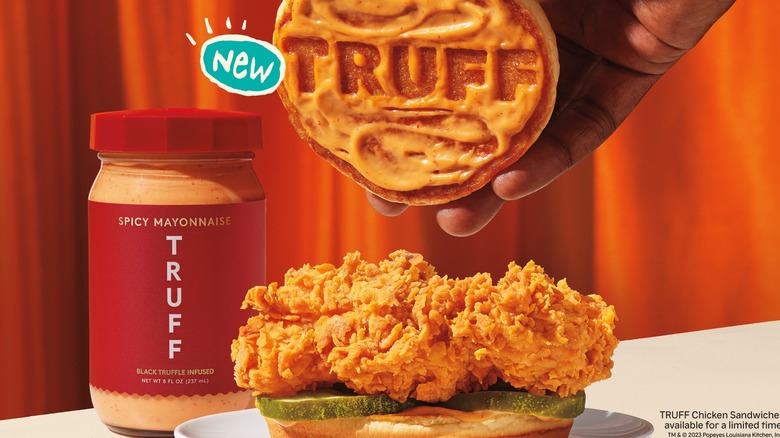 Popeyes
For those who've been curious about TRUFF hot sauce, one of Oprah's favorite things in 2022, Popeyes has you covered. The fast food chain shared in a press release that it will be collaborating with the unique and popular hot sauce company to create the newest addition to its chicken sandwich offerings: the Spicy TRUFF Chicken Sandwich.
"It initially might not make sense to a food connoisseur to crave truffle on a fast-food chicken sandwich, but Popeyes food defies all logic with its homemade traditions and vibrant flavors," President Sami Siddiqui said. Since TRUFF's hot sauces cost between $17 and $35 apiece, the first thought many Popeyes fans may have is, "How expensive is this sandwich going to be?" Not to worry — the sandwich may seem fancy, but prices start at $5.99 — not too much pricier than a regular Spicy Chicken Sandwich.
Beginning October 17, customers can order the Spicy TRUFF Chicken Sandwich, which will feature everyone's favorite Popeyes Chicken Sandwich along with TRUFF's Spicy Mayo: a rich, bold mix of black winter truffle, mayo, and red jalapeño. You'll also have the option to "Build Your Own" TRUFF meal by adding Spicy Mayo to everything from Mac and Cheese to Chicken Tenders. For anyone who just wants to try the Spicy Mayo, you can purchase a side for $1.
Make a fancy TikTok video for a chance to win a spot on Popeyes Yachtsteraunt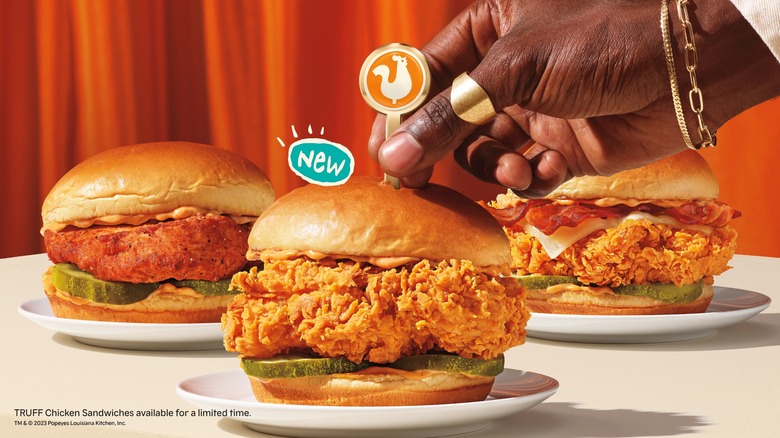 Popeyes
The release of the new Spicy TRUFF Chicken Sandwich may be exciting enough news for many, but there's more to this Popeyes-and-TRUFF alliance than meets the eye. "We launched a TikTok contest anchored to the launch of our fanciest Chicken Sandwich yet and designed the campaign to inspire guests to take to social media to spotlight fancy moments in their everyday life," Chief Marketing Officer Jeff Klein said.
To those who create their own video demonstrating how they "get fancy with the Spicy TRUFF Chicken Sandwich," Popeyes is offering a chance to take a ride on the Popeyes Yachtsteraunt, which is expected to set sail in the spring of 2024. Popeyes has recruited model and TikTok influencer Wisdom Kaye to explain the details in a YouTube video, and you can find more info at popeyes.com/contest. Your TikTok video should show the everyday ways you bring fanciness to your life — and don't forget to tag #PopeyesContest.
TRUFF's partnership with Popeyes is just the hot sauce company's latest in a string of collaborations. In 2022, Taco Bell and TRUFF joined together to release the limited-time offering of Loaded TRUFF Nacho Fries. TRUFF also got the Mario Bros. treatment earlier this year, with Mario, Toad, and Princess Peach appearing on bottles of TRUFF's hot sauce.