McDonald's Is Making Fridays Even Better With Free French Fries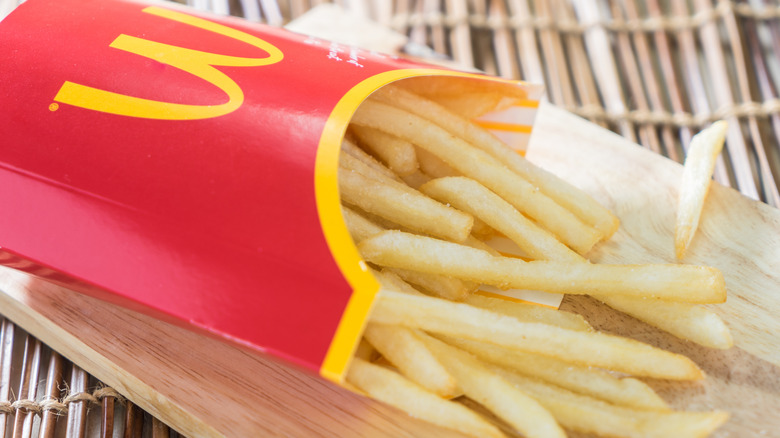 Junce/Getty Images
Let's be real, not much tops an order of fresh McDonald's French fries — except free McDonald's French fries, of course. After all, who doesn't love free food? Fortunately for all the free-fry lovers out there, McDonald's is once again running a promotion for Fry-days.
Every Friday through the end of 2023 (that's 10 opportunities in total), anyone with the McDonald's app can score a free medium fry on any order of at least $1. As per usual, this offer can only be used once a day.
To take advantage of this deal, you'll need to order through the restaurant's app, selecting the deal for a free medium fry after you've added at least $1 worth of food to your digital bag — perhaps even a small McDonald's McFlurry to dip those fries in. You can then either have your food delivered, or you can pick it up yourself, either in the drive-thru or curbside.
Why is McDonald's always running a deal for free fries?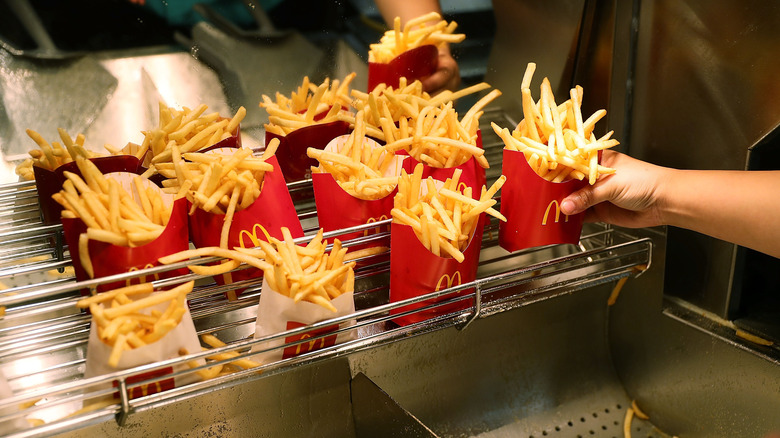 Joe Raedle/Getty Images
Whether or not you frequent McDonald's, you might have noticed that the fast food chain seems to run a lot of promos for free French fries. How can a business make money by giving away products for free? To start with, McDonald's merely draws customers in with the promise of free fries. Everyone loves free food, so customers, of course, will want to cash in on that offer. McDonald's also offers the deal every Friday, ensuring customers will come back each week.
By tacking on that $1 order minimum, the chain requires customers to buy at least one other menu item, but if you're already there, and if you're "saving money" on the French fries, why not add a burger and shake to your order? And while you're at it, why not upgrade your drink to the next size? Similarly, receiving products for "free" generally makes customers feel more positively about a business — a phenomenon called the "zero price effect." Although this promotion is essentially just another fast food marketing scam, it sure is welcome.