Slow Cook Pineapple Upside Down Dump Cake For Gooey Perfection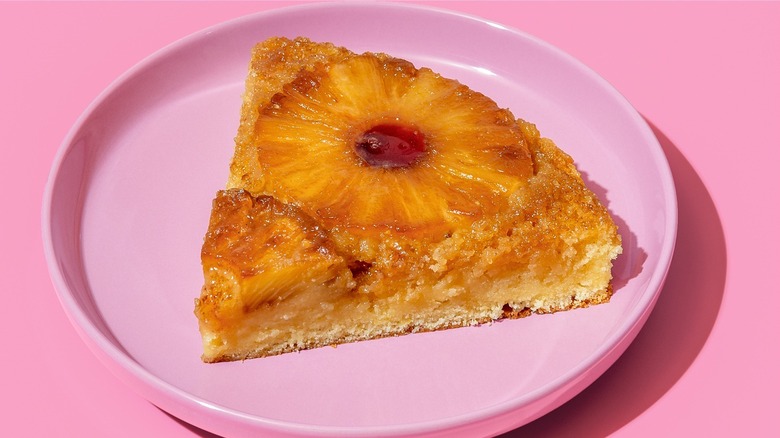 Say-cheese/Getty
Dump cakes are aptly named — dump the ingredients into a pan and bake. These fruit-based desserts have a crunchy topping that's both cakey and crisp and come together in minutes. While it is possible to create a dump cake from scratch, using fresh fruit and measuring out the dry ingredients, you need nothing but a slow cooker, a can of pineapple chunks, a box of pre-made cake mix, and some butter to create a slow cooker pineapple upside-down dump cake.
Dump cakes have been introduced to a new generation by TikTokers who love their simple steps and oozing visuals, but they arrived on the scene in the 1960s when pre-made cake mix was a staple ingredient in many homes. They are usually baked in the oven, which is crucial to the dump cake's multi-textured appeal. The fruit is dumped in first, followed by a covering of cake mix, and then cubes or slices of butter are evenly placed on top of the cake to melt and form a crusty top. Making a dump cake in a slow cooker, with its low heat and closed lid, might seem like a recipe for disaster, a level of convenience too far, even. That would be true if you need a cake that's closer to a crisp or a crumble than a cobbler. But if you don't mind soft, gooey desserts, then this tropical slow cooker dump cake is a foolproof warming winter dish you'll make again and again.
Unappetizing names, delicious dishes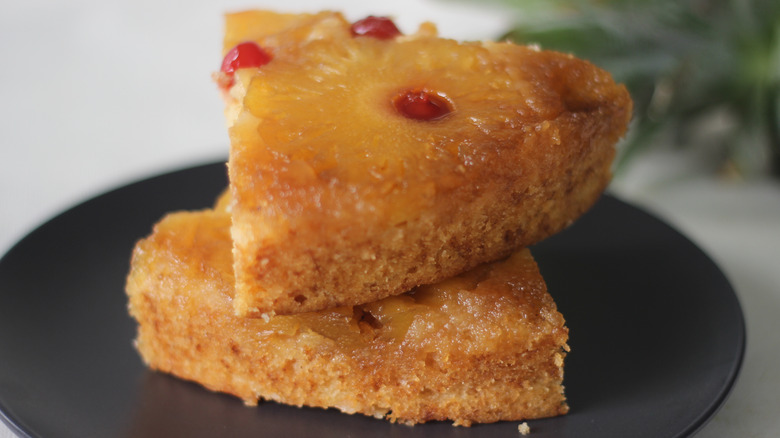 Trending Now/Shutterstock
Using a slow cooker or crockpot to make a pineapple upside-down dump cake will take an hour or two longer than baking in the oven. The cake is cooked in the fragrant fruity vapor from the bottom, creating a moist, flavorful sponge with a juicy fruit filling that doesn't contrast significantly with the soft cake top instead of the crisp top you get from a baked cobbler. Opting for a pineapple upside-down dump cake is helpful here because, after two to three hours in a slow cooker, pineapple chunks hold their shape better than other fruit fillings like apples or berries. Also, their tangy tropical flavor stands out against the neutral vanilla sweetness of boxed yellow cake.
Cover the slow cooker's lid with paper towels or other absorbent material to stop condensation from dripping and making the cake claggy. The reduced moisture can even lead to some crispy bits around the edges, where the juice bubbles through.