Why Travis Kelce Isn't A Fan Of Thanksgiving Food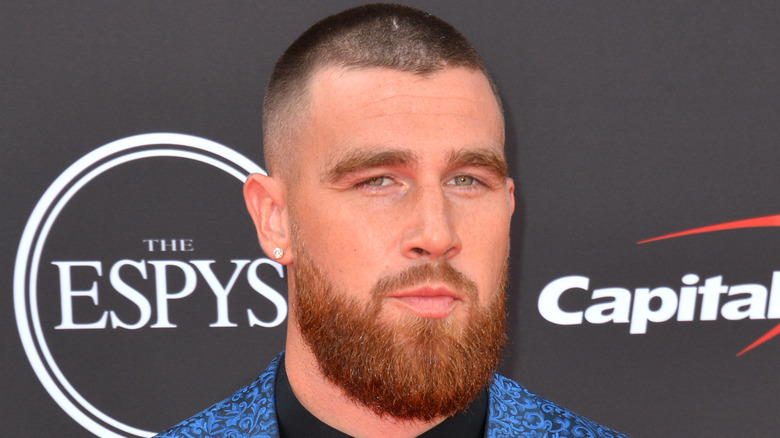 Featureflash Photo Agency/Shutterstock
Ah, Thanksgiving! A time when families and friends gather to dine on hearty provisions that warm souls, fill bellies, and make taste buds sing with gratitude — but not for Travis Kelce, the superstar tight end for the Kansas City Chiefs. He's the guy who can snag a touchdown pass in the end zone, but when it comes to the autumnal feast day, he's not exactly spiking the football.
In a revealing episode of the Kelce brothers' podcast "New Heights," Travis and his equally athletic brother, Jason Kelce, spilled the beans about their Thanksgiving dinners growing up in the heartland of Ohio. Turns out, Travis was a picky eater of epic proportions, a quirk that drove their dad, Ed Kelce, up a wall. Young Travis had some serious beef with a couple of traditional Thanksgiving staples; he couldn't bear the sight of stuffing or mashed potatoes gracing his plate.
So, what did Travis love to nosh on every fourth November Thursday? Corn, mac and cheese, rolls, and ham (his favorite) were the champions. "I ate all the ham!" he admits. Since the Kelce bunch wasn't too keen on turkey, their dad went out of his way to snag a tender, juicy HoneyBaked Ham from Boston Market each year. Much to the family's delight, their mother, Donna, still whips up her famous "Mama Kelce" crescent rolls, which ooze with marshmallows rolled in butter and cinnamon sugar.
Travis Kelce was (and still is) a fastidious eater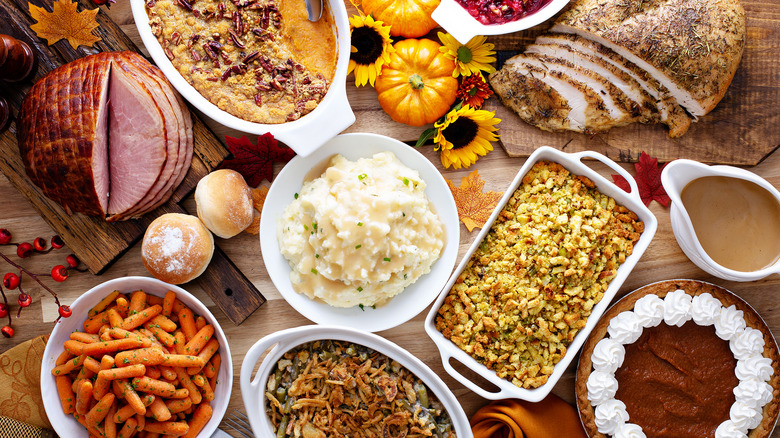 Veselovaelena/Getty Images
Travis Kelce, the younger of the brothers, didn't always quite understand the uproar his persnickety palate caused in the household. Their dad, Ed Kelce, was the embodiment of the spirit of Thanksgiving, believing that the opportunity to have food on their table was something to be truly thankful for. Jason, the more adventurous eater of the two, chimed in during the episode, "If there's one way to p*** Ed Kelce off," he laughed, "it is not finishing the food on your plate."
Travis, to this day, rushes past white sauces and goat meat at breakaway speed. However, the good news is that he has since come to embrace recipes for mashed potatoes; he eventually learned to appreciate the creamy, buttery, starchy goodness that makes Thanksgiving dinner complete. Although he's still a bit selective about his choices, he has made peace with the fare that once had him pushing his food around with a fork. Travis has even founded his own brand of prepared meals — aptly named Travis Kelce's Kitchen — with hearty, savory entrées including bacon mac and cheese, sliced brisket in BBQ Sauce, BBQ Baked Beans with Burnt Ends, and other Thanksgiving-worthy dishes.
So, while Travis may not have been a big fan of Thanksgiving food as a kid in the Buckeye State, he has matured into a seasoned pro in the art of enjoying a bountiful meal with a loving family.