Coffee Punch Is The Southern Treat You (Probably) Never Knew Existed
Some may be offended by the very title of this article, which suggests ignorance of a staple of many Southern gatherings. You know who you are — and y'all can move on to the next piece (unless you feel moved to check the accuracy of our description of the drink).
Patricia Shannon of Southern Living considers coffee punch a marker of "a bona fide Southern shower."  Many of us have never heard of coffee punch, let alone tasted it. What is this mysterious, favorite beverage of Southern ladies who brunch? The first time you see it, you might not realize what it is: coffee punch is easily mistaken for a giant bowl of frothy chocolate milk or a chocolate milkshake. One sip will clarify that there is much more than mere mocha java in this party bowl.
Everyone agrees on the basic ingredients and procedure for making coffee punch. You take strong cold coffee and add whole milk or cream and sugar to it. You place the mixture in a punch bowl, where you then build up additional layers of decadence. Chocolate syrup and vanilla extract go in the bowl. Hosts then top the punch with scoops of both vanilla and chocolate ice cream plus whipped cream. Chocolate shavings add a decorative touch.
Variations on coffee punch
Coffee punch has some standard variations. Sometimes, people add liquor to their coffee punch. Coffee liqueur is a classic addition (it is coffee punch, after all), and bourbon is another natural choice (because bourbon). Some recipes use instant espresso instead of regular coffee to guarantee that the coffee notes stay strong while making it easier to cool quickly. Since coffee punch is a drink with a strong Southern heritage, some prefer chicory coffee. Certain recipes call for whipping the mixture to make it frothy while others add a decorative coffee ice ring (made in a decorative Bundt pan). Yet others call for freezing the mixture until it's a slushy-type consistency reminiscent of a frozen daiquiri. It isn't uncommon for people to use Cool Whip instead of whipped cream. 
The exact origins of coffee punch are not clear. It seems that it got its start at church gatherings where people were looking for a sweeter, more festive alternative to the hot coffee usually served at lunches. They came up with something that would inspire and invite people to linger a little longer as well as a beverage that is a bit more refreshing in the summer swelter. From there, it was a natural progression to bridal showers and then to Southern gatherings everywhere. 
A recent twist on a historic drink?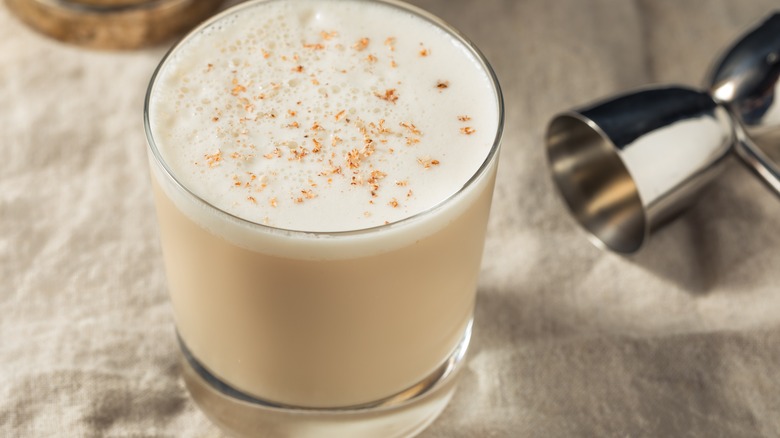 Brent Hofacker/Shutterstock
The spiked version of coffee punch is also reminiscent of a historic New Orleans cocktail which may have inspired the idea: milk punch. Milk punch (not to be confused with clarified milk punch, another fine historic beverage) is hundreds of years old with roots in 17th century England. At that time, people would mix milk with brandy or another spirit, sugar, and a bit of spice. It kept well, went down easy, and made its way to the Americas in the 18th century, becoming especially popular in New Orleans. Tourists have long associated milk punches of various sorts with the Big Easy. That is peculiarly true of the famous NOLA restaurant Brennan's. 
Adding coffee to milk punch was a natural line of experimentation since adding a little coffee to an alcoholic drink keeps the sedative effects at bay. Coffee cocktails like café brûlot are already a long-standing tradition in Louisiana. Milk punches with coffee have made their way into some cocktail bars, too. Cavan in New Orleans served an espresso version at brunch before the restaurant closed. By and large, this is a drink you'll want to try at home with a large gathering of friends. Trying out this beverage sounds like a good excuse for a party.