Taco Bell's Nacho Fries Are Getting The Grilled Cheese Treatment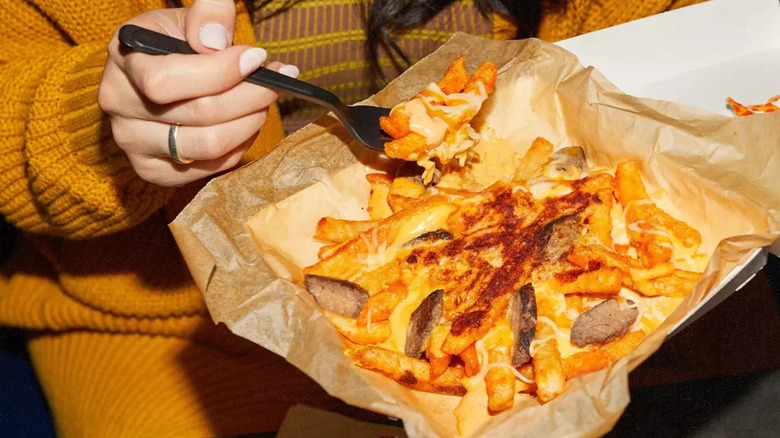 Taco Bell
If we could guess Taco Bell's mission statement when it comes to creating new menu items, it would probably be something along the lines of, "make something you'd only eat after a night at the bar in the most dire of circumstances." This has led to some wild and occasionally very popular creations à la Mexican pizza, Doritos taco shells, and grilled cheese-themed burritos. Grilled Cheese Burritos proved so popular since their 2020 debut that they returned to the menu more than once and became a permanent item earlier this year. So we can't say we were exactly surprised to learn that Taco Bell was releasing Grilled Cheese Nacho Fries.
According to a press release received by Mashed, this new menu item includes Taco Bell's Nacho Fries, which have gone on and off the menu several times since their debut in 2018, topped off with a melted cheese blend consisting of mozzarella, Monterey pepper jack, and cheddar, marinated grilled steak, and Taco Bell's melted queso and chipotle sauce. Basically, it's a nacho platter that subs the tortilla chips for the company's signature seasoned fries. Redditors have previously spotted Grilled Cheese Nacho Fries in Sacramento, California, in November 2022. They were part of a trial menu and will now be available nationwide at Taco Bells as of November 16, 2023, for a limited time for $4.99.
Another offer for Nacho Fries fans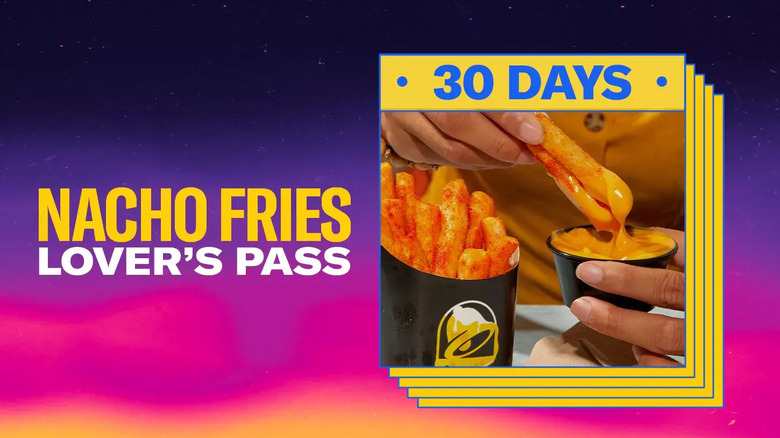 Taco Bell
As with its expansion of grilled cheese-themed items, Taco Bell has another offer for Nacho Fries that puts a different spin on an existing idea. In its press release, the chain also announced that it would be launching a Nacho Fries Lover's Pass. Customers can purchase a rewards pass for $10 that allows them to receive one order of Nacho Fries every day for 30 consecutive days at no additional cost. It begins November 14, 2023, through December 4, 2023.
This new promotion is following Taco Bell's Taco Lover's Pass which premiered earlier this year and had a similar premise. However, the Taco Lover's Pass allowed customers to select from 10 different taco options each day, while the Nacho Fries Lover's Pass only seems to include the basic Nacho Fries item. To access this deal, you'll need to become a Taco Bell rewards member. That entails downloading the app and creating an account, which will enable customers to accrue points while making purchases on their phones, online, or via kiosk.