Why Riesling And Reubens Are A Match Made In Flavor Heaven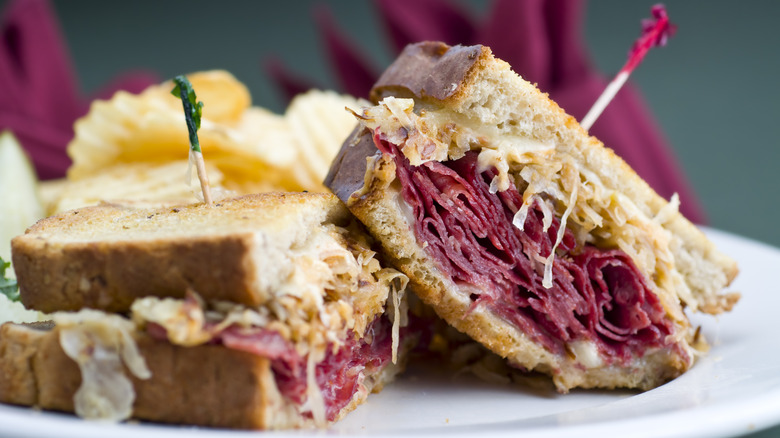 Rudisill/Getty Images
When you think of a Reuben sandwich piled high with corned beef, you might envision washing it down with a pint of Guinness, a can of pilsner, or even a mug of root beer. But what if wine was the star beverage? Riesling, a versatile white wine varietal, emerges as the unrivaled choice for pairing with a Reuben, creating a tantalizing combination. In fact, according to Nicki McTague, CEO of Infinite Monkey Theorem – a woman-owned-and-operated winery in Denver — this team-up is nothing short of a "match made in flavor heaven."
The key to this divine pairing lies in the careful consideration of flavors. A glass of semi-dry riesling is the ideal companion to the robustness of a Reuben, particularly the umami-heavy saltiness of its corned beef. The Colorado-based oenophile points out that the riesling's inherent floral traits provide the perfect counterbalance to the savory, tangy intensity of the grilled sandwich.
When addressing the choice of bread for a Reuben, McTague brings a nuanced perspective. While boldly flavored breads (think rye, pumpernickel, or a garlicky ciabatta) are undoubtedly integral to the handheld meal, she emphasizes that the filling plays a pivotal role in finding the perfect wine pairing. In essence, the richness and complexity of the sandwich contents — including the meats, cheeses, condiments, and veggies — ultimately take precedence over the type of bread used.
The riseling and Reuben combo is expert-approved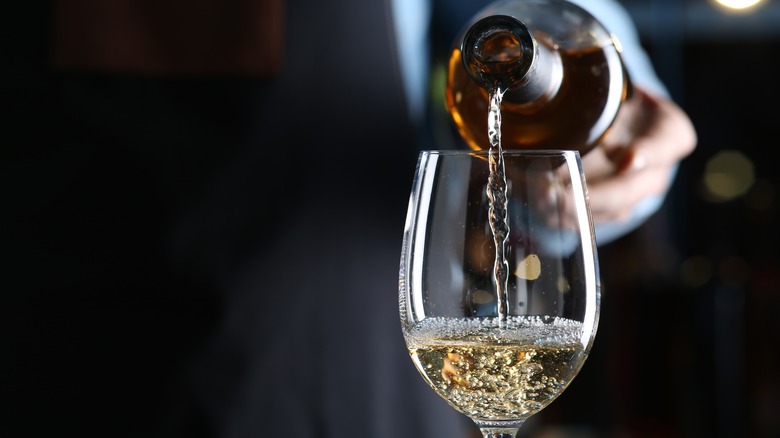 New Africa/Shutterstock
The iconically German riesling's keen ability to complement the individual components of a New York Reuben stems from its own diverse profile. The white wine boasts a range of tasting notes, including floral, fruity, and sometimes honeyed elements, all of which are underscored by a refreshing acidity. This pleasantly pungent quality allows every sip to seamlessly integrate with the various textures and tastes present in the sandwich, enhancing the overall dining experience. Furthermore, the semi-dry nature of riesling ensures that it doesn't overpower the palate with sweetness, preserving the integrity of the ingredients in the Reuben. Instead, it acts as a delightful palate cleanser, preparing the taste buds for the next bite.
As sommelier Nicki McTague aptly puts it, the dynamic duo of riesling and a Reuben is a testament to the art of food and wine synergy. "It's a combo you'll never turn down again," she assures. So, the next time you're craving a hearty Reuben, reach for the bottle of riesling and embark on a worthwhile gastronomic journey.