Party Shirt's In-N-Out Hamburger Hack Ditches The Buns – Exclusive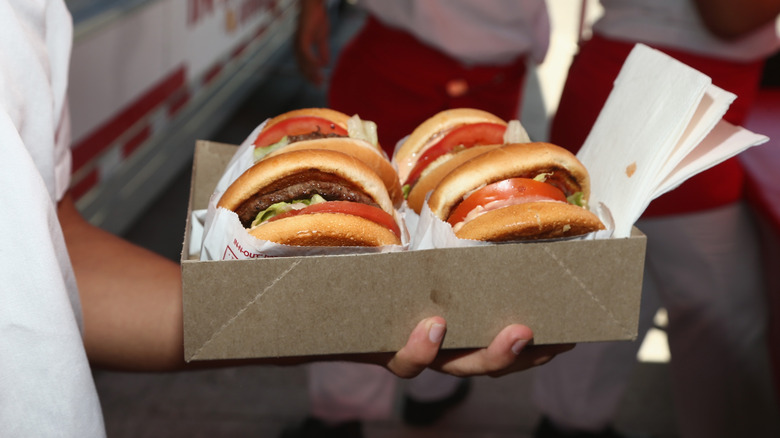 Tommaso Boddi/Getty Images
Never-ending fast food hacks are our favorite pastime. In-N-Out has been a long-debated fast food brand with many on the West Coast claiming it's the best fast food burger on the market. We'll let you come to your own conclusion on that opinion. Before you do, you have to try out one foodie hack that you may not have thought of. In an exclusive interview with Mashed, Party Shirt (the TikTok duo with over 20 million followers—Xavier Di Petta and Nick Iavarone) revealed that they swear by this tasty hack. It all starts with the Flying Dutchman.
The Flying Dutchman is on In-N-Out's secret menu. It consists of two slices of cheese melted between two hamburger patties. No buns, no lettuce, no tomato. But the Party Shirt boys order it a bit differently. "Yeah, the Flying Dutchman, but wrapped in the whole grilled onion," Di Petta explained. "Both the patties are half an onion, sliced and grilled," he added.
Replace hamburger buns with a grilled onion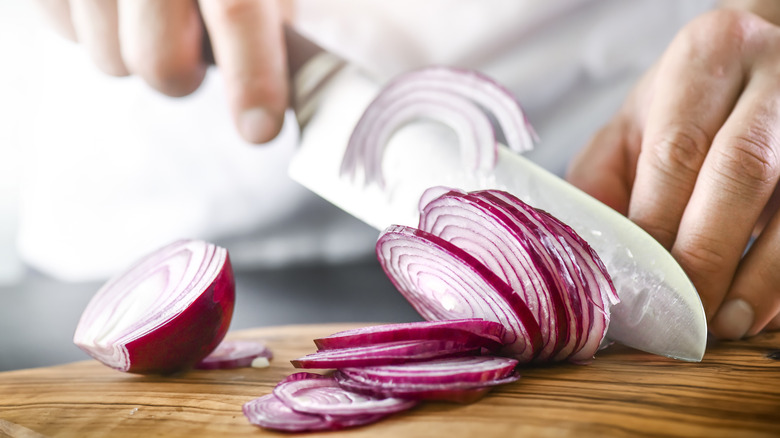 Milan Krasula/Getty Images
Substituting In-N-Out hamburger buns for a different ingredient isn't exactly a new phenomenon. Customers have been documented ordering tomatoes as buns and lettuce as buns. The food combinations go on and on. But onions? Now that's an interesting hack. Xavier Di Petta of the Party Shirt duo said, "This is the only time where I've tried one of these substitution things and it's significantly better than the original, which shocked me."
All you have to do is order the Flying Dutchman with whole grilled onions on the top and bottom — and voila! You have an out-of-the-box and hopefully delicious meal. Make sure to grab some animal-style fries and a milkshake too. Trust us, you won't regret it. If you're a big In-N-Out fan looking to change up your order, then you should also check out the secret menu items that you need to try.