Whitney Miller: What The Original MasterChef Winner Is Doing Now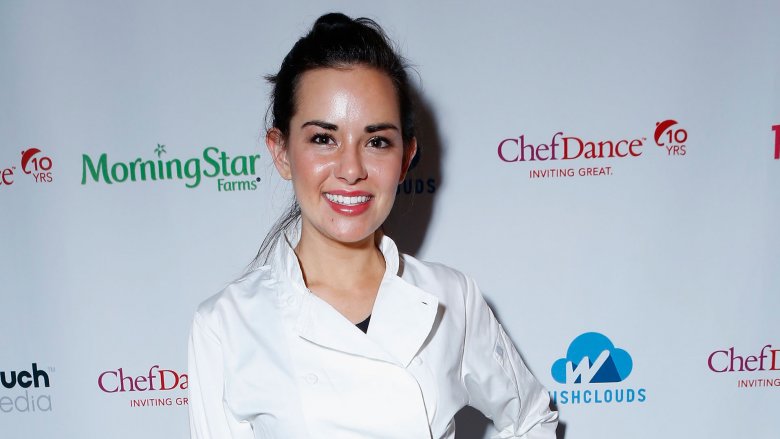 Alexandra Wyman/Getty Images
We may receive a commission on purchases made from links.
Chef Whitney Miller was just 22 when she staked her claim to fame in reality TV and became the first American winner of MasterChef season one in 2010. Miller was still a nutrition student at the University of Southern Mississippi but walked away from the series with $250,000 and a cookbook deal (via CBS). Since upsetting the competition with her winning meal of country fried chicken and white chocolate bread pudding, Miller has been busy doing everything from cooking for celebs to making the rounds on a variety of TV shows. Let's dive in a little deeper to find out what the MasterChef winner is currently cooking up. 
Nicknamed "the pastry princess" during her time on MasterChef for her skills with desserts, Miller immediately got to work after winning the show. "Life after MasterChef has been a wild ride to say the least," Miller said in 2015. "Immediately after winning I had four months to write my very first cookbook." Modern Hospitality: Simple Recipes with Southern Charm was released in 2011, and Miller later followed that up with a second cookbook, Whitney Miller's New Southern Table, in 2015.
Winning a show like MasterChef brings about more than cookbook deals, of course. It also earned Miller an invitation to cook at the Sundance Film Festival's dinner series ChefDance in 2013, and in 2015, Miller was invited by chef and Florida restaurateur John Rivers to take on the role of chef de cuisine at his Winter Park fried chicken restaurant The Coop. Rivers told the Orlando Business Journal that he thought Miller would be a good fit to design new items for the menu because she was "eager to learn" and a good "cultural fit."
These days, Miller is still busy developing her own recipes and brings them to her fans through her website. She also works in partnership with brands to create blogs and recipes for their companies, hosts cooking classes, and is available to act as a judge for cooking competitions or MC for events. She still makes the occasional TV appearance — Nashville fans got a treat when Miller shared her recipe for molten lava cake on Today in Nashville in December 2017. Most recently, Miller joined former presidential candidate Mike Huckabee in the kitchen during an appearance on his TBN television show (via Facebook).
Miller may staying out of the public eye a little more than some other cooking show winners, but that's likely because, according to her Facebook page, she's busy being a mom to her two children — the youngest of whom is just 5 months old —  and raising a family with her husband in Franklin, Tennessee.