Taco Bell's 'New' Vegetarian Menu Might Look A Bit Familiar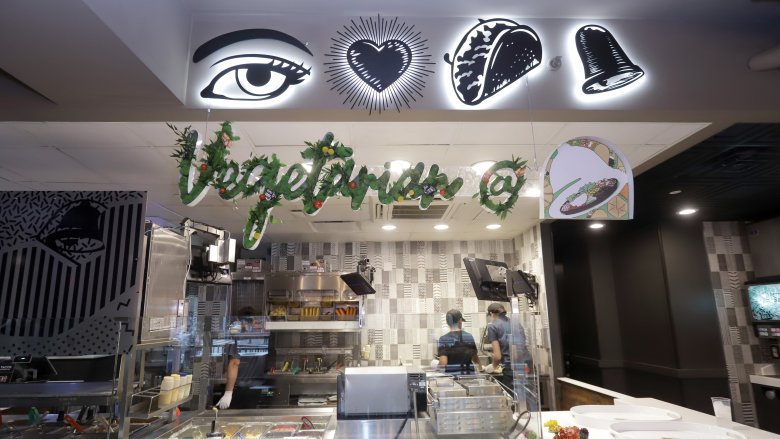 John Parra/Getty Images
If you don't eat meat, you probably know that vegetarians have been able to order off Taco Bell's regular menu for years by either selecting meat-free items, like bean burritos, or subbing beans for meat. However, it's now going to be easier than ever — the popular chain is getting ready to roll out a vegetarian-specific menu that not only highlights meat-free items, but also will be offering up a couple of brand new vegetarian delights (via CNN). 
CNN reported in January that the company was testing a vegetarian menu with limited-time vegetarian and vegan items in a few restaurants, and apparently the test was successful because they're ready to roll out the changes to the rest of their 7,000 locations around the country.
While it's true that Taco Bell has already had quite a few vegetarian menu items already, they'll be offset on the menu with a new green emblem, and there will also be a prominent new "Vegetarian Favorites" section on the menu as well. 
In addition to highlighting existing menu items, the company is also rolling out two brand new veg options — the Black Bean Crunchwrap Supreme and the Black Bean Quesarito. The new Crunchwrap features black beans, nacho cheese sauce, lettuce, sour cream, and tomatoes, while the Quesarito is stuffed with black beans, seasoned rice, cheddar cheese, nacho cheese sauce, sour cream, and chipotle sauce (via The Daily Meal). 
While the company has had several options certified by the American Vegetarian Association since 2015, this "new" menu rollout will be the very first time these specific menu items are made distinct from the rest of the regular menu.
So while the "new" Taco Bell vegetarian menu only introduces two new items, it will be way easier for those eating a meat-free diet to dine at Taco Bell without worry. And don't forget, their existing menu items can be customized a whopping "8 million ways" to fit neatly into a vegetarian diet.