Copycat P.F. Chang's Lettuce Wraps Recipe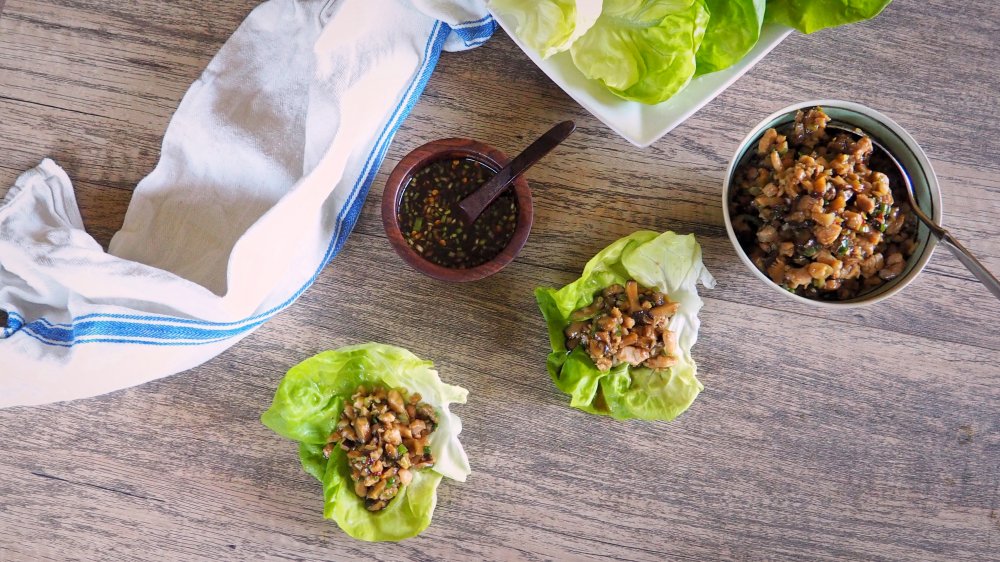 Lindsay D. Mattison/Mashed
While most restaurants add cream or butter to their dishes to make them taste good, these low-carb wraps are protein-packed and wrapped up in a crunchy package. They feel pretty guilt-free, so they have to be healthy, right? Unfortunately, former employees spilled the beans that the lettuce wraps are actually one of those dishes you don't want order in a restaurant. Apparently, they're made from leftover chicken trim, and one Redditor says they're "almost entirely made out of fat and gristle."
Life just isn't complete without these lettuce wraps, though, so we thought we'd make our own version that's actually healthy! We did a little investigative work and came up with a recipe that tastes just as good — dare we say, better? — than the original. The best part: They only take 10 minutes to cook.
Gather your ingredients for copycat PF Chang's Lettuce Wraps
Lindsay D. Mattison/Mashed
There are three components to this recipe: the cooking sauce, the dipping sauce, and the chicken filling. We wanted our lettuce wraps to taste as authentic as possible, so our first step was to take a peek at PF Chang's website. They don't actually list their ingredients (apparently they're going to make us work for their secret recipe). But, their allergen guide was a good place to start for confirming a few of the components. It revealed this dish contains wheat, soy, shellfish, sesame, onion, mushrooms, legumes, and corn. 
We figured out the dipping sauce pretty easily because they make it at the table, so we thought about those little jars and ramekins you see during your visit: sesame oil, soy sauce, rice vinegar, Chinese hot mustard, and chili garlic sauce. We determined most of the ingredients for the cooking sauce based on the allergen information — soy sauce, hoisin, and oyster sauce — and added in sugar to create balance, rice cooking wine to add depth, and cornstarch to thicken it up. The filling itself was harder to figure out, but we knew it contained chicken and mushrooms. It also has something crunchy, so we added water chestnuts. From there, we selected white pepper to give it a touch of spice, and garlic and green onions to create the perfect flavor profile.
For the full list of ingredients and step-by-step instructions can be found at the end of this article.
Do PF Chang's Lettuce Wraps use ground chicken or whole chicken?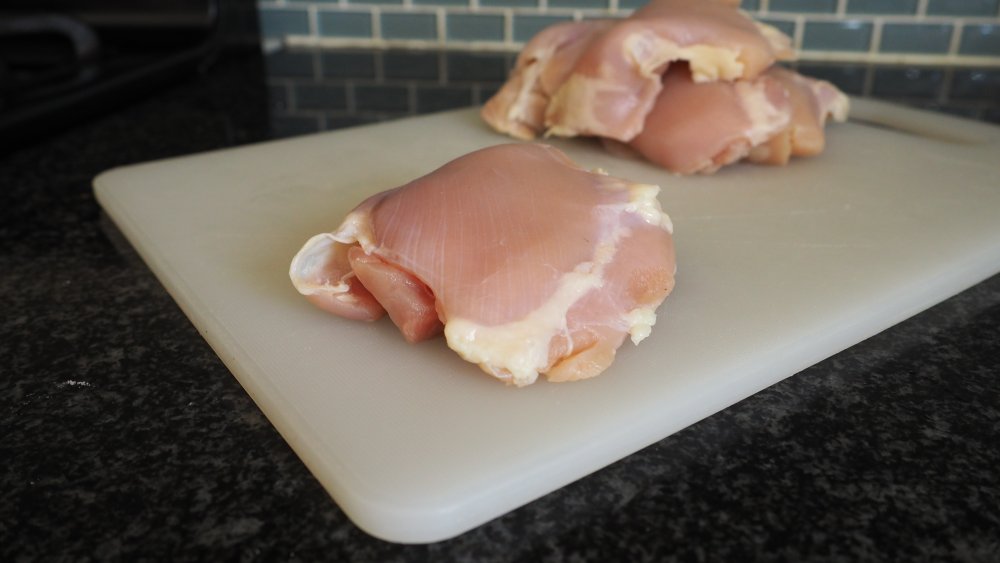 Lindsay D. Mattison/Mashed
Many copycat PF Chang's Lettuce Wraps recipes use ground chicken, but we decided to use whole chicken thighs instead. The thing we love about PF Chang's lettuce wraps is their texture, and that comes from using larger chunks of chicken. You will have to hand-chop the chicken before you start cooking, though. If that doesn't sound like a good time, you can certainly pick up pre-ground chicken at the grocery store. Keep in mind that store-bought ground chicken is ground very finely, so it won't cook up the same way. The flavor of the dish will be about the same, but your lettuce wraps will lack the chewy texture we love about the original. 
Why did we choose thighs? A former PF Chang's employee commented on Reddit that the restaurant uses 100 percent white meat, but it also contains the fat and gristle from chicken trimmings for the entrees. We knew that using chicken breasts alone wouldn't create the same flavor, so we opted for chicken thighs instead. The extra fat in chicken thighs would keep the chicken juicier and more flavorful as it cooked.
PF Chang's Lettuce Wraps use iceberg, but we prefer butter lettuce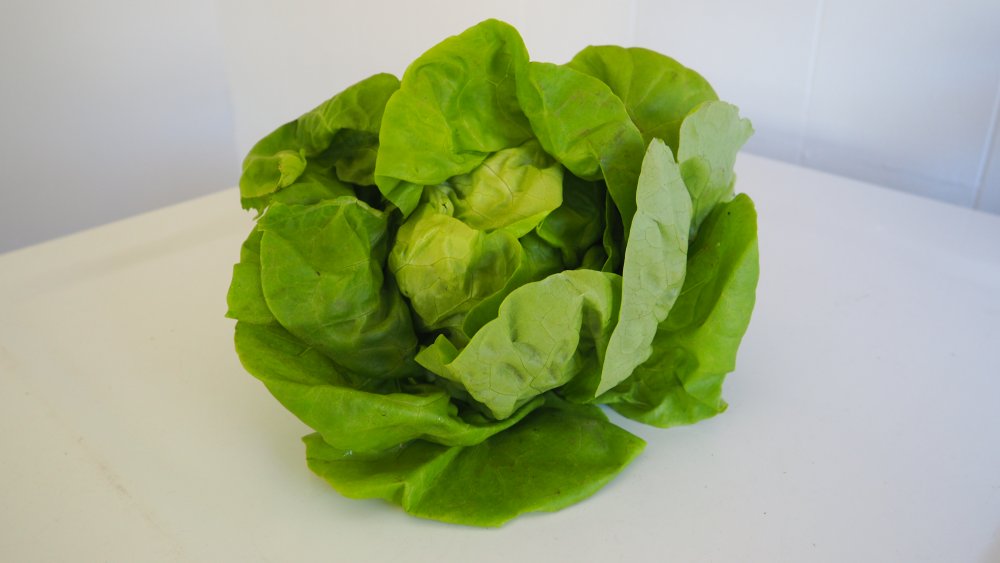 Lindsay D. Mattison/Mashed
Okay, we did make an ingredients swap here that sacrifices authenticity for ease-of-use. PF Chang's uses iceberg lettuce for their wraps. This pale green lettuce has a crisp finish and refreshing, watery flavor, which adds texture and flavor to the chicken filling. It's also one of the least expensive types of lettuce, but it does have a drawback: It's really hard to remove intact leaves, and it's difficult to roll into wraps.
Butter lettuce, on the other hand, is a softer lettuce variety. You might find it labeled as Boston or Bibb lettuce, and many grocery stores sell hydroponically-grown heads as living lettuce with the root ball intact. It's more expensive than iceberg, but it will last for more than a month in the refrigerator. The leaves are also easier to remove than iceberg, and they wrap around the filling better because they're so soft. They have a slight crunch, but mostly this lettuce is characterized by its velvety, smooth texture and buttery flavor.
Use a wok to make copycat PF Chang's Lettuce Wraps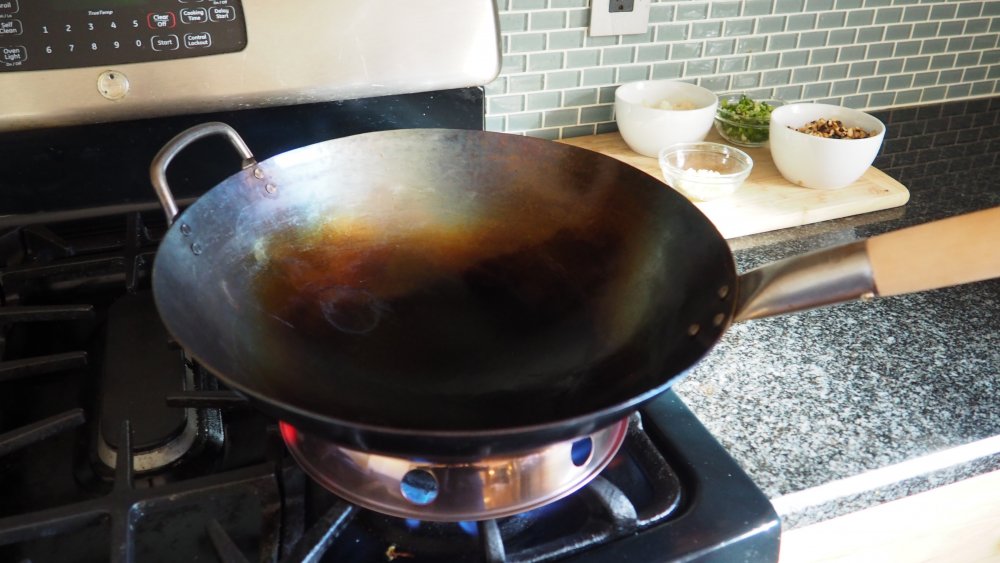 Lindsay D. Mattison/Mashed
A wok is a fantastic addition to your kitchen, especially if you like making Asian dishes at home. If you want your copycat PF Chang's lettuce wraps to taste as close as possible to the original, a wok is the best way to get there. (It also happens to be the secret to making Panda Express meals at home, too.) Woks get hotter than regular pots and pans, so they can flash-sear the chicken. That cooks it quickly and evenly, and a wok also makes quick work of simmering the sauce, thickening it up to coat each piece of chicken perfectly.  
If you don't have a wok, don't feel like you need to buy one just for this recipe. You can use any tall-sided skillet to make the filling for PF Chang's Lettuce Wraps, and it will still taste great. The best alternative to a wok is a cast-iron skillet. When seasoned properly, your cast-iron has a similar nonstick property to a wok, and it will get hot enough to get a hard sear on the chicken.
Rehydrate the mushrooms for copycat PF Chang's Lettuce Wraps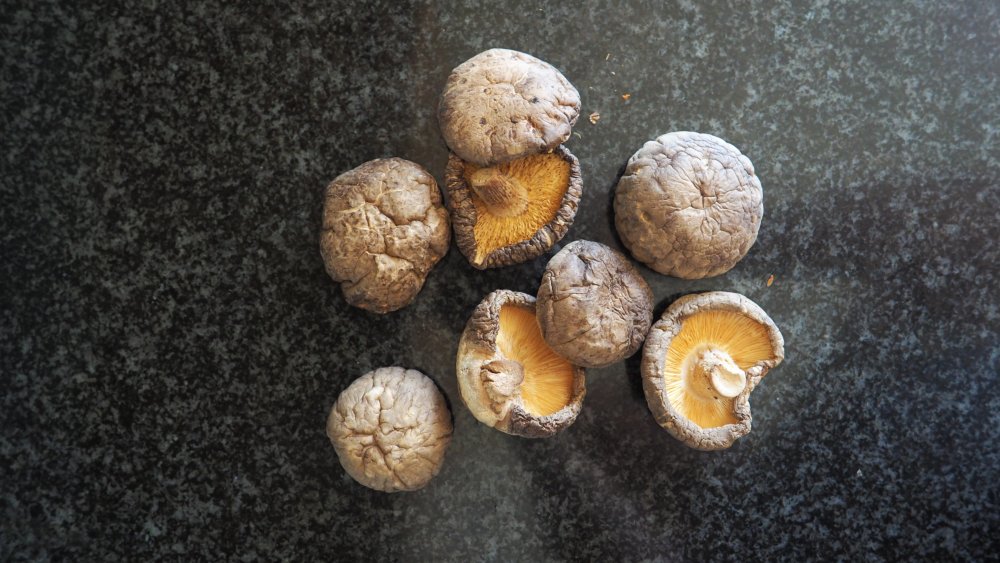 Lindsay D. Mattison/Mashed
Now that we have all our ingredients accounted for, it's time to get started. The first step to make the filling of PF Chang's Lettuce Wraps is rehydrating the shiitake mushrooms. You can find dried mushrooms at specialty grocery stores or Asian markets, but they may also be available at the regular grocery store. You may find them in the produce area near the garlic and onions, or in the canned or grain aisle. If you don't have any luck in finding them, you can also order dried mushrooms online.
If your grocery store carries fresh shiitake mushrooms, you can definitely use those instead. Alternatively, if you can't find either dried or fresh shiitake mushrooms, you can swap-in crimini mushrooms. The flavor won't quite be the same, but crimini mushrooms will provide the same textural boost. Keep in mind that fresh mushrooms don't need to be soaked in boiling water, which means they aren't softened, so you'll want to cook the mushrooms for five minutes before adding the chicken in the first step. 
Coarsely chop the chicken for copycat PF Chang's Lettuce Wraps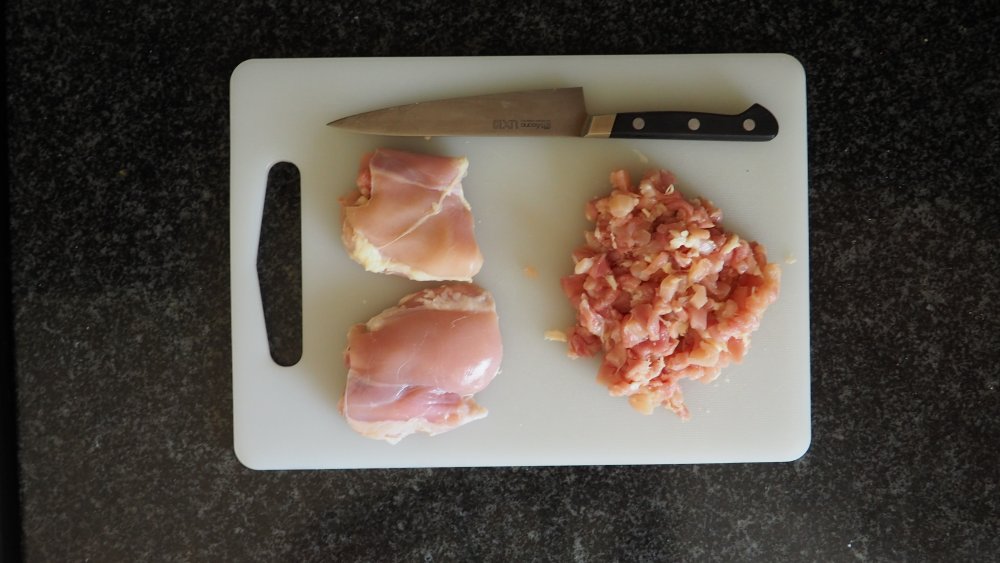 Lindsay D. Mattison/Mashed
If you decided to use ground chicken for your copycat PF Chang's Lettuce Wraps, you can skip this step. Otherwise,  you'll need to start by coarsely chopping the chicken. Don't worry; this step is easier than you think. Grab a clean cutting board and a sharp knife. Lay one chicken thigh flat on the board and cut it into long, quarter-inch slices. Once the chicken is sliced from end to end, flip the slices so they run horizontally on the cutting board. Working with a few slices at a time, cut each piece into quarter-inch cubes. Don't worry too much about making perfectly sized cuts; you can always go back over the cubes with a knife to cut them into smaller pieces if you need.
There's another way to chop the chicken if knife skills aren't your forte. Cut the chicken into large cubes and place them in the freezer for about 30 minutes. Add half of the partially-frozen chicken chunks to the bowl of a food processor and pulse until the chicken is coarsely ground. Remove the ground chicken and repeat the process with the remaining half.
Make the sauces for copycat PF Chang's Lettuce Wraps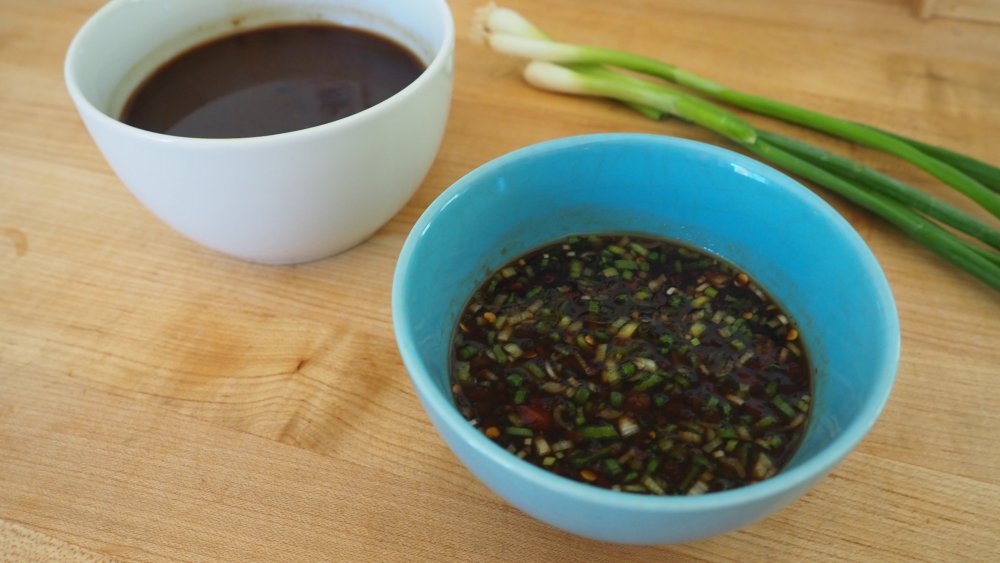 Lindsay D. Mattison/Mashed
Before you get started with any actual cooking, we recommend getting the sauces ready. There are two types of sauce for PF Chang's Lettuce Wraps: one for dipping and another for cooking. The chicken comes together very quickly — about 10 minutes total of cooking time — so you definitely want to have everything prepared and ready to go. We like to heat the ingredients for the cooking sauce to melt the sugar. Then, add the cornstarch slurry and remove the sauce from the heat. The cornstarch thickens the sauce to help it cling to the chicken pieces, but you don't have to wait for the sauce to thicken now. You'll cook the sauce with the chicken later, so we're just getting it ready to use at this point. 
The dipping sauce is highly customizable based on your taste preferences. It's a simple combination of sesame oil, soy sauce, rice vinegar, chopped green onions, Chinese mustard, and chili garlic sauce. If you like things on the saltier side, add more soy sauce. Increase the tang with more rice vinegar, and add more spice by amping up the mustard and chili garlic sauce. Have some fun with this! 
Cook the copycat PF Chang's Lettuce Wraps filling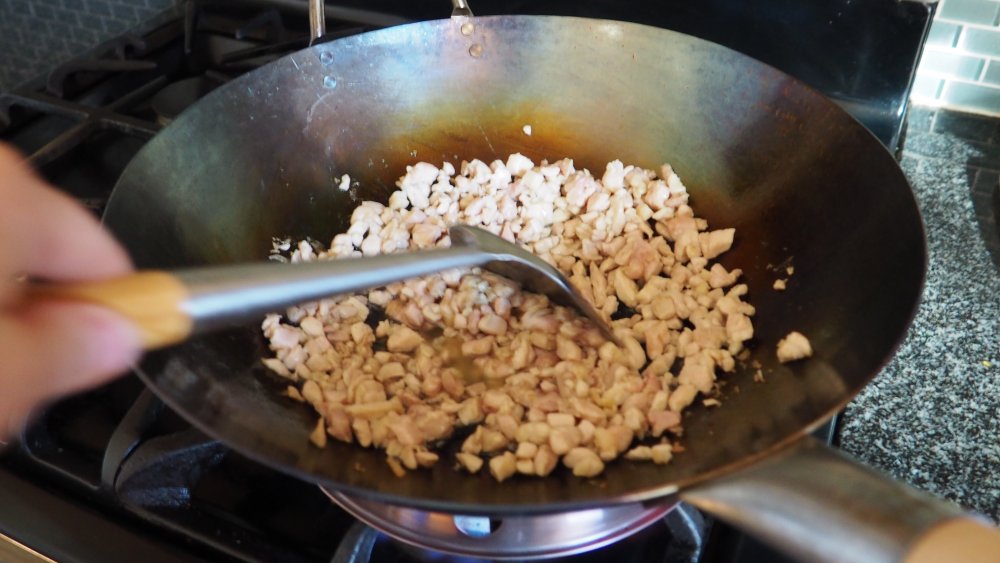 Lindsay D. Mattison/Mashed
Once everything is ready, it's time to cook the filling. As we mentioned earlier, if you made an ingredient swap and are using fresh mushrooms instead of dried shiitakes, you'll want to cook those for about 5 minutes before adding the chicken. Otherwise, you can heat the oil in a wok or cast-iron skillet over high heat. Add the chicken to the pan and cook it until its no longer pink, about five minutes. Since you're cooking over very high heat, you'll want to make sure to stir the chicken constantly to keep it from scorching.
When the chicken is cooked, add the garlic, mushrooms, and water chestnuts to the wok. You won't need to cook this mixture for very long, since the mushrooms were softened during the rehydration process (or pre-cooked if you used fresh). The water chestnut don't need any time to cook — they provide a crunchy texture to the dish, so they just need to be heated through. And the garlic will cook very quickly since it's chopped so finely, so it should only take about two minutes to start smelling the garlic. Just make sure to continue stirring during this step to keep things from burning over the high heat. 
Add the sauce and green onions to your copycat PF Chang's Lettuce Wraps filling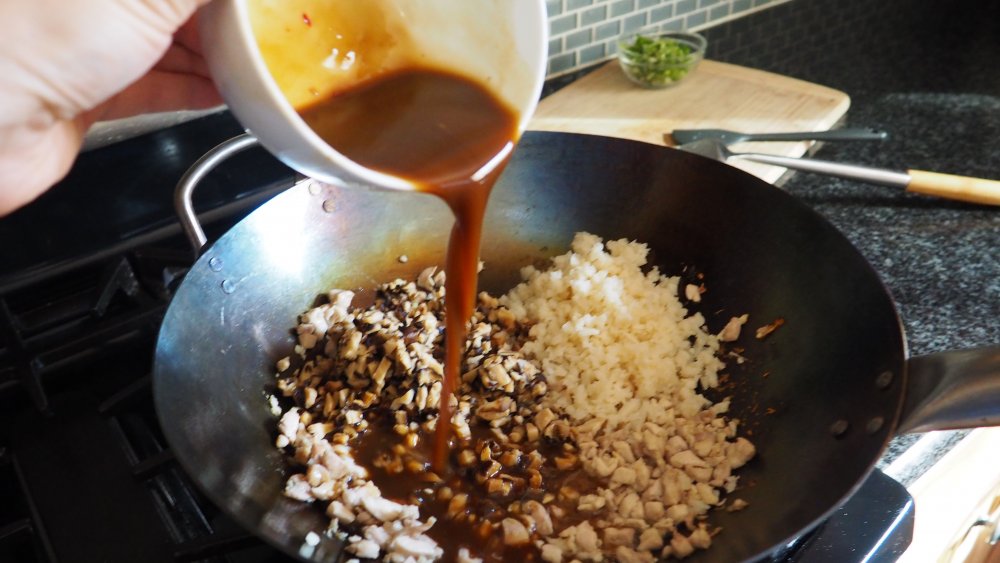 Lindsay D. Mattison/Mashed
At this point, the filling for PF Chang's Lettuce Wraps is nearly complete. The only thing left to do is add the prepared cooking sauce. The starch molecules in cornstarch are like sponges: They soak up water and expand, resulting in a thicker sauce that can coat the chicken pieces. You'll know when the sauce is thick enough when the color will turn from cloudy to clear, and it all has a glossy sheen. It's not really possible to overcook the sauce here, so don't stress the timing too much. So long as you're stirring frequently to keep things from burning, the filling will turn out great.
When the sauce is nice and thick, add the chopped green onions and remove the wok from heat. The residual heat from the wok will soften the green onions, cooking out their harsh, raw flavor. You can serve the chicken filling immediately, or let it cool before storing it in an air-tight container in the refrigerator for a later time.
Serve PF Chang's Lettuce Wraps in lettuce cups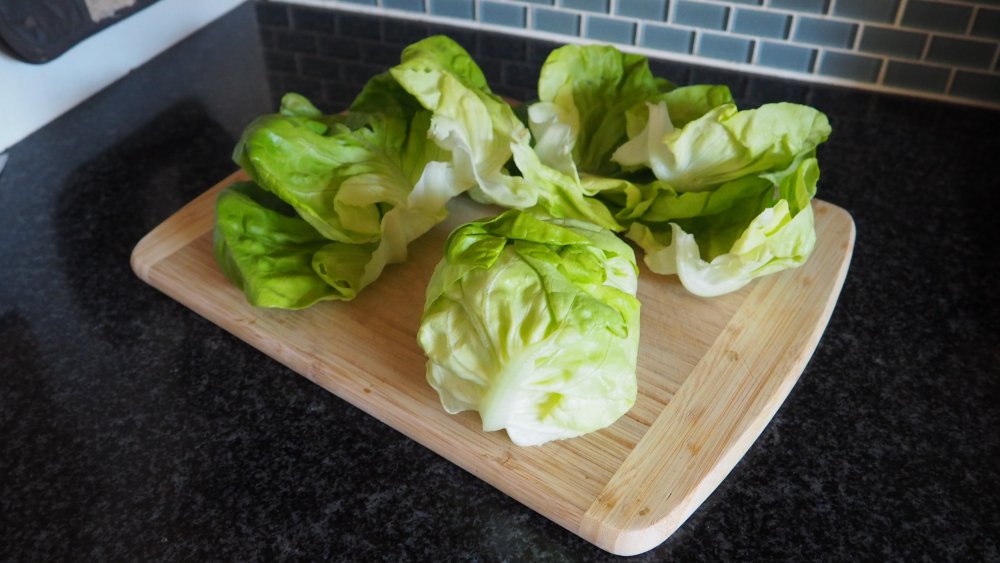 Lindsay D. Mattison/Mashed
When you're ready to eat, prepare the lettuce cups. Whether you're using iceberg or butter lettuce, the process is the same for any head lettuce. Remove any of the outer leaves that are soft or wilted. Then, cut out the core using a sharp knife and carefully remove the leaves, working from the outside in. The inner leaves may be too small to use for lettuce wraps, so you can save them for salad or another use. Wash the leaves — this is especially important if you're using organic lettuce, as bugs love to crawl inside head lettuce — and set them into a colander to drain. From here, all you need to do is trim off the stiff white stem at the bottom to make them easier to wrap.
Scoop a tablespoon or two of the filling into each lettuce cup and spoon on the prepared table sauce. You can also fry rice noodles to add to the cups, but we always find it's more trouble than it's worth since these noodles don't have much flavor. The filling for PF Chang's Lettuce Wraps also tastes great in rice bowls, so save any leftovers for lunch the next day. 
How close did we get to the original PF Chang's lettuce wrap?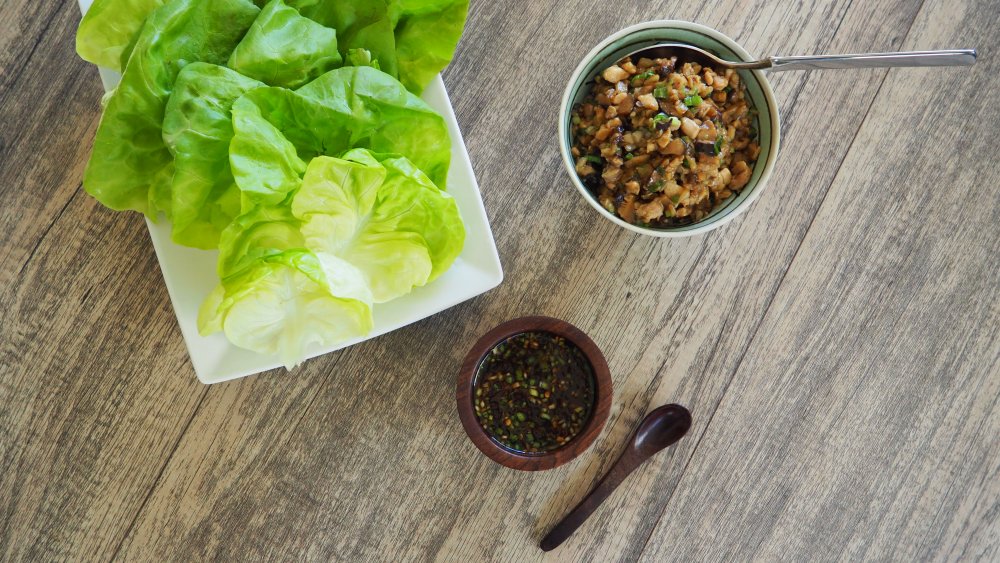 Lindsay D. Mattison/Mashed
We'll start by saying that our PF Chang's Lettuce Wrap didn't look quite the same as the original. The color of our lettuce wrap filling was pale brown, whereas PF Chang's version is very dark in color. We used regular soy sauce in the cooking sauce, and according to Todd Wilbur's Top Secret Recipes, PF Chang's uses a black mushroom soy sauce to get that deep, caramel color.
Color aside, we had no complaints with our version of PF Chang's Lettuce Wraps. The filling had the perfect texture: It was chewy from the mushrooms and chicken with the perfect crunchy balance from the water chestnuts. And the sauce — oh, that sauce. It was full-flavored and complex, a nice balance of sweetness from the sugar and hoisin, earthiness from the oyster sauce, and the perfect level of saltiness from the soy sauce. Add in a spoonful of the spicy dipping sauce, and we thought our lettuce wraps tasted better than the original! 
Copycat P.F. Chang's Lettuce Wraps Recipe
It's almost impossible to visit a P.F. Chang's without ordering this incredible appetizer. We came up with a recipe that tastes just as good as the original.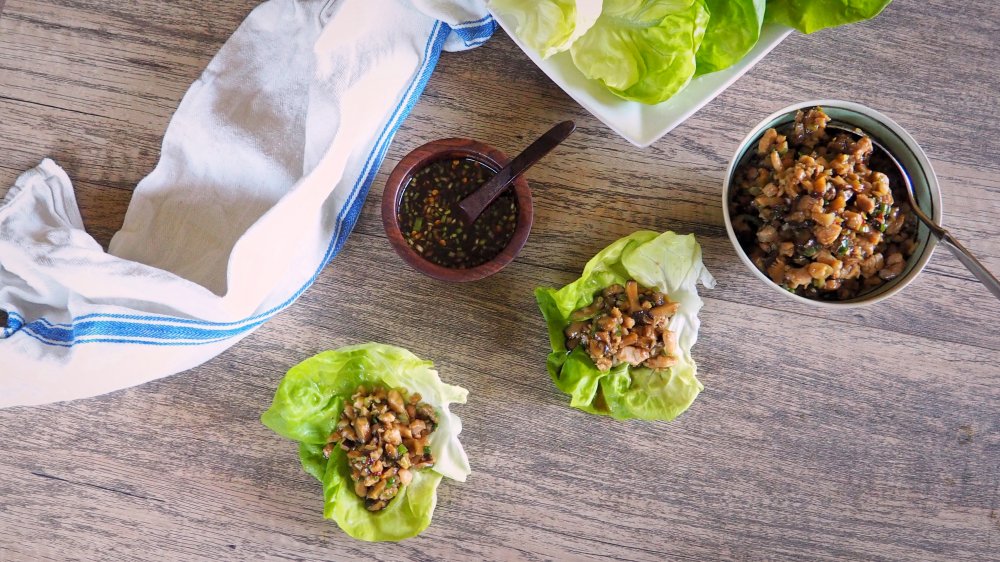 Ingredients
5 tablespoons soy sauce
¼ cup water
3 tablespoons sugar
2 tablespoons hoisin
2 tablespoons oyster sauce
2 tablespoons rice cooking wine
2 teaspoons cornstarch, mixed with 3 tablespoons water
1 teaspoon sesame oil
1 tablespoons rice vinegar
1 tablespoon chopped green onion
½ teaspoon Chinese hot mustard
2 teaspoons chili garlic sauce
6 medium-sized dried shiitake mushrooms (about ¾ cup when rehydrated and finely chopped)
3 tablespoons canola oil
2 cups coarsely chopped chicken thighs (about 1 pound)
⅛ tsp white pepper
2 tablespoons minced garlic
1 (8-ounce) can sliced water chestnuts, finely chopped
¼ cup chopped green onions
1 head butter lettuce
Directions
Make the cooking sauce by combining the 2 tablespoons soy sauce, water, sugar, hoisin, oyster sauce, and rice cooking wine in a small saucepan. Heat the mixture over medium-high heat until the sugar dissolves. Add the cornstarch slurry and stir to combine. Remove the sauce from the heat and set aside.
To make the dipping sauce, combine the sesame oil, 3 tablespoons soy sauce, rice vinegar, chopped green onion, Chinese hot mustard, and chili garlic sauce. You can customize this sauce to taste by adding more mustard and chili sauce, if you like it spicy.
When the sauces are ready, start the filling by rehydrating the shiitake mushrooms. Place the mushrooms in a heat-resistant bowl and cover them with boiling water. Weigh down the mushrooms with a bowl or plate and allow them to sit for 30 minutes, or until they're soft. Remove the stems and finely chop the mushrooms. Set aside.
Heat the canola oil in a wok over high heat. Add the chicken and white pepper, stirring constantly to prevent the chicken from burning. Cook for 5 to 6 minutes, until the chicken is cooked through and is no longer pink.
Add the minced garlic, chopped water chestnuts, and mushrooms to the pan. Cook, stirring, for 1 to 2 minutes, until the garlic is fragrant.
Add the cooking sauce to the pan and simmer over high heat until the sauce has thickened, about 2 minutes.
Add the chopped green onions and remove the wok from the heat.
Scoop the chicken mixture into the butter lettuce leaves, topping it with the dipping sauce.
Nutrition
| | |
| --- | --- |
| Calories per Serving | 271 |
| Total Fat | 16.8 g |
| Saturated Fat | 3.1 g |
| Trans Fat | 0.1 g |
| Cholesterol | 51.9 mg |
| | |
| --- | --- |
| Total Carbohydrates | 18.4 g |
| Dietary Fiber | 2.0 g |
| Total Sugars | 7.7 g |
| Sodium | 950.8 mg |
| Protein | 11.3 g |