Is Ratatouille Spicy?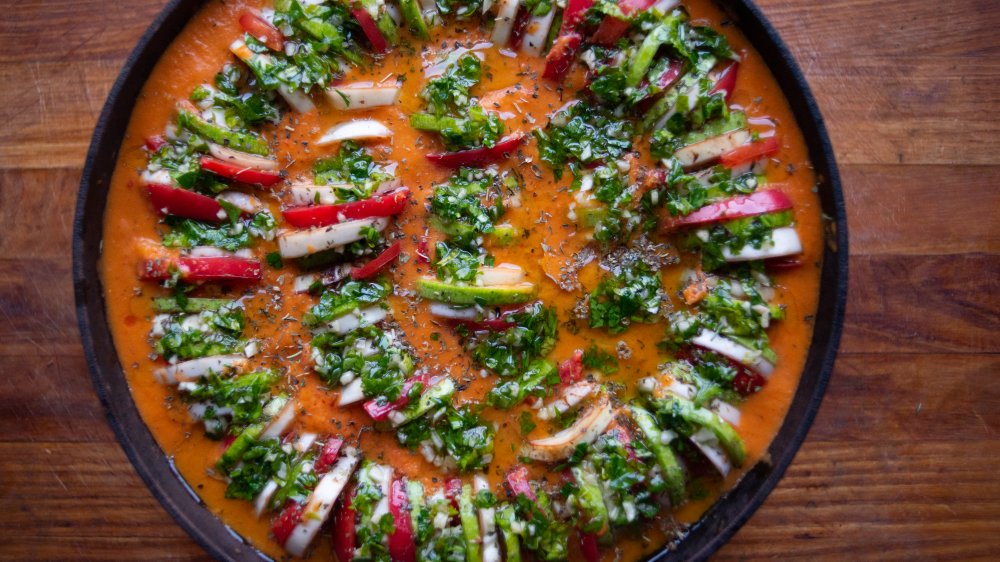 Shutterstock
Is ratatouille spicy? It all depends who you ask and how it has been prepared.
First, what is ratatouille? According to Epicurious, this classic Provencal dish found its humble beginnings in Nice. The meal paid homage and tribute to the harvested vegetables grown in the region. The Daily Meal suggests the common vegetables used when making this dish include eggplant, tomatoes, onions, bell peppers, zucchini, garlic, and herbs.
The dish gained both familiarity and popularity in the United States with the debut of the Pixar movie Ratatouille about Remy the rat chef who impresses a snobby French food critic with his edgy layered version of the recipe. Parents everywhere used it as an opportunity get their kids to actually eat vegetables, while simultaneously creating two ratatouille camps: traditionalists v. Pixarists (via Mediocre Chef).
To further add to the diversity preferences when it comes to ratatouille, The Guardian suggests some people prefer this dish "soft," "creamy," or "jammy," while others like it to have a crunch to it. If you Google ratatouille, you will find many traditionalists quoting Larousse Gastronomique, which is the authoritative book on all things French cuisine. According to the Napa Valley Register, Larousse Gastronomique states,"...the different vegetables should be cooked separately, then combined and cooked slowly together until they attain a smooth, creamy consistency."
There are many different variations of ratatouille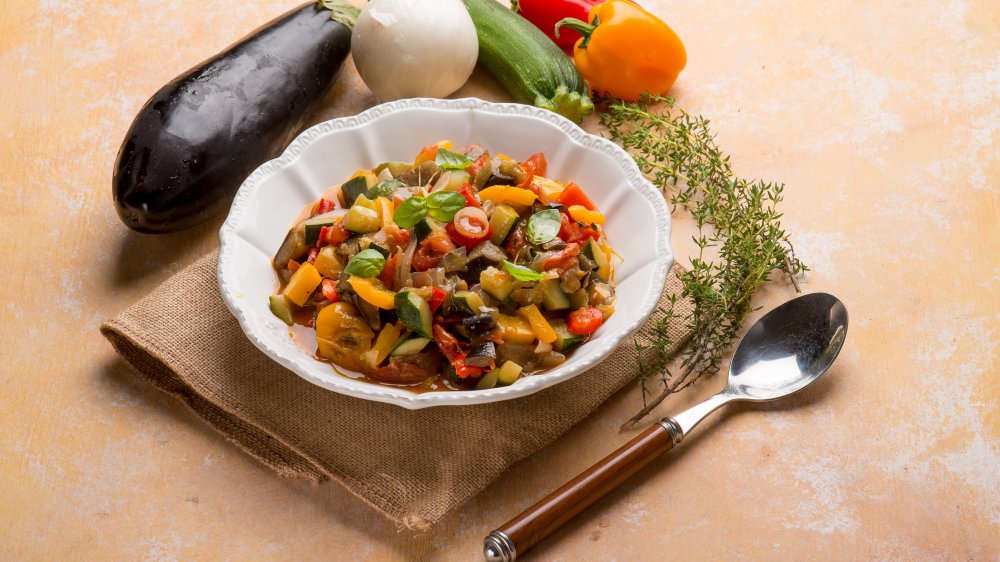 Shutterstock
But is ratatouille spicy? Chris Gardner, executive chef at Peohe's restaurant in Coronado, California said via text, "Ratatouille should not have a spicy heat taste. I plan for a savory sweet effect from fennel, basil, marjoram and ripe tomatoes. Contrary to what most look for in its appearance, it started as a stirred stew." Gardner's statement comports with etymology of the word ratatouille which is derived from the French verb touiller, which means "to stir up."
However, The Guardian notes that Alan Davidson writes in his Oxford Companion to Food that ratatouille is a relatively new dish, and because of this, there is no need to be concerned with "authenticity." Translation: anything goes. Kathy Betchel seems to agree as she states on her blog, Italian Food, Wine, and Travel, ratatouille dishes exist everywhere you go in the Mediterranean, from Spain to Greece to Turkey, which means there are probably many different versions and variations of this recipe that favor regional flavors. 
Tori Avery details how she used Mediterranean influences to create her own take on this dish which resulted in a spicy smoky ratatouille casserole. Natasha Kravchuk of Natasha's Kitchen shares the secret to the heat in her ratatouille brunch skillet is Tabasco. And Wine Enthusiast boasts a recipe called curry spiced ratatouille, which calls for warm spicy flavors of cilantro, curry, and smoked paprika. Ratatouille recipes clearly vary and offer a cook the opportunity to put his or her thumbprint on the recipe of choice.
So back to the question: Is ratatouille spicy? It depends.