Uncorked: Everything You Need To Know About Netflix's New Food And Wine Drama
While you're waiting for the next season of The Crown, Netflix has another must-see film to add to your watch list that won't take near the same binge-watching commitment of some of their other original movies and series. The content streaming service recently released the official trailer for Uncorked, an upcoming drama film about a young man named Elijah, played by Mamoudou Athie, who dreams of becoming a master sommelier — which is a fancy title for wine expert — while his dad, played by Emmy award-winning actor Courtney B. Vance, is queueing him up to take over the family's barbecue business in Memphis (via WREG Memphis).
From the movie's trailer, we know Uncorked explores family relationships, dynamics, and expectations. Prentice Penny, who is known for his work as a producer for Insecure and Brooklyn Nine-Nine, wrote and directed Uncorked. In an interview with Food & Wine, Penny said, "Once I knew the father was going to run a BBQ stand, it felt interesting to pair him with wine. The ironic part is that food and wine are perfect pairings, but the father and the son aren't."
Netflix's Uncorked focuses on family dynamics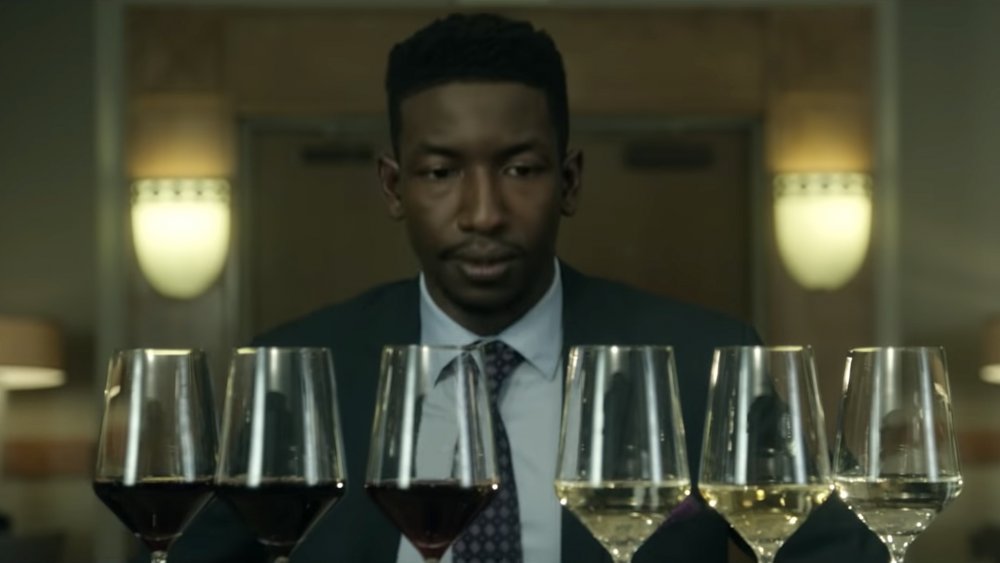 Netflix
Additionally, Penny told People, "When I became a father it made me want to examine the relationship with mine. I began to understand my father as just a guy trying to figure things out when I was a kid instead of 'My Father.' I wanted to tell a story about two men who didn't have the best relationship figure out how to understand and at least respect each other."
Niecy Nash plays Elijah's mother, Sylvia, and from the trailer, it looks like her character provides the comic relief during tense moments, as well as the maternal, loving support. "Elijah this is your life and at the end of the day, the only one living it is you," Sylvia says.
As the trailer continues, Elijah asks how he is supposed to choose between his dream and his family as viewers watch him study wines and prepare for his sommelier test. Does he stick with the family biz, chase his dreams, or find a way to do both? 
Uncorked was set to premiere at South by Southwest film festival before the festival's cancellation due to coronavirus fears. But not to worry. Grab your favorite bottle of petite sirah, your favorite take-out barbecue, and plenty of napkins, because Netflix subscribers can find out how this drama pours on March 27 (via Decider).