The Truth About David Chang's Wife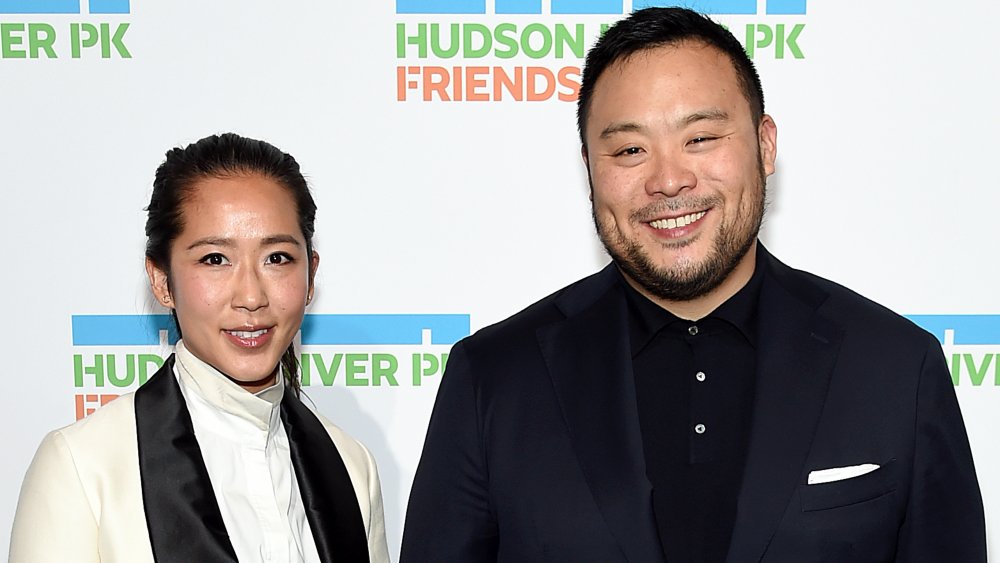 Jamie Mccarthy/Getty Images
Anyone who loves food and cooking will know of David Chang — the celebrity chef who instantly became a sensation after opening his first restaurant, Momofuku, in New York City — because of the many popular restaurants he has founded around the world, and the success of Ugly Delicious, his part cooking, part travel show on Netflix. But many may not have heard of Chang's wife, Grace Seo Chang.
The couple met some time after Chang broke off an engagement to Gloria Lee, a PR executive for Gucci, in September 2013, as reported by Reality Titbit. Chang and Seo Chang made their first public appearance as a couple at the Time Magazine 100 Gala in April 2016 (via Delish), but Seo Chang has posted photos of herself with the chef on Instagram as early as August 2015. Chang revealed his elopement to his now-wife in 2017, mentioning that Christina Tosi, chef, owner, and founder of Momofuku's sister bakery Milk Bar, "found out beforehand and sent a cake" (via Eater).
Seo Chang has largely stayed out of the limelight, but she also enjoys cooking, as seen in a family recipe for mille-feuille nabe she shared with Great Jones Goods. The post also mentioned that Seo Chang used to work in fashion and is "as passionate about Korean food as she is about rescuing animals and beautiful clothing."
Inside David Chang's family life
It was supermodel and friend Chrissy Teigen who publicly revealed that Chang and his wife were expecting a child while she introduced him at WSJ. Magazine's Innovator Awards in 2018, mentioning that he was "relocating from NYC to L.A. with his wife, Grace, whom he married in 2017, and they are expecting their first child" (via Page Six). Chang happily confirmed the pregnancy later in an Instagram post on November 8, 2018.
In March 2019, the couple welcomed a baby boy, Hugo, whose birth was featured in an episode during the second season of Ugly Delicious, which was released this March. Regarding the episode, Chang told Eater, "I think Grace was really brave to share her pregnancy experience, and I hope that other parents will get something from it."
The chef is a proud papa to Hugo and supportive husband to Seo Chang. His outlook on fatherhood, according to an interview with People, is "support my wife, whatever she needs. That's pretty much it. I'm just a butler."