How To Make A Whopper At Home, According To Burger King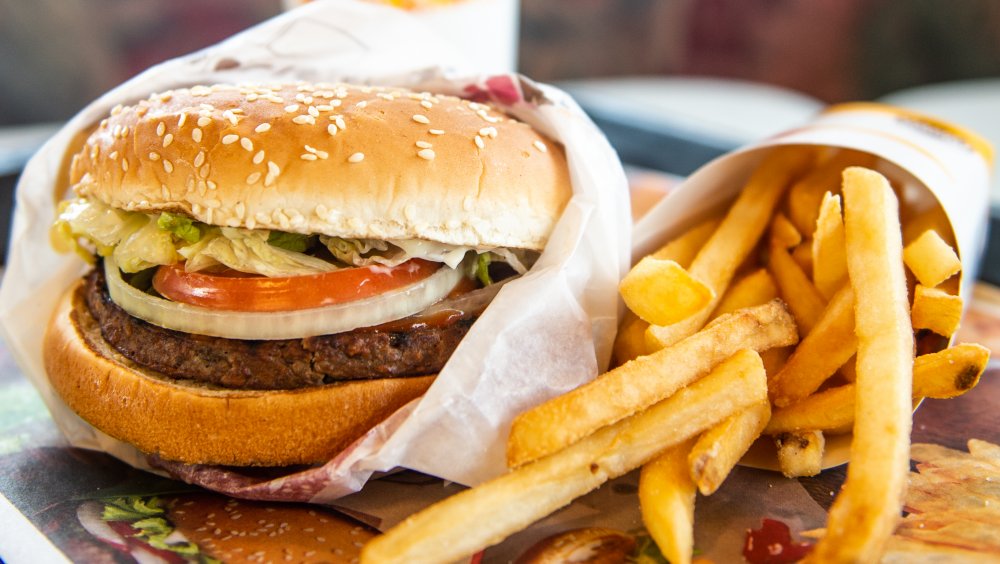 Michael Thomas/Getty Images
It looks like staying at home doesn't mean you can't get your Whopper fix. Burger King France recently divulged how those in self-isolation can make their own version of the chain's signature menu item, which has become a staple of the burger world, in the safety of their own homes.
Burger King France first posted a poster of everything you need to make "Le Whopper de la Quarantaine," or "The Quarantine Whopper," on Twitter. According to the tweet, you need eight components for the burger, in this order: a top bun, onions, pickles, ketchup, a beef patty, mayonnaise, lettuce, tomato, and a bottom bun. The chain later followed up with a video post depicting step-by-step instructions on preparing the ingredients and constructing the Whopper.
Even though the at-home version may not have the same flame-grilled taste, the tweet seems to be getting a lot of buzz, especially with French audiences, as every Burger King store in the European country is closed amid the coronavirus outbreak (via Fox News). People have been replying to the tweet with photos of their own homemade Whopper.
Burger King wants to engage people at home
Burger King France's online poster is not really a tell-all of its trade secrets, but rather an effort to cheer up the nation. According to Fast Company, the posters were created by Buzzman, a creative agency in Paris, and serve as a reminder that even though you cannot recreate the popular sandwich exactly at home, it's a way to show your customers and fans that you are acknowledging the current circumstances and offering solidarity with everyone who's sheltering in place.
The agency also shared similar posters for Burger King France's steak and fish sandwiches on its Twitter account. Fernando Machado, the global chief marketing officer of Burger King, tapped Buzzman to create the campaign and had them tweeted out to "keep fans engaged and lift spirits up a bit," as seen in The Drum. Based on the positive responses to Burger King France's tweet, the chain seems to have achieved its intended effect.