How To Get Up To 50 Percent Off All Le Creuset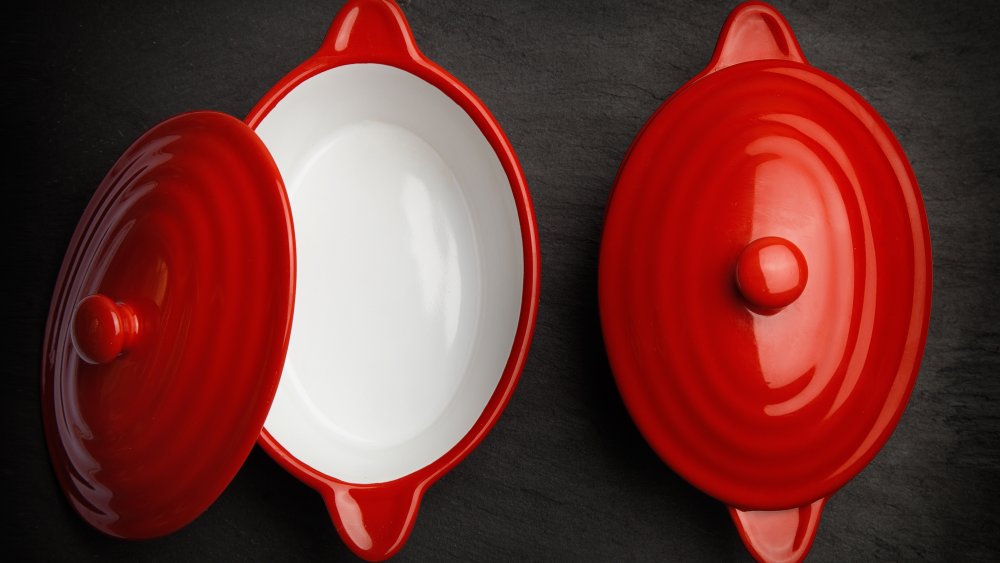 Shutterstock
For the first time ever, prestigious Le Creuset is holding their factory to table sale online, which means customers and fans of Le Creuset can get up to 50 percent off of select items straight from the company's website. The sale is open to all and there's no website registration needed to participate in getting these deals (via Food and Wine). These sales typically only happen in person, so this is a bold and much-needed move as home cooking spikes.
Everything from coffee mugs and French presses to casserole dishes and gill pans is included in the sale. Those items that are on sale, however, will only be available while supplies last. So if you've had your eye on a dutch oven, a loaf pan or an escargot dish now is the time to hit the website for some retail therapy. The company also added that some specialty items that would not normally be part of the sale are listed online. That includes unique pots and pans, like heart-shaped dishes too.
The prestige behind Le Creuset
Le Creuset was founded in Fresnoy le Grand, France and has been selling the porcelain enameled cast iron pots and pans since 1925. Over the years, Le Creuset has continued to use hand-crafted techniques while making their incredibly popular products. They've also stuck to the initial process for forging and casting their kitchenware. The distinctly French company continues to pay close attention to heritage details in the design of their products. Le Creuset has also continued to make some of their first bakeware items like the cocotte, which is a French oven. In case you've ever wondered about the many colors the products come in too, Volcanic, or orange, is the company's signature pick (via Le Creuset).
Le Creuset has become a kitchenware icon over the years and has helped enameled cast iron to become a popular cooking tool, with a price tag to match — which is why this sale is so exciting. Enamelled cast iron heats slowly but evenly, which helps the food to cook evenly as well. Enamelled cast iron is also very helpful when compared to regular cast iron because it does not rust over time and it can handle acidic foods well (via The Kitchen Professor). Today, the widely popular brand is sold in more than 60 countries and has expanded its lines to include stoneware, stainless steel, and silicone bakeware.