The Stolen 600lb Chick-Fil-A Cow With A Heartbreaking Backstory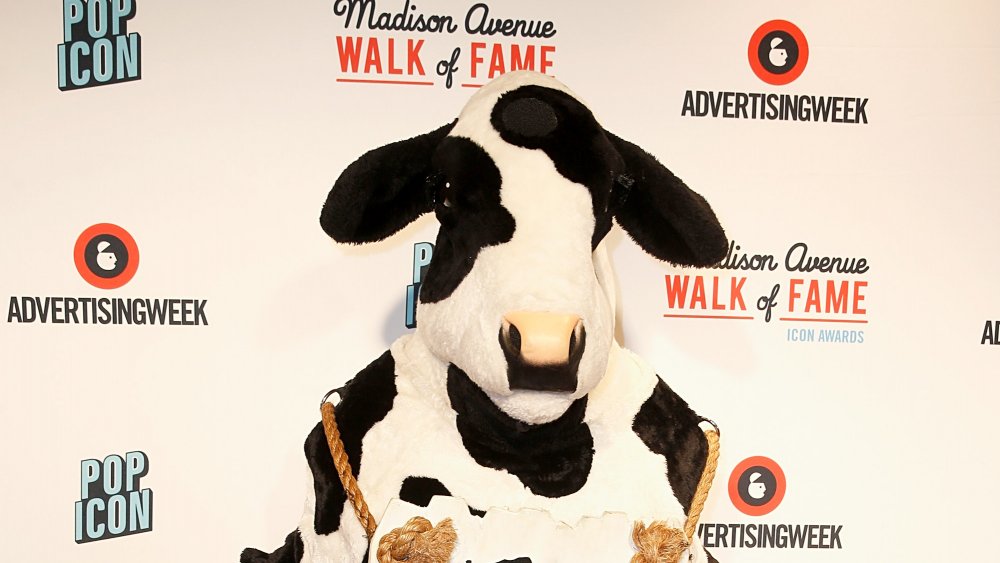 Dominik Bindl/Getty Images
The city of North Olmsted, Ohio is not known as a particularly crime-ridden place — in fact, Area Vibes reports that it has a crime rate 50 percent lower than the national average. On April 11, 2020, however, the North Olmsted Police Department posted on its Facebook page about a local crime so serious they were asking for help from the general public. 
As the NOPD put it: "We'd like to report a cownapping!!! Last night, the 600 pound concrete cow that overlooks the Chick-fil-A drive through either left for greener pastures or was stolen. We are leaning toward stolen. It is a black and white cow similar to the one pictured below. If you see it wandering around or in a friend's Snapchat post, please give the North Olmsted Police Department a call. It would be our pleasure to solve this crime for Chick-fil-A!!!"
While the comments on this post ranged from the flippant — "Have you asked @Wendys?"— to the downright hostile, most people seemed to be viewing this as a light-hearted prank of some sort, and several old-timers reminisced about a similar caper involving a Bob's Big Boy statue (perhaps the 1995 Toledo-area theft reported by UPI). Then the police department updated the post to provide some of the cow's history, which cast the theft in a more serious light. 
The story behind the stolen Chick-fil-A cow
While cows have played a large part in Chick-fil-A marketing campaigns, often in conjunction with the slogan "Eat Mor Chikin," this particular cow statue was not one that was installed or paid for by Chick-fil-A corporate. Instead, it was donated by the wife of a man who had been a frequent patron of the North Olmsted Chick-fil-A. When he passed away, his widow wished to commemorate her spouse with something that spoke to one of his great passions in life — his enduring love for Chick-fil-A. 
Few of Chick-fil-A's customers ever knew the reason behind the cow statue, since it bore no plaque or marker bearing this story, and yet it was nonetheless a monument meant to honor a man who'd lived, loved, and enjoyed many delicious chicken sandwiches in North Olmsted over the years. While the cow statue itself may not have much resale value, the police department reminds us, "Sometimes the sentimental value means more than anything else."
While the cow has yet to be found, let's hope that the bovine bandits are now aware of the cow's sad backstory and will feel moooved to alert the PD as to where it can be found.