The Truth About JoJo Siwa's Ice Cream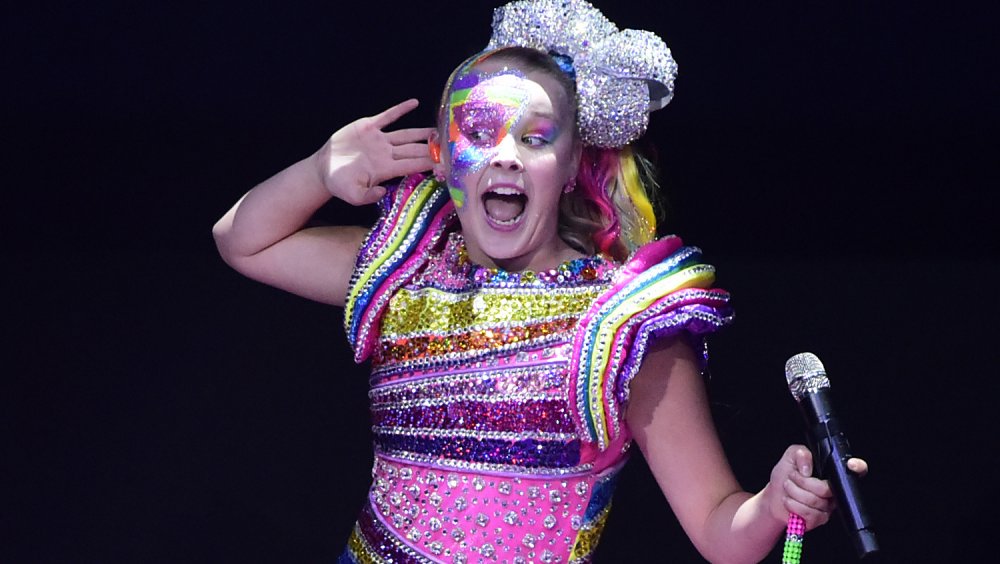 Michael Tullberg/Getty Images
JoJo Siwa may owe her fame to YouTube and Nickelodeon, but it's her signature hair bows, her sparkling pastel candy colored outfits, and her dance moves that keep us talking. The reality TV star made her television debut when she was just 9 years old. Today, the 16-year-old has built a brand and an empire that spans the globe and touts not just hair bows, but all kinds of accessories, apparel, bedding, and toys. In fact, Siwa has a group of 500 global employees at Nickelodeon who support her brand and ensure her fanbase feels connected to her (via Forbes).
Moreover, Siwa's YouTube channel is a force to be reckoned with and shows just how popular her influence is. With 10.9 million subscribers and videos that have received a total of almost three billion views, she's not just popular, but in demand. Siwa can even count Kim Kardashian and Kanye West's daughter North West among her many fans (via Insider). With this impressive list of accomplishments, it should come as no surprise that the teen icon has just landed her own ice cream. That's right, the young star is conquering the freezer section, too.
JoJo Siwa's Sweet Celebrations Ice Cream
According to the product descriptor on the container, the ice cream is called "Sweet Celebrations" and features a sugar cookie-flavored base with purple and blue frosting swirls and rainbow candies. Think deconstructed decorated sugar cookies in a frozen treat. It's reduced fat, too, and contains only 2.5 grams per serving to the usual 7 grams in regular ice cream, but if you typically avoid artificial flavors you're going to want to skip this treat, less fat or not.
Twitter's @CandyHunting described the packaging as an ode to Barbie from the 1990s, and we can definitely feel that vibe with the sparkling pink background and JoJo Siwa's image in a star, rocking a side ponytail tied off with a big colorful bow. The 1.5-quart container of rainbows and happiness is currently being sold at Walmart in the freezer section for $3.50 each. There's no additional information if the JoJo Siwa brand plans to roll this out to other grocers and supermarkets, according to Best Products.
Siwa herself taste-tested the ice cream in a YouTube video, and if her reaction is any indication, you're definitely going to want to try it. "I really do not understand how one flavor of ice cream can be so good... Even if it wasn't my face, this is still the best ice cream I've ever had... Even the frosting swirls in it are so good. It's like sweet, but not too sweet... it's like, the texture even of it is creamy, but not too creamy... and also not too icy. It's magical," she enthused.