Here's How P.F. Chang's Helped Increase Sriracha's Popularity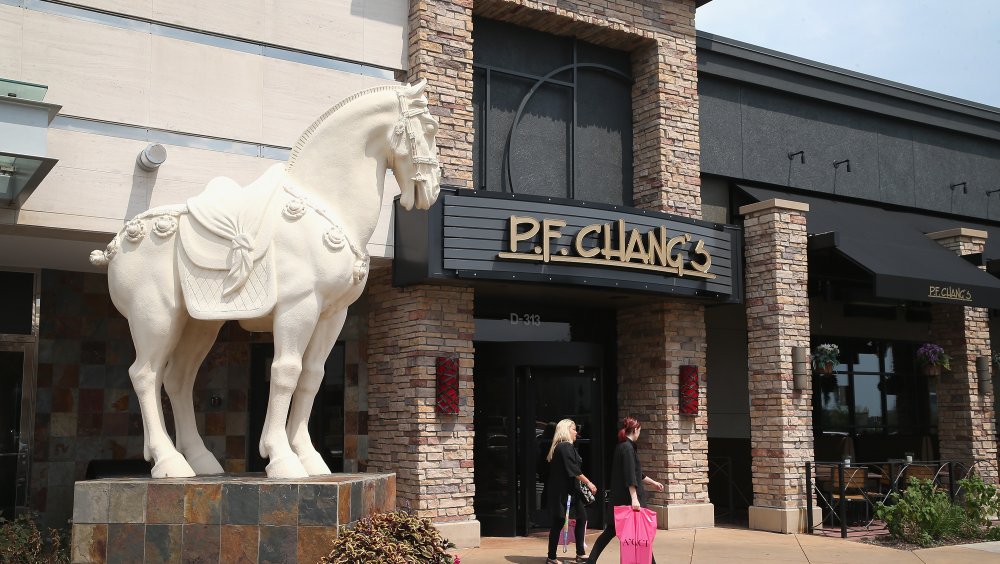 Scott Olson/Getty Images
Sriracha, or rooster sauce, is a chili sauce produced by Huy Fong Foods, Inc. which has grown into such a household name that Urban Outfitters even dedicated a t-shirt to the brand. Sriracha has to some extent relied on a grassroots fan base to help spread the Sriracha gospel, but has also been helped to sauce superstardom by a more unexpected source. 
Chinese restaurant group P.F. Chang's was the first restaurant with a national presence to use the sauce in its restaurants, and has been doing so now for two decades (via The New York Times). Applebee's soon followed suit. Both restaurant chains offer a menu item called dynamite shrimp, which is deep-fried shrimp served with a mayonnaise and Sriracha aioli-style dipping sauce. P.F. Chang's also serves the Sriracha-infused concoction alongside battered and fried green beans. You can even purchase frozen Sriracha chili cream cheese wontons marketed by the company at grocery retailers (via Walmart).
Behind the scenes of Sriracha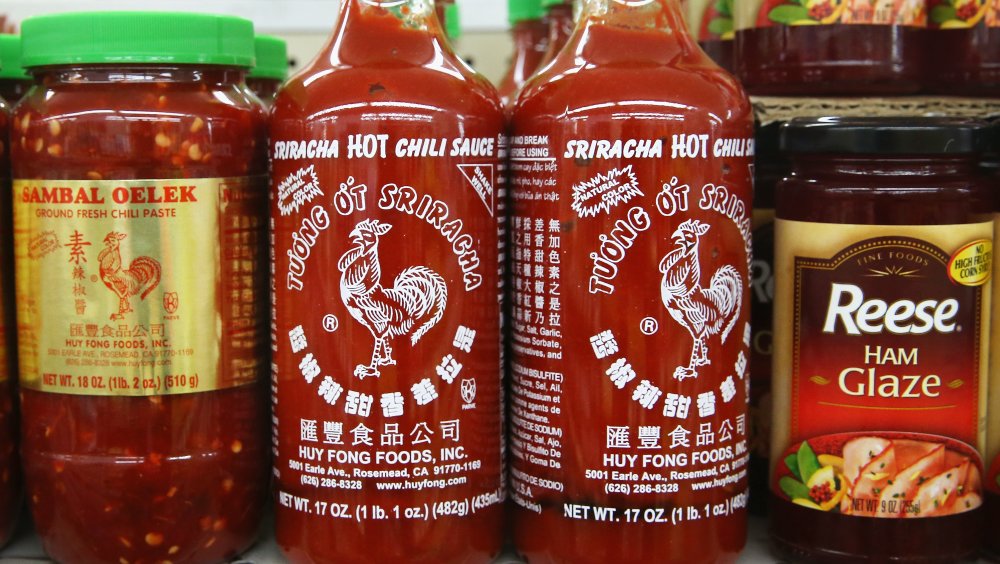 Scott Olson/Getty Images
Sriracha was founded by a Vietnamese refugee, David Tran, who emigrated to Los Angeles in the late 1970s. He began selling a version of Thai chili sauce out of the back of his car, which quickly became a hit (via Fortune). Sriracha has since grown to a massively successful condiment business with sales figures of $60 million, and at least 20 million bottles sold (via Quartz). Many of those sales can be attributed to individual buyers, but there's no denying the institutional help the legendary sauce received along the way. 
In addition to the more than 200 P.F. Chang's restaurants that use Sriracha, you can find the sauce at celebrity chef David Chang's Momofuku Noodle Bar locations in New York, Sydney, Toronto, and Washington, D.C.
Huy Fong's new production facility is less than ten years old, and is able to bottle 3,000 bottles every hour. Though Sriracha has attained incredible heights, Huy Fong has some unusual business practices. They don't buy advertising, and CEO Tran doesn't even keep track of where his world-famous sauce is sold.