The New Krispy Kreme Donuts Everyone Is Talking About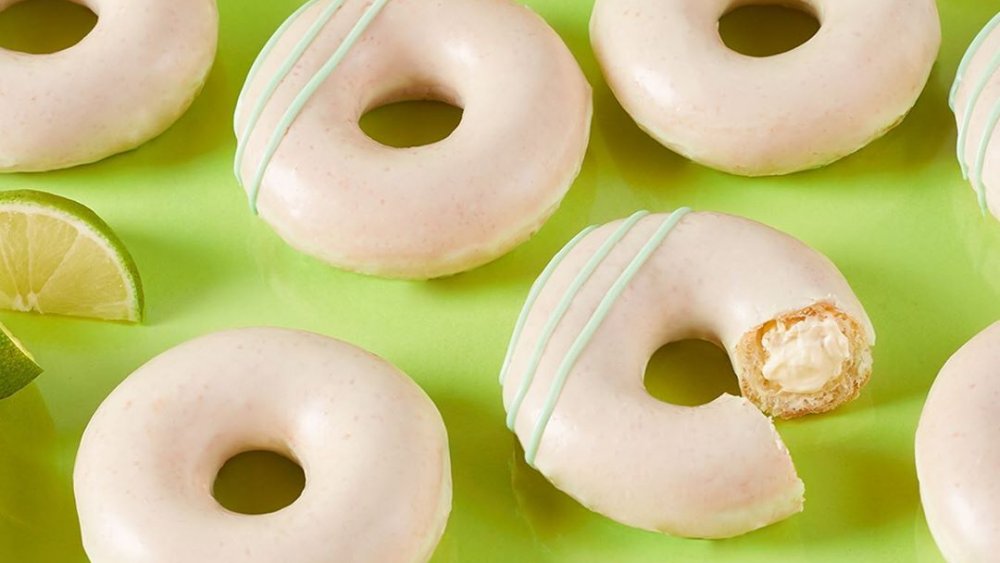 Instagram
Just in time for spring, beloved doughnut chain Krispy Kreme has launched, for a limited run, all new fruit-flavored, pastel-colored doughnuts. The brand is releasing these doughnuts, either filled or glazed with fruit-based flavors, throughout the spring of 2020. According to Delish, the release includes three flavors — Key Lime, Lemon, and Strawberry. 
Each flavor will come in two varieties, Kreme Filled and Glazed, so Krispy Kreme is actually launching a total of six new doughnuts to try as part of its spring 2020 promotion. The Glazed varieties are simply topped with a fruit-based coating, while the Kreme Filled will be covered in the flavored glaze, plus filled with a smooth, fruity cream. These flavors will apparently only be offered for four days each, Tuesday through Friday, with one special spring flavor per week. The dates to get your hands on the Strawberry flavor have already passed (they were April 28 to May 1, 2020), but you still have time to grab the others — the Key Lime will be available May 5 to May 8, 2020, and the Lemon will be offered last, from May 12 to 15, 2020.
What the limited edition Krispy Kreme spring flavors taste like
Krispy Kreme describes the flavor of the Key Lime variety as tart and well balanced, and its Lemon offering as a return of a seasonal, zesty customer favorite. These flavors aren't sticking around for long, so be sure to place an order for pick up or delivery at your closest participating Krispy Kreme location so you don't miss out. 
Food & Wine did a taste test of the Key Lime and Lemon flavors, declaring both hits. They call the Key Lime flavor pleasantly tangy and very lime forward, and the Lemon as lighter than expected, with a taste similar to lemonade and featuring fun pieces of real lemon zest in the glaze. The outlet describes the citrus-based doughnuts as less sweet than they expected, but in a good way. 
Business Wire shared a statement on the promotion made by Dave Skena, the Chief Marketing Officer for Krispy Kreme. Skena stated that the brand, in conjunction with the release of the limited offer spring flavors, posted a tantalizing video on YouTube featuring the captivating, waterfall-esque glazing process of the pastel-colored treats for fans to enjoy.