What Red Lobster Said About The Viral Brawl Video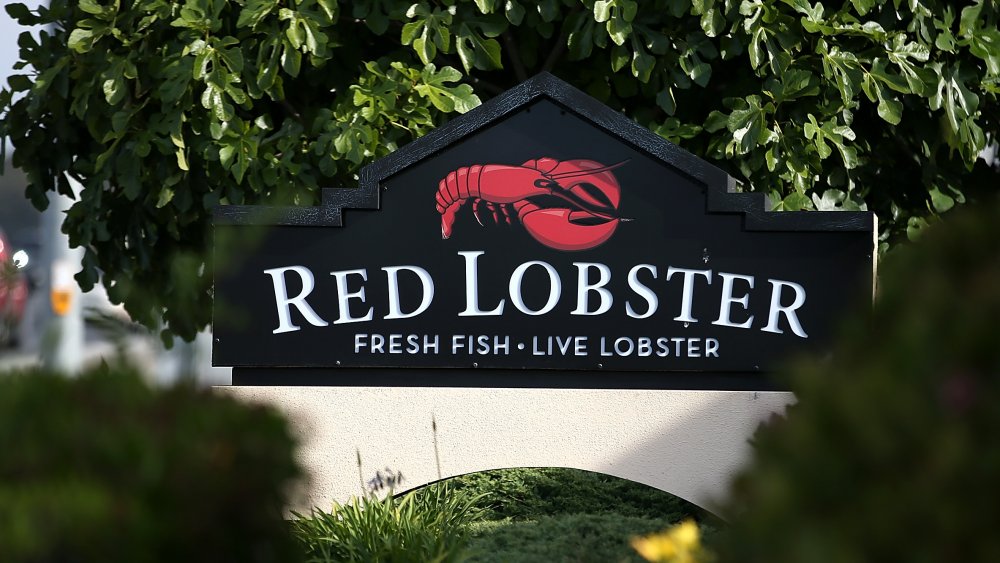 Justin Sullivan/Getty Images
Red Lobster's tagline might once have been "Sea Food Differently," but one angry diner in East York, Pennsylvania, was only seeing red in response to COVID-related holdups that happened on Mother's Day.
In a viral video that has tallied more than 7 million views (warning: explicit language!) posted by one Twitter user who witnessed the scene, a woman lost her cool at the East York Red Lobster location as bystanders complained of three-hour wait times on what is notoriously the busiest restaurant day of the year (via New York Post). As shown in the video, after the would-be patron screamed for a refund, she tried to bust her way into the restaurant, causing several employees to get involved and attempt to hold her back at the entrance. In response, she threw a slap at one female employee, who grabbed her hair as co-workers intervened to break up what became a drawn-out scuffle.
As reported in the York Daily Record, the restaurant was closed for dine-in services due to COVID-19 concerns, which barred the woman from entering, but no charges had yet been filed a couple of days after the incident, still under investigation.
Red Lobster responds to the incident
Police responding to the scene reported that though the customer involved had already left the premises, they did locate and talk to her. Lt. Beam said of the video, "She was upset because her food wasn't ready. She wanted her money refunded."
In response to the wild Mother's Day scene, the York Daily Record printed a statement from Red Lobster, provided by Nicole Bott, the company's director of communications: "We understand that we may have disappointed some of our guests on Mother's Day when due to COVID-19 and changes to our operations and staffing, we were not able to keep up with the demand at some of our locations. We apologize that some of our guests experienced long wait times, crowds, and in some cases, did not receive their orders. It is always our goal to provide our guests with a great seafood experience, and unfortunately, for some guests, we did not meet that goal on Sunday. We are working to better understand what occurred and how we can prevent it occurring in the future. That said, we do not tolerate violence for any reason in our restaurants. We expect our team members treat our guests with respect, and we expect our guests to treat our team members with respect in return. We are grateful our manager and the guest involved were not seriously injured in the incident on Sunday."