This Is The Weirdest Way You Can Cook An Egg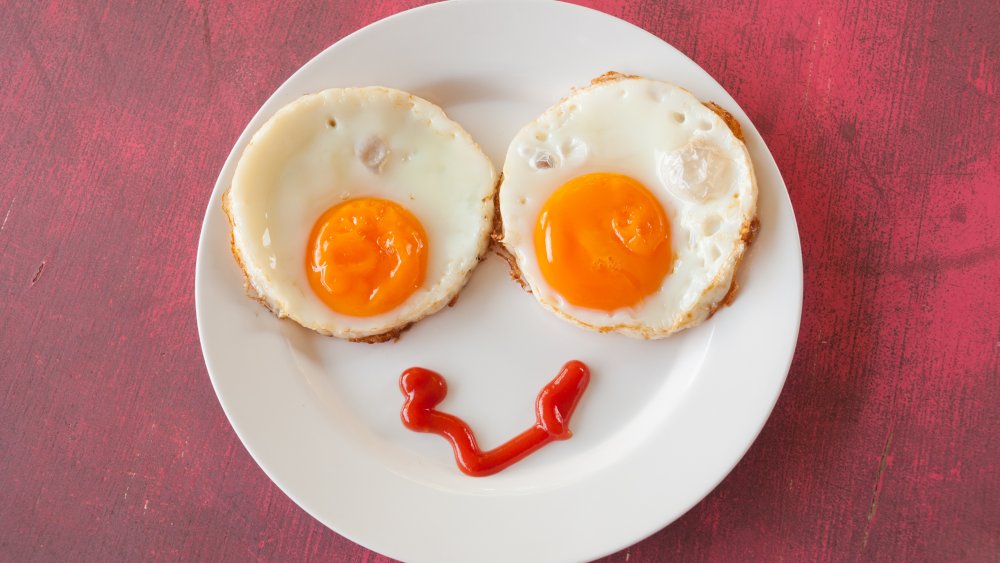 Shutterstock
How would you like your eggs? Bon Appétit doesn't want you to feel constrained to the usual answers: scrambled or fried, or even poached or soft-boiled. In fact, Basically editor Amiel Stanek shows you 59 ways to cook an egg (or not cook an egg) in an episode of his popular "Almost Every" video series.
Stanek covers the basics, of course, including a quick primer on what distinguishes over easy, medium, and hard. He even starts with a few ways to prepare raw eggs, including just cracking an egg into a tumbler and... bottom's up! "People eat raw eggs all the time," Stanek enthused before doing an egg shot himself on camera. (We'll have to take your word for it, Amiel.)
Among the 59 ways to cook an egg are some out-of-the-ordinary but highly satisfying ideas, including a French omelet that's so creamy and tender it doesn't need any filling. If you have a rice cooker, you can crack an egg on top of the rice about five minutes before it's finished. The resulting steamed egg comes out surprisingly tasty. One not-so-weird way to cook eggs, but one to be avoided at all costs: any method involving the microwave oven. Stanek poached an egg in the microwave in 27 seconds. His verdict? "The microwave might save some time, but it makes bad eggs. Pass."
The dishwasher takes the prize for weirdest way to cook an egg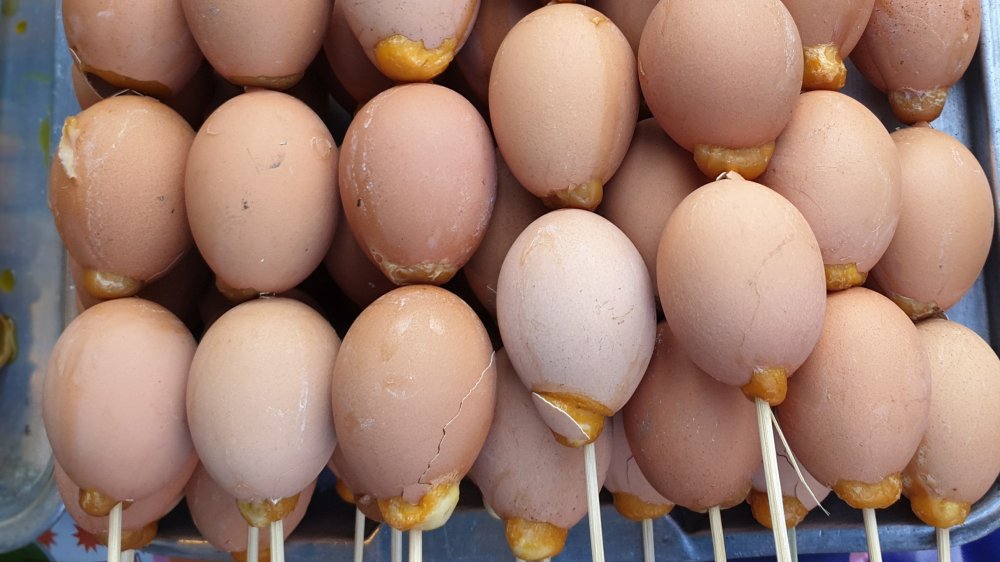 Shutterstock
Deeper into the 27-minute video, things start getting really weird. The dishwasher egg is exactly what it sounds like it is — putting a raw egg in a dishwasher and pressing "start." Three hours later, the egg comes out about the same as a six-and-a-half-minute boiled egg. It's only worth the time if you're running the dishwasher three hours before lunch. 
Stanek declared cooking the egg in a George Foreman grill to be "depressing." Skewering an egg and putting it in the freezer was too unpleasant to taste. A blowtorch made an unappetizing, upside-down sunny-side up egg. In what might have been his strangest attempt to prepare an egg, Stanek brought one with him into a portable sauna. Stanek didn't cook, and neither did the egg. The most catastrophic failure came when Stanek decided to bury an egg in hot campfire coals. The egg exploded. "I did this so you didn't have to," Stanek said.
A quick review of other weird ways to cook eggs, as presented by Thrillist, the Food Network, and StyleBlueprint, suggests that Stanek and Bon Appétit have every conceivable way to prepare an egg covered. (He didn't fry an egg on the sidewalk, but filming the episode in the winter explains that omission.) Stanek's compendium of egg-cooking methods is one of 10 episodes in Bon Appetit's "Almost Every" series, which includes applying a laser to steak and wrapping bacon around a curling iron.