Hot Ones: The Truth About Sean Evans' Absolute Favorite Hot Sauce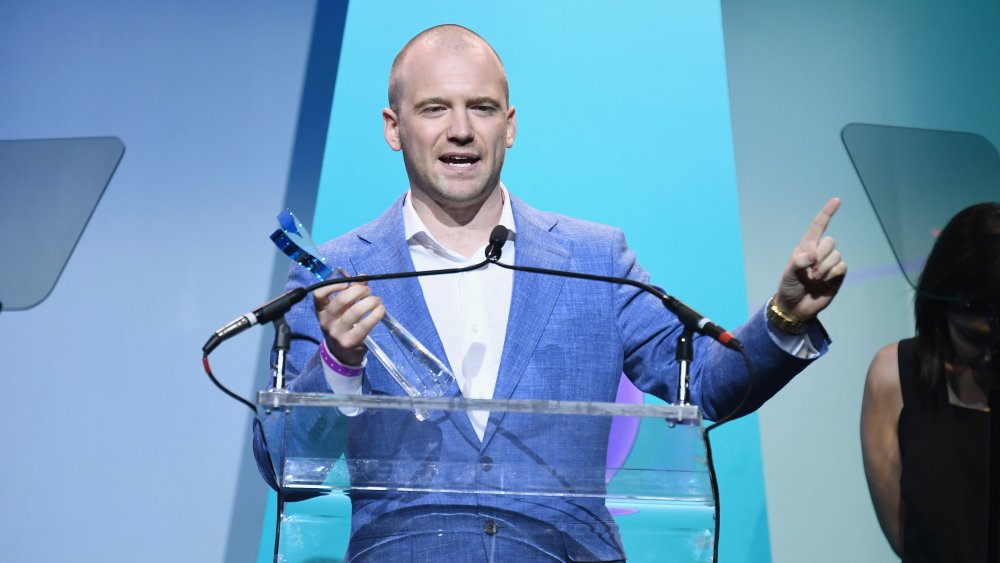 Dave Kotinsky/Getty Images
Sean Evans is the YouTube host and co-creator of the online series, Hot Ones, where he serves up the heat during spicy one-on-one interviews with a laundry list of celebrities that include the beautiful and outspoken Christy Teigen, basketball legend Shaquille O'Neil, and Marvel superhero Scarlett Johansson — and everyone's favorite pop band, the Jonas Brothers. 
The show's tagline is "hot questions, and even hotter wings," and if you've ever tuned into a 25-minute episode, you can see how things progressively warm up during these Q&A sessions. Nothing is off limits, and Evans is quick to ask about everything from first jobs to first loves, as the interviewees eat a plate of progressively hotter wings. Good thing they get to sip on a glass of milk to keep things cool (via ABC). The proof of the series' popularity is in the numbers. A single interview can rack up anywhere between 1 and 10 million views (via Hollywood Reporter).
So, if Evans, who also eats wings during the show, is going to reach into his own cabinet when the cameras aren't rolling, what sauce would he choose? As he revealed in a YouTube video, Evans is definitely a fan of Dirty Dick's which is a blend of habanero peppers and tropical fruits. Evans also favors the fiery hot sauces created by three guys out of Pennsylvania called Torchbearer, with names like Smokey Horseradish, Son of Zombie, Reaper Evil, and Zombie Apocalypse. 
Sean Evans of Hot Ones loves this hot sauce most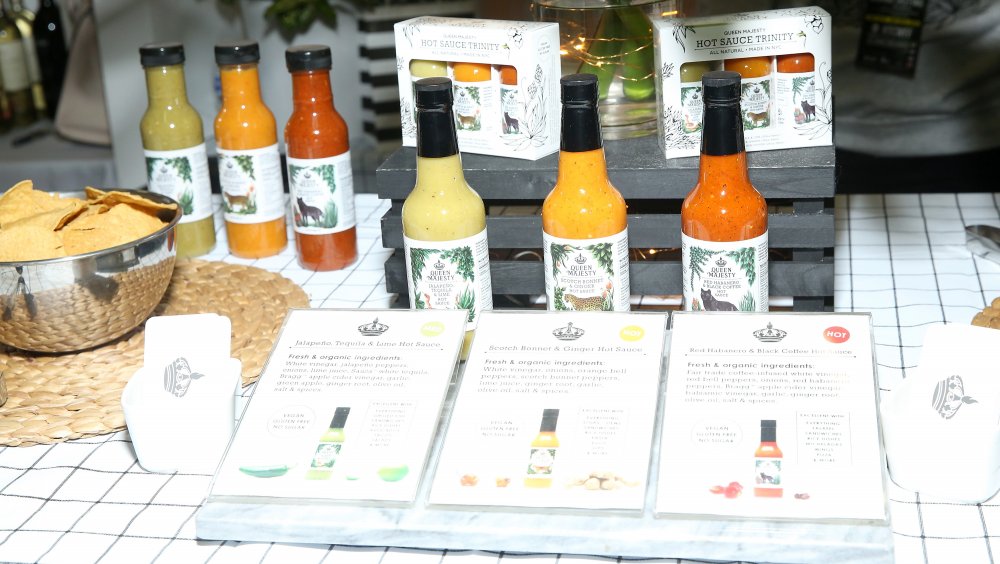 Robin Marchant/Getty Images
Evans revealed his all-time favorite hot sauce is made by Queen Majesty. The New York brand offers a selection of hot sauces that are certified Kosher, 100 percent vegan, gluten free, non GMO, and just super healthy (via Queen Majesty). But what makes this hot sauce a go-to for Evans? He didn't really elaborate, but he did reveal during an interview with Canada.com that he has developed a greater understanding of the complexity of hot sauces, and Queen Majesty's Scotch Bonnet & Ginger hot sauce is the "best" hot sauce ever made. 
What makes this flavor so awesome? Maybe it's the slow-burn of this Jamaican jerk style sauce that packs an explosion of flavorful heat, or maybe it's the ginger and lime flavors that pair so well together. Maybe it's the versatile nature of this flavor of Queen Majesty's hot sauce that makes it a great addition to soups, or even sweet potatoes that has him crushing on it. It's truly a guessing a game. Perhaps, the only way to really understand the attraction is to gird your taste buds and try it yourself.