What You Need To Know About This Meat Donut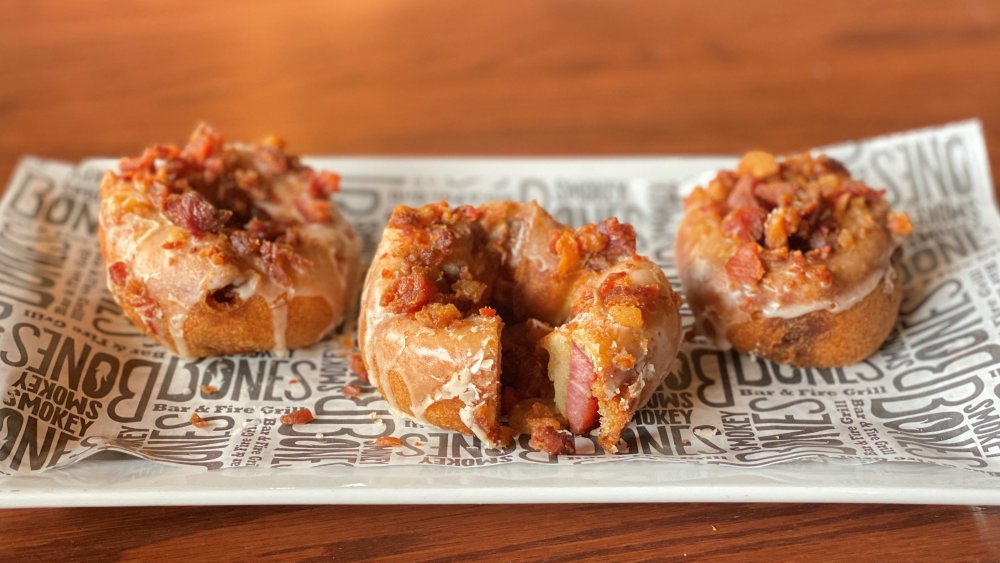 Smokey Bones
For those not in the know, Friday, June 5 marks the annual National Doughnut Day in the United States. In years past, many companies have celebrated the holiday by releasing wild, unconventional doughnut creations, and this year is already proving to be no different. While we have yet to see all the contenders for wackiest doughnut, chain restaurant Smokey Bones recently announced a limited-time celebratory submission that is so over-the-top we think it will be hard to outdo.
To celebrate National Doughnut Day, Fox News reports that Smokey Bones will be offering a limited-time menu item that is more meat than dessert. This "donut" features a slice of Applewood smoked bacon cut 3/8th of an inch thick, which is candied in brown sugar and black pepper, formed into a doughnut-shaped ring, and then roasted. After roasting, the sugary, meaty circle is dipped in the restaurant's signature vanilla cake batter and baked until golden brown. The meat-filled cake is then finished with a topping of maple sugar glaze and sprinkled with pieces of smoked bacon (of course).
These meat-filled doughnuts will only be available for one day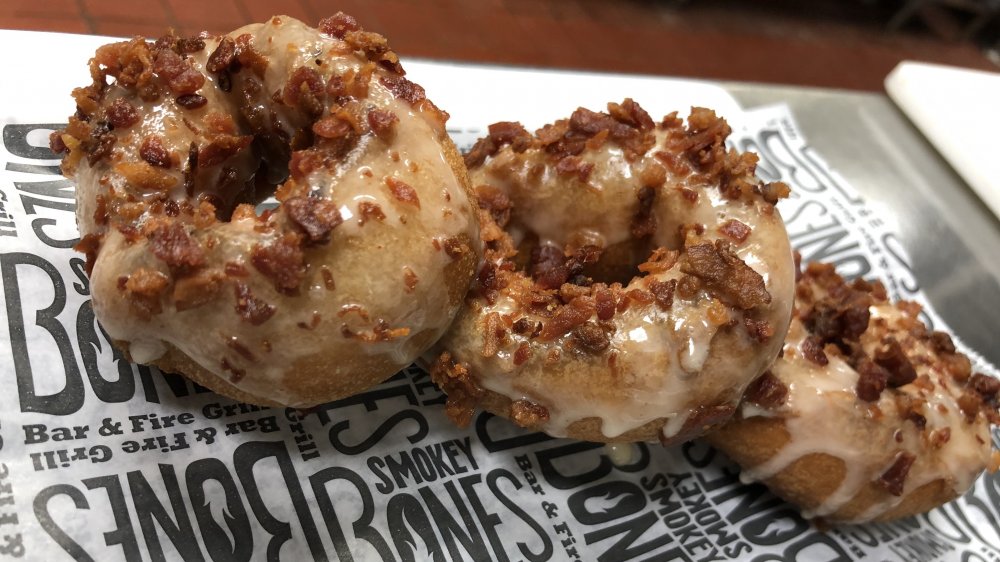 Smokey Bones
In a press release on PRWeb, Smokey Bones CEO James O'Riley stated, "Our Chef Peter Farrand created something that not only tastes delicious but is also a love letter to our meat-obsessed guests." Farrand decided to take the now well-established maple bacon doughnut flavor and turn it into something super extravagant that customers will be unable to find anywhere else. 
The doughnut will only be available for one day, June 5, before it is gone forever. The decadent, meat-filled doughnuts will cost $9.99 for a bag of three, according to FSR Magazine, and will be available for takeout or in-house dining, depending on where the chain is located. Be sure to find your nearest Smokey Bones restaurant ahead of time and check that they will be selling the doughnut before you arrive, as it will not be available at all locations.
If a dessert that is more meat than doughnut is not exactly what you pictured when you heard the phrase "National Doughnut Day," Smokey Bones has you covered there as well. They will be offering a free bag of their traditional Cinnamon-Sugar Donuts to anyone who orders a Family Feast, and two free bags of the Cinnamon-Sugar Donuts to anyone ordering a BBQ Party Pack. Each bag comes with five of the donuts and two sweet dipping sauces.