The Untold Truth Of Denny's Value Menu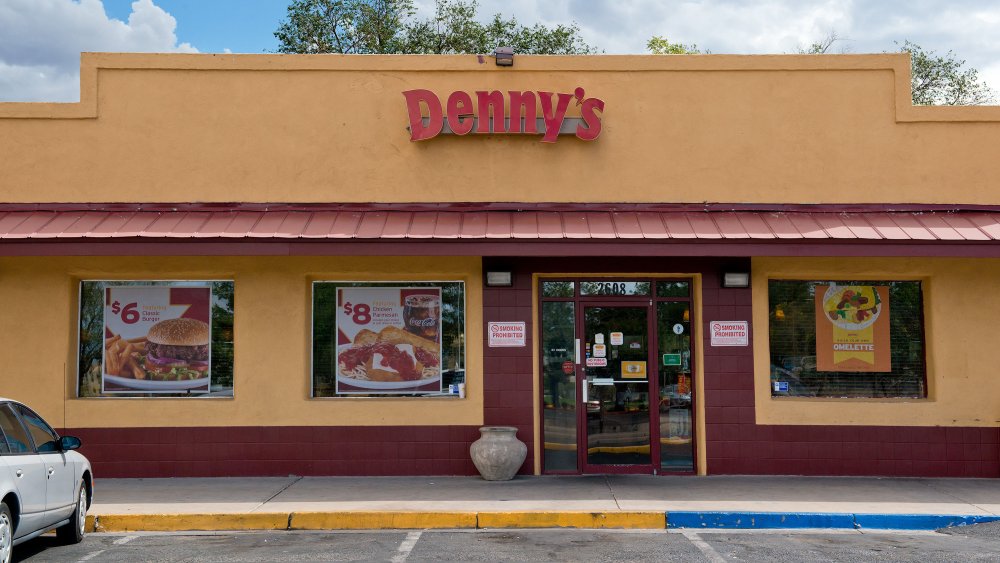 Steve Snowden/Getty Images
In 2010, Denny's released its original $2 $4 $6 $8 Value Menu, which was the company's first-ever all-day discount menu, according to a press release sent out by the chain. The CEO and President of Denny's at the time, Nelson Marchioli, stated that this Value Menu was being offered to guests to show that fast food was not the only affordable option on the market. The company's Vice President of Marketing, John Dillon, shared that customers were responding to the discount menu with overwhelming positivity and really appreciated that they were now able to order budget-friendly food any time of the day without compromising.
Wide Open Eats notes that slowly over the years the Value Menu items and prices have changed, though most of the deals on their Value Menu remained in the $2 to $8 price range. Prices and items on the menu can differ by location, and some Denny's restaurants also have special offers and promotions outside of the Value Menu that fall into the discounted price range, so be sure to read the whole menu before settling on your choice if you are trying to take advantage of these great deals.
However, the $2 $4 $6 $8 Value Menu is on its way back into your local Denny's. What is it all about?
Denny's $2 $4 $6 $8 Value Menu is back for a limited time
To celebrate the 10-year anniversary of the $2 $4 $6 $8 Value Menu, Denny's is reintroducing some of the original 2010 Value Menu items with a few new options added into the mix. Delish reports that this throwback discount menu is only guaranteed to be available for a limited time. The chain is also offering free delivery through their "Denny's on Demand" app through June 22nd, 2020.
PR Newswire shared the reintroduced $2 $4 $6 $8 Value Menu, which includes both sweet and savory options that have you covered from breakfast to dessert. For $2 you can choose between the Biscuit, Gravy & Egg Breakfast, or a Chocolate Hazelnut Crepe — and you can add a slice of French Toast or a Stack of Pancakes to any meal, regardless of price. 
Both the Everyday Value Slam and Mozz & Tots menu items are included in the Value Menu for $4, and the Classic Burger or Chorizo Burrito are offered at $6. 
The priciest menu items, coming in at $8, are the Cowboy Chopped Steak and the Grand Slam Slugger.
No matter what you're in the mood for, make sure you visit soon because this limited-time offer won't be around forever.